Why India is trying to keep both Israel and Palestine happy
It is no secret that Prime Minister Narendra Modi has expedited India's extensive economic, political and strategic ties with Israel.
Kanchi Gupta
After news reports suggested Prime Minister Narendra Modi's government may change its policy towards Palestine, the ministry of external affairs was quick to issue a clarification stating that there is no change in the government's stance on the Palestinian issue. On December 22, news reports stated that in a "fundamental departure" from India's support to Palestine, New Delhi may abstain from voting on any resolutions on the Palestinian cause at the United Nations.
The MEA spokesperson drew attention to external affairs minister Sushma Swaraj's and Prime Minister Modi's statements on Palestine. Both leaders reiterated India's solidarity with the Palestinian people, in their struggle for a sovereign state as a core feature of New Delhi's foreign policy. However, it is important to note that these statements were made at the United Nations Non-Aligned Movement Ministerial Committee on Palestine, held in September and on the occasion of the International Day of Solidarity with the Palestinian People celebrated on November 24, 2014.
Prior to these elucidations, the Indian government came under heavy domestic criticism for failing to condemn Israel's offensive against Gaza in July this year which resulted in over a thousand Palestinian casualties. Demonstrating a balance in its position, New Delhi "expressed concern" at the escalation of violence between Israel and Palestine, particularly heavy strikes in Gaza, while indicating alarm at cross-border provocations from rocket strikes against targets in Israel.
Thereafter, India used multilateral platforms, namely the UNHRC resolution and the Sixth BRICS Fortaleza Declaration to condemn the violence in Gaza and convey opposition to the construction and expansion of Israeli settlements in the Occupied Palestinian Territories.
New Delhi's position on Palestine has evolved against the backdrop of British India's partition and the creation of Pakistan. Pre-partition, as the Indian National Congress and the All India Muslim League competed for domestic Muslim support, the Palestinian question emerged as a pan-Islamic issue. India was also opposed to the creation of a state based on religion (Israel) and voted against the partition of Palestine at the UN General Assembly in 1947. India became the first non-Arab state to recognise the Palestine Liberation Organisation, as the sole representative of the Palestinian people in 1974 and recognised the State of Palestine in 1988.
India, however, largely expressed support for Palestinian statehood through multilateral forums, including the United Nations and the India-Brazil-South Africa (IBSA) forum. Even though Palestinian Presidents Yasser Arafat and Mahmoud Abbas visited India several times, high-level visits from India, like those of LK Advani, Jaswant Singh and SM Krishna were termed as regional visits and included meetings with both Israeli and Palestinian leadership.
The Modi government indicated a shift in the policy of balancing Israel and Palestine when home minister Rajnath Singh's visit to Israel in November 2014 excluded a tour of Palestine. It is no secret that Modi has expedited India's extensive economic, political and strategic ties with Israel. Modi cultivated relations with Israel as the chief minister of Gujarat in policy initiatives independent from the Congress-led UPA government in New Delhi.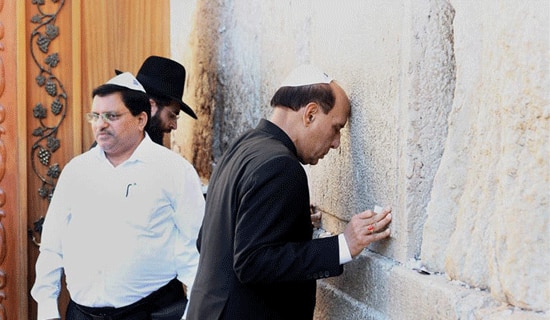 Home minister Rajnath Singh in Israel in November 2014.
Israel has rapidly emerged as India's leading defence supplier, second only to Russia, and offers enormous potential in technology, agricultural practices and trade. Indian-Israeli trade ties flourished even in the absence of diplomatic relations, established only in 1992, and Tel Aviv provided limited military support to India in its wars with China in 1962 and Pakistan in 1965 and 1999.
Chinmaya Gharekhan, former Prime Minister Manmohan Singh's special envoy to West Asia posits that a change in India's Israel-Palestine stance began much before the Modi government came to power. Israel's assistance to India during the Kargil War marked a turning point in New Delhi's policy towards the Israel-Palestine conflict. Even though India supports Palestine-related resolutions at keys forums, the government no longer co-sponsors them. Moreover, since 2012, the government has chosen to 'express concern' rather than "condemn" Israeli acts of aggression against Palestinian citizens.
While India remains committed to supporting the creation of a sovereign, independent and viable state of Palestine based on the pre-1967 borders, the articulation of New Delhi's support for the Palestinian struggle has changed gradually. A clear indication would be India's stance on the construction of the security wall by Israel.
The security barrier, which according to former Israeli Prime Minister Ariel Sharon is a measure to protect Israelis from Palestinian suicide bombers, extends beyond the green line (pre-1967 border) annexing Palestinian land, denying villages access to land and water resources and trapping thousands of Palestinians between the green line and the wall. The wall, ruled as a human rights violation by the International Court of Justice, also has negative implications for the creation of a viable Palestinian state.
Even though New Delhi voted in favour of the UNGA resolution in October 2003 against the construction of the wall and at the United Nations in November 2005, India balanced its position. New Delhi stated that while Israel should take into account the ICJ ruling that the wall is contrary to international law and should be dismantled, there could be no objection to the construction of the wall in areas coinciding with the green line. This statement was symbolic of a perceptible shift in New Delhi's position that refrained from anti-Israel statements and encouraged 'both' sides to work towards a peaceful resolution to the conflict.
The views and opinions expressed in this article are those of the authors and do not necessarily reflect the official policy or position of DailyO.in or the India Today Group. The writers are solely responsible for any claims arising out of the contents of this article.