Since its inception in February this year, questions about the agenda, alliance and strategy of the Makkal Needhi Maiam —  a political party floated by actor-turned-politician Kamal Haasan — has kept everyone guessing. The Ulaganayagan (a universal star/people's hero), however, has made it clear time and again that the work for building his party is underway and its main focus will be to bring an end to corruption.
While political analysts have been calling this agenda of "ending corruption" a vague idea without any concrete plans to address the problems of voters, they have also been pointing at how Kamal Haasan needs to prove his mettle as a politician first to win the people's vote.
Ready to join hands with the Congress? (Credit: Twitter)
In a recent interview with a popular Tamil TV channel, his response to a question over alliance with the Congress became the talking point. Haasan said: "I don't know. We need to talk to them. First let's see what good they can give to Tamil Nadu. Their past record of what they have done is very little."
Haasan had from the beginning said that though his party will have a "Dravidian touch", he would not form an alliance with the DMK or the AIADMK. This statement was further read by most as Hassan hinting at an alliance with the Congress without the DMK in the upcoming 2019 Lok Sabha polls.
Today, in an exclusive interview to India Today, Makkal Needhi Maiam chief Haasan clarified his statement. "The alliance was suggested by the interviewer. I have not committed to anything yet. It is too early to comment or commit about an alliance," he said.
As Haasan attempted to clear the air, the question whether the actor-politician is shooting in the dark or has some real plans also kept rearing its head during his press meet.
"I don't think he is shooting in the dark. Building a party is not a one-election affair. Yes, NTR did it and Arvind Kejriwal too to an extent, but circumstances were vastly different. Tamil Nadu has been about alliances and Makkal Needhi Maiam is still an infant in Tamil Nadu politics," said senior political analyst TS Sudhir.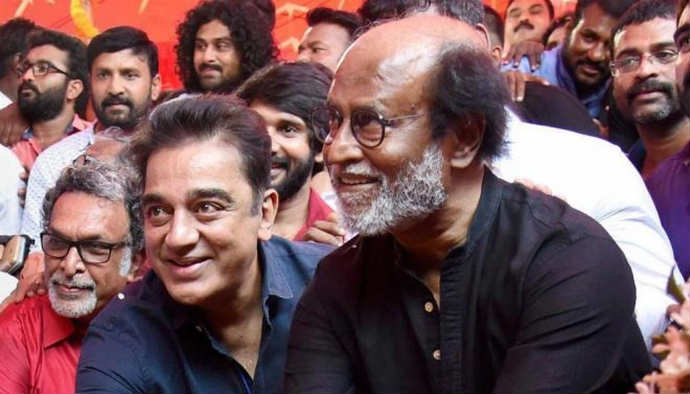 Cinema and politics have always been inseparable in the state of Tamil Nadu. (Credit: Twitter) 
"So, while he will need to consolidate his party, tying up for elections could make him a bigger player and give him a wider canvas," Sudhir added.
Haasan has been a much-admired actor and his popularity can be gauged with the jostling he manages to pull in during his rallies or district tours as they call it. But if this adulation will convert into votes is the question.
"He has been getting the attention so far because he is a celebrated actor. Haasan, in the film industry, has often been accused of being a one-man show. That will not work in politics. He will have to invest in teamwork to make his political production a success," added TS Sudhir.
Cinema and politics have always been inseparable in the state of Tamil Nadu. From MGR, M Karunanidhi to J Jayalalithaa, all of them have had their share of victory on screen and in politics. Now, both the superstars of Kollywood — Hassan and Rajinikanth — have announced their entry into politics. But if they will be able to taste the success that their predecessors did is something only time can tell.
With both entrants taking up the same cause — corruption-free government, a people's government, inclusive government — one does wonder if this is going to be just another reel life turf war to be decided by the fans of the two stars, albeit played out in real life.