Uttar Pradesh Chief Minister Yogi Adityanath's recent diktat to all private universities in the state has come as a shock to members of the teaching faculties as well as the students.
On the face of it, the order sounds fairly simple and seemingly seeks to ensure that all private universities completely ban all kinds of 'anti-national activities' on their campuses. But the manner in which the whole exercise has been carried out rouses suspicions of a larger design behind the move. The decision to bring the ordinance was kept under wraps so far and has come as a surprise, not only to the entire opposition but even to many insiders in the government.
Already, many teachers and students in universities have become extremely cautious about expressing their views on the ordinance.
"How do I know that I will not be charged with committing an anti-national act if I dare to criticize this?," asked a senior professor in an established Lucknow-based private university.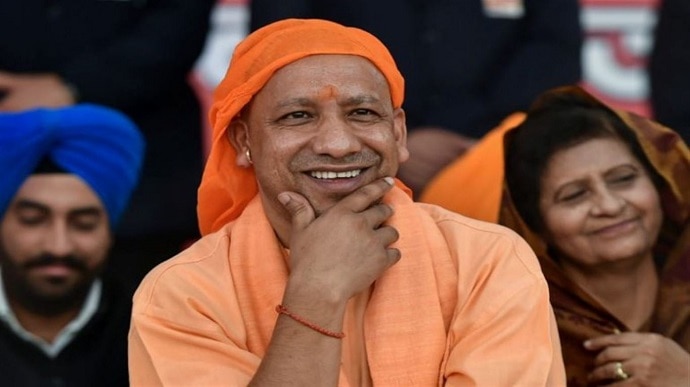 He's happy. What about the rest? UP CM Yogi Adityanath's ordinance has left many confused, and some fearful. (Photo: PTI)
The common apprehension is that this could be part of a relentless plan to curb independent thought and discussion on university campuses.
But then, why only private universities? Are these institutions more vulnerable or does the government want greater control over private universities?
The fact that 'anti-national activity' itself has not been defined in the ordinance that was passed by Yogi Adityanath's cabinet may mean that anyone can be implicated under the law. Going by past practice, enforcement agencies are hardly expected to act with much objectivity. Therefore, there is this growing fear that the law could be easily used to target anyone criticizing the ruling dispensation of the day.
"Any kind of defiance of the government could be construed as 'anti-national activity' and you could be booked under the new law," observed a young lecturer in an engineering college, running under a private university on the outskirts of Lucknow. "Even though criticism and protests are a part of the fundamental democratic ethos of any educational institution, this ordinance seems to disallow you to even exercise that very fundamental right," pointed out yet another lecturer.
According to the new ordinance, all existing and new private universities will have to swear in an affidavit that they will not allow any kind of 'anti-national activities' to be carried out on their campus — the state government will take action against universities if they indulge in or allow the presently undefined 'anti-national activities' on their campus, read the press release issued by the Yogi administration.
It goes on to add that private universities will also face action if complaints of forgery are made against them. The release further points out that 'social harmony, secularism, patriotism and good faith should be the main objectives of the universities.'
The Uttar Pradesh Private Universities Ordinance (UPPU) 2019 approved by the state cabinet will also regulate the fees structure, improve quality of education and implement best practices in the educational institutions, it goes on to add.
But the bigger question now being raised is on the political intent behind this move. Sure enough, no country including India allows anti-national activity in any form and whatever falls under this category is also, more often than not, clearly defined. By not defining it, the government seems to want to use its discretion to implicate anyone it chooses to target.
No more of him? Is the Yogi administration looking for ways to curb further dissenters like Kanhaiya Kumar? (Photo: PTI)
Considering that popular JNU student leader Kanhaiya Kumar was an eyesore for the entire right-wing lobby, an ordinance of this type could come in handy to deal with such elements. 
Some believe that the move could be aimed at promoting the chief minister as an unparalleled nationalist. By enacting a new law for private universities, Yogi could conveniently create an impression that he has put an end to 'anti-national activities' on university campuses. Also, this would enable official mandarins to label anything that threatens their political masters as 'anti-national'. Opposition leaders believe that the idea could also be to target some private universities started by the BJP's hardcore critics.
The government's claim, that the ordinance is to promote harmony and secularism notwithstanding, there is good reason for many to search the real intent behind this.