India vs New Zealand has India as the favourites. But beware underestimating the opponent
India will clash with New Zealand in the first World Cup semi-final today. Although India is the more consistent team, the Kiwis still have enough power to create a huge upset.
Music binds and captivates its listeners through the ebbs and flows of a symphony. With World Cup 2019 at its business end, Team India has performed much like a seasoned orchestra — entertaining and gripping its loyal audiences worldwide with their will and skill. In line with an orchestral performance, the 'Men in Blue' got off to a steady start with a win against South Africa. Then had a gradual rise in tempo with mighty wins against Australia and Pakistan. The loss to England was akin to an occasional pause between musical notes — now, hopefully, they will create a grand crescendo for the semis and finals right ahead.
The fans have cheered their stars on and they now want them to raise the bar and bring back the coveted World Cup to India!
While the four semi-finalists were virtually confirmed several days ago, the exact line-up was undecided till the final round robin game. Australia and India were playing their last matches on the same day and both wanted to top the points table to set up a potentially easier clash against New Zealand instead of hosts England. Indian fans were glued to the Australia-South Africa encounter more than their own match against Lanka — and their prayers were answered when Nathan Lyon lofted the ball straight to Aiden Markram, landing the Proteas a shock win over the Aussies and India a semi-final contest with the Kiwis at Old Trafford today.
It was a perfect start to the tournament by New Zealand when they demolished Sri Lanka within 46 overs, pushing their net run rate extremely high. That higher run rate has helped them stay afloat in the competition, with a resurgent Pakistan bowing out, despite being tied on points with the Kiwis. In the last three matches, they have lost to Pakistan, Australia and England.
New Zealand is the only team that has not defeated any of the other semi-finalists.
Their group clash against India was abandoned without a ball bowled because of rain.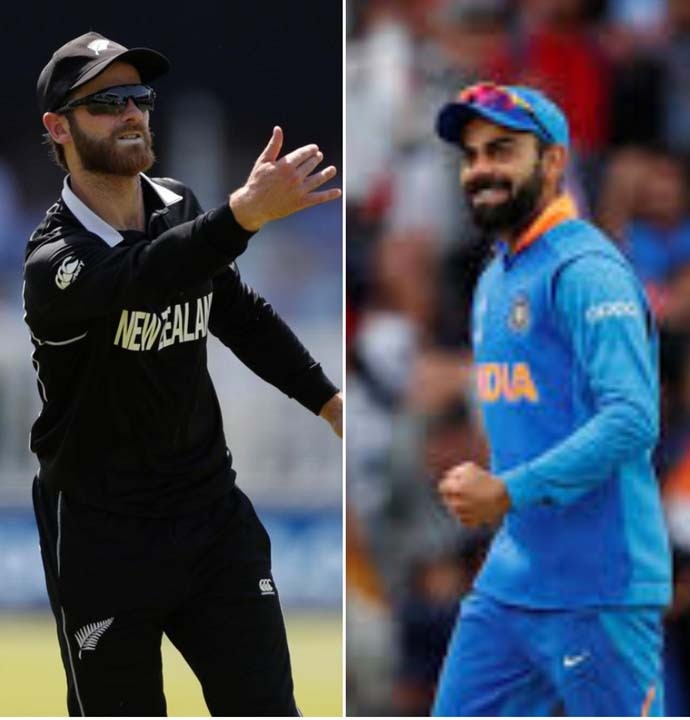 Such a cool clash! This match will be a face-off between Virat Kohli and Kane Williamson. (Photo: Reuters)
On paper, India look a better team — but these are the knock-outs and on a given day, any team can topple the other. The two captains, also the greatest batsmen of their era for their sides, have had the privilege of leading their U-19 national teams as well. In fact, in the U-19 World Cup in 2008, Kohli's team defeated Kane Williamson's side in the semi finals. Virat had an important role to play then with both bat and ball. He will surely be itching to register his first century of the tournament, taking inspiration from his deputy Rohit Sharma, who has already hit five hundreds.
Over the course of the tournament, Kohli has shown remarkable calm in tense situations. Like a good conductor of an orchestra, he has trusted his marshals and let them go about their business in their own way.
But it is the team combination more than the on-field performances that would be a reason for anxiety for Kohli.
India has played their last two games trying to find their best eleven for the knockout stages. The conundrum over whether to play Kuldeep Yadav and Yuzvendra Chahal both has intensified with Ravindra Jadeja putting in a fine performance against Sri Lanka. Given the overcast conditions predicted on the day of the semis, India would like to go in with three fast bowlers and just one spinner.
India have a dilemma who will play-Ravindra Jadeja or Dinesh Kartik. (Photo: Reuters)
It is here that a dilemma presents itself for the Indian skipper. Should he drop Dinesh Karthik and play Jadeja instead, along with another seamer? The move is backed by many experts and it is felt that Jadeja can add more firepower to the lineup. Also, Virat Kohli has been holding the middle order together in most matches, and with the opening duo batting exceptionally well, there haven't been many opportunities for them to be tested. On the occasions they have been, the fragility has been exposed.
Keeping the swing on offer in overcast conditions in mind, Virat might be tempted to keep a proper batsman as an option.
New Zealand too have plenty of thinking to do themselves — they have been outclassed in their last match by England. Their over-dependence on Kane Williamson and Ross Taylor has been their biggest headache. Star performer in 2015, Martin Guptill has so far flopped in this edition. It is the lower order batting that has won a couple of games for the black caps.
Not quite there? Martin Guptill's form is a concern for New Zealand. (Photo: Reuters)
Besides batting worries, even the Kiwi bowling has been underperforming in recent games. Much was expected of their fast bowling unit but barring a few strong spells sporadically, they have underwhelmed. What might come as a motivation will be the result of the warm-up match with India. In seaming and wet conditions, India was bowled out for a paltry 179 which was overhauled easily by New Zealand. It was Ravindra Jadeja with a lone half-century who took India from 39 for 4 to a score of some respectability. The top order was rocked by Trent Boult who scalped both Rohit and Rahul in his 4-wicket spell.
Trent Boult is perhaps the biggest threat to India — he has picked 22 wickets in 12 matches, troubling the top order, the powerhouse of Team India, including Rohit and Virat both.
Lightning Boult: Trent Boult happens to be India's biggest threat in the match on Tuesday. (Photo: Reuters)
However, India can draw inspiration from the way they outplayed the Kiwis 4-1 on their home soil just a few months ago — and that too without Bumrah, who was rested. With Bumrah firing on all cylinders and the most lethal weapon in world cricket, the Black Caps would find it tough to tackle India's bowling armoury. India has been strong with both bat and ball which has prompted most of the past greats to term them as favorites.
In fact, even Sachin Tendulkar, in his tweet on Dhoni's birthday, has cheekily wished him luck for the next two games! But India must recall that in the 2015 World Cup too, there was no stutter till the semis — but then, quite suddenly they were beaten by the mighty Aussies comprehensively. Although the Kiwis don't pose as big a challenge as their neighbours, they certainly can put one over India if Virat's warriors play less than their best.
So, there is little room for complacency — and the team should mark their skipper's words with earnestness, "Do not take any team lightly".
Also read: The Superstar who tamed the Sri Lankan lions, Rohit Sharma, is the batsman India needs and deserves
The views and opinions expressed in this article are those of the authors and do not necessarily reflect the official policy or position of DailyO.in or the India Today Group. The writers are solely responsible for any claims arising out of the contents of this article.