Improbable as it may sound, the former India Captain has been discarded from the 16-member T20 squad that will play West Indies and Australia.
Although selector MSK Prasad clarified that this was not the end of the road for Dhoni in T20s, it seems unlikely that 'Captain cool' will come into consideration again in the shortest format. The omission presages Dhoni's chances of figuring in the team for the next T20 World Cup, scheduled for 2020.
In the first edition of the T20 World Cup in 2007, Dhoni had captained a young Indian side to victory. (Photo: YouTube) 
And with runs drying up in ODIs too, the axing puts extra pressure on Dhoni to retain his place in the team for the 50-over ODI World Cup next year.
Dhoni's abysmal record in T20 internationals
Even before he captained a young Indian side to victory in the first edition of the T20 World Cup in 2007, Dhoni's reputation as a big-hitter preceded him. In the following years, however, Dhoni shone more in One-day Internationals (ODIs), and his game in the shortest format paled off considerably. Despite his consistent showing in the Indian Premier League (IPL) for Chennai Super Kings, Dhoni's performances in the national colours were less than spectacular.
A look at his T20 batting statistics would show how Dhoni had a strike rate (SR) of less than 110 till 2012, despite his much-vaunted big-hitting ability. In a format where anything short of a SR of 130 is considered mediocre, this went unnoticed for the longest time.
In fact, it gets even curiouser when you realise that Dhoni did not have a single T20 international half-century to his name till he quit captaincy in the shorter formats in the first week of January 2017. Dhoni's first T20 fifty was scored in his 76th match in his 66th innings in this format.
Dhoni's performances in T20 internationals began to improve marginally in 2016, with his role primarily shifting to that of a finisher. Prior to that, he would typically bat in the middle order, eat up balls and try to make up for that in the end.
This method got him considerable success in the ODIs, but the T20 format typically offers no time for batsmen to get set at the crease.
Dhoni's performance in the T20 format has been better in IPL than when playing for India. (Photo: PTI)
When India lost the semi-finals of the 2016 T20 World Cup in Mumbai, an Australian sports journalist dared to ask Dhoni about his retirement plans. In an embarrassing spectacle of sorts, Dhoni invited the hapless scribe to join him on dais and made him answer his own questions on the former's state of fitness and probability to play on till the 2019 World Cup.
By then, the famous last-over finishes had become a rare phenomenon, and the bowlers were increasingly getting the better of Dhoni. In the 2014/2015 season, Dhoni's error of judgement in the Birmingham T20 between India and England came in for scathing criticism, as he turned down three singles with a specialist batsman (Ambati Rayudu) at the other end — only to lose the match by three runs.
Later that year, in the Fort Launderhill T20 match against West Indies, Dwayne Bravo defended 7 runs in the last over of a match that saw 489 runs being scored by both teams. These instances clearly signalled Dhoni's waning prowess.
In 2018, Dhoni hit his second half-century in T20 internationals in the Centurion game against South Africa. With his strike rate improving in the last couple of years playing under Kohli, Dhoni's SR has now touched 127, up from 116 in 2015. Still, for a cricketer renowned for his big-hitting prowess, even this SR is quite low, when compared with fellow big-hitters from other countries and even his own teammates.
Moreover, with the emergence of Rishabh Pant as a viable wicket-keeping option, India won't have any trouble replacing Dhoni in T20s. Dinesh Karthik too has re-emerged on the scene, displaying his big-hitting abilities and playing match-winning T20 knocks in the recent past.
Although SR is the primary parameter/statistic to judge a player's effectiveness in T20s — unlike the ODIs, where both strike rate and run rate have an equal weightage — some people would still point to Dhoni's relatively high average of 37 in T20s to justify his place.
But this has to be seen purely in the context of his high percentage of not-outs. In his 80 innings in 93 T20 matches, Dhoni remained not-out in 40 of them — corresponding to 50% of total innings — proving the average is inflated. 
With the emergence of Rishabh Pant as a viable wicket-keeping option, India won't have any trouble replacing Dhoni in T20s. (Photo: PTI/file)
But how did Dhoni's poor record in T20s remain oblivious to cricket pundits for so long?
India played too few T20s from 2006-2015. And these were always squeezed between high-profile ODI series, where Dhoni continued to impose himself — playing 'percentage cricket' and finishing matches successfully.
Ironically, Dhoni's dwindling ODI fortunes have coincided with his improved performances in T20s under Kohli.
The 'Captain cool' had relinquished captaincy following a drought year in 2016, when he averaged merely 27.8 with a solitary half-century in ODIs.
He came back well in 2017 and scored nearly 800 runs at an average of 60. But his ODI form fell again in 2018 — Dhoni's average is a paltry 25 from 20 ODI matches (with a high score of 42) this year.
Compare that with his lofty ODI average of 50 and you get the idea that Dhoni is gradually fading out. In fact, he started the year within touching distance of reaching 10,000 ODI runs for India — he remains one run short of the mark following the five-match ODI series against West Indies.
Nevertheless, Dhoni is still rated as a valuable player in the 50-over format on account of his past performances and proven match-winning ability. And with such a formidable record on paper, he could yet find himself in the squad for the 2019 World Cup, to be held in England.
England is one of the two countries where Dhoni's ODI average dips below 40 (the other being South Africa), but such trivia doesn't count when it comes to selection.
Dhoni's calming influence on Kohli and Ravi Shastri cannot be overstated. (Photo: Twitter)
There might be concerns about the lack of match practice, as India is scheduled to play just eight ODIs till the World Cup. The IPL in the run-up to the World Cup might serve as a warm-up tournament for Dhoni, even though it's played in the T20 format.
The biggest factor going for Dhoni's selection in the World Cup is the support he is likely to command from the team management and Captain Virat Kohli. It would be rather inconceivable for a lightweight team of selectors headed by MSK Prasad to drop Dhoni without the team management's consent.
Moreover, Dhoni's calming influence on the maturing-yet-hot-headed Kohli, and the equally impetuous coach Ravi Shastri, cannot be overstated. He is also the de facto Vice-Captain on the field as wicketkeeper, and his experience should definitely come in handy for Kohli in England.
What goes around comes around?
Dhoni's inopportune loss of form would remind one of the manner in which he treated some of the senior pros in the ODI setup.
Ganguly had only made a comeback to the team a year ago following his spat with Greg Chappell, and had scored more than 1200 runs from 32 matches at a fair clip. Ganguly and Laxman never played another One Day International for India.
Back then, demonstrations were held in many cities against the axing of the trio, but when the young squad won its first ODI series in Australia in 23 years, it vindicated Dhoni's call.
One decade later, Dhoni finds himself in the trio's shoes.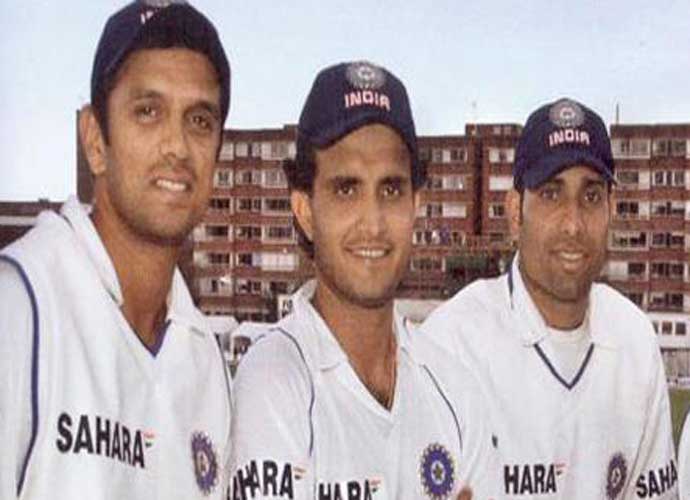 Dhoni finds himself in the shoes of Ganguly, Laxman and Dravid, whom he was once instrumental in dropping. (Photo: Twitter)
Again in 2012, during India's next tour to Australia, Dhoni called for a rotation policy for the trio of openers — Tendulkar, Sehwag and Gambhir. The idea was to afford more opportunities to the younger players, who would come back to Australia to play in the 2015 World Cup.
Tendulkar soon retired from the format, and Sehwag and Gambhir lost their places in early 2013. India went into the Champions Trophy in England later that year with the fresh opening pair of Rohit Sharma and Shikhar Dhawan, and the rest is history.
With just seven months left for the World Cup, India will be averse to experimenting with a new wicketkeeper in the ODIs. Having managed to script his exit from Test cricket (mid-way through the Australia series in the winter of 2014) honourably, Dhoni too would want to go out on his own terms.
The unlikeliest reason to retain Dhoni in the ODI team, even if he were to not recover his form, would be as a good luck charm.
After all, his fans like to believe that Dhoni brings good luck for his team. As Captain, many of his left field bowling choices paid off for India at crucial junctures, to win matches from near-impossible situations.
Dhoni fans will definitely expect Dhoni to make it to the 2019 World Cup team. But it's ultimately up to Dhoni to work his way back into form, so that he can rightfully claim his place.