So we have finally got a couple of medals at Rio. And the country, for which podium finishes at the Olympics have been few and far between, has gone delirious. Well, understandably so, for since the start of the modern Olympics in 1896, India has won only 28 medals, which is what US swimmer Michael Phelps has won by himself.
However, let's not take the comparison with India and Phelps any further. It will only serve to embarrass the country. Let's not begrudge ourselves the delirium at having won at least something at Rio. We now won't be having to return empty-handed.
It's a huge achievement for the country, is it not? We are entitled to the delirium, and we should be eternally grateful to Sakshi Malik.
The "Haryana ke sherni", as we have been calling her after she won bronze in women's 58kg wrestling, saved us the ignominy of going medal-less for the first time since Barcelona 1992. Shuttler PV Sindhu's silver was a bonus.
Michael Phelps by himself has won as many medals as India has ever in the Olympics.
No credit of sports administrators/ government
As much as it was a phenomenal achievement by Sakshi and Sindhu, and as much as they deserve every bit of the rewards, praise and limelight they are getting, how much of the credit can the Indian sports administrators and governments take?
Sakshi comes from Haryana, a state notorious for preferring sons over daughters and where female foeticide is rampant. It is a state with a terrible sex ratio (the number of females per 1,000 males) of 879 (Census 2011).
This has resulted in grooms in Haryana being forced to find brides in others states and even having to "buy brides" from other countries. Such has been the vice grip of patriarchy in Haryana that even Saina Nehwal, one of India's greatest badminton players of all time and a former Olympic medallist, who hails from the state, revealed some time back that her grandmother had refused to even look at her when she was born.
What has the government done to combat this mindset of son preference? Women athletes though have been the ones saving India the blushes in Rio. Sakshi, Sindhu, Dipa Karmakar, Lalita Babar, Aditi Ashok - India has been running on woman power in this Olympics.
Our sports officials, however, had tried their best to make it difficult for the country. So while Dipa's request to have her long-time physio in Rio was deemed "wasteful" by the Sports Authority of India (SAI), runner Dutee Chand was made to travel in economy class for 36 hours. The officials themselves, however, travelled in business class, but never considered it "wasteful". 
Wasting taxpayers' money on parties
Haryana sports minister Anil Vij, who went to Rio, apparently to "encourage the Haryana players", amid considerable fanfare, found it more worthwhile to explore the city than attending events where players from the state were sweating it out.
The fruitless trip cost the state exchequer Rs 1 crore. But that was not considered "wasteful", only Dipa's request to have her physio in Rio was.
And who can forget Vijay Goel? Our honourable sports minister, who was sent to Rio perhaps to lull the players into believing that the government was well and truly behind them, embarrassed the country no end with his antics.
Goel, who is known to be an abrasive politician of Delhi, too accustomed with kingly treatment in his "fiefdom", thought he would get it in Rio as well.
But much to his disappointment, the Olympic authorities were no loyal subjects of king Goel. They threatened to cancel his accredition on account of members of his entourage trying to enter areas which were out of bounds for them, and on the top of it, being "rude and aggressive".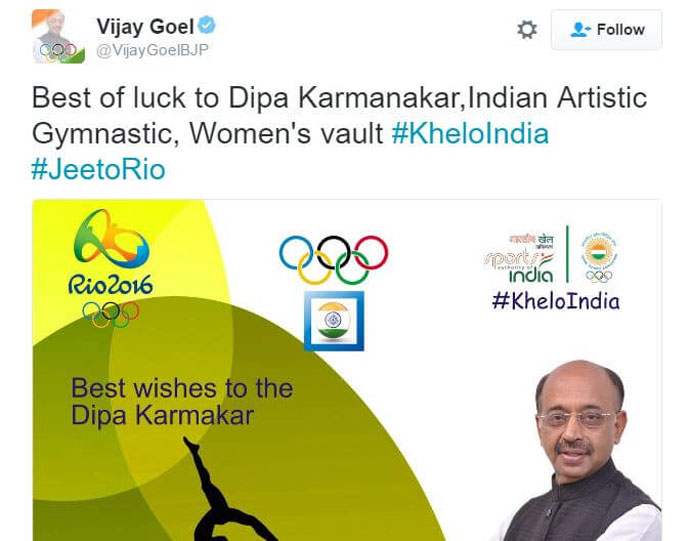 A blooper by Vijay Goel.
He also misspelt the name of Dipa Karmakar, and also wished sprinter Srabani Nanda luck for the women's 200m in a tweet with the photo of another sprinter Dutee Chand.
But what has to be granted to Goel is that he provided comic relief when it was looking all dull and gloomy in Rio, and it seemed India was just not destined for a medal at Olympics 2016.
During such a time of despair, Goel, with his numerous bloopers, tried his best to keep us cheerful; whether he could cheer the players up (which was supposed to be his primary role in Rio), is debatable.
Goel may not be the best candidate for the post of India's sports minister (the fact that the Centre has him in this position betrays the importance it attaches to the portfolio), and his knowledge of sports may be zilch, but he did try, in his own distinctive way, to dispel the gloom.
That it left the country red-faced is another matter. Now that we have two medallists, that too two women, let's not forget Goel's contribution when the going tough.
Another blooper by Goel.
If this is how our sports administrators are, it is hardly surprising that India regularly falls flat in the Olympics. Our sports administrators are always eager to jump on the bandwagon and feed off an athlete's success, but hesitant to take an initiative in preparing the athlete for challenges.
No infrastructure, no encouragement
Ours is a country where there are hardly any takers for a majority of Olympic disciplines, where ace gymnast Dipa Karmakar has to convince people that what she does is no circus, and talented national-level athletes are made to do menial jobs to make a living.
In India, if you are not playing cricket, you are on your own. There is scanty infrastructural or monetary support and training facilities are primitive. Diet plans for athletes are not scientifically planned, which results in poor muscle mass, stamina and strength of the players.
Poverty and a lack of access to quality food is one of the main reasons for lack of nutrition among a large number of Indian players.
An article in India Today, published in June 1998, compares the output of the legendary Brazilian footballer Ronaldo and one of India's very best, IM Vijayan. The difference is stark.
According to the technical director of FC Kochi - the club for which Vijayan played - if Vijayan kicked the ball at 60mph, Ronaldo's kick would easily be at 90mph.
The piece goes on to show a wide disparity in the output of top Indian and international athletes in a number of sports to establish the reasons for India's inability at the world stage.
Let's concentrate on sports in which we can still compete
India has been doing relatively well in wrestling and badminton. Shooting has also given us medals in Olympics in the past and probably things can be tightened in hockey.
Sindhu and Sakshi's achievements are completely their own; our sports administrators have no contribution in them.
When you consider that the US, which always wins truckloads of medals in every Olympics, gets most of them from swimming and athletics, and Jamaica has virtually a monopoly over track and field events, there is merit in maximising our efforts in the disciplines in which we can compete than sending a contingent of 119 as we did in Rio, with athletes even for disciplines in which we at present would hardly have any chance, for instance track and field events.
Where is the sports culture?
There is no guarantee that a non-cricketing sportsperson will be living a comfortable life and so not many parents in India want their wards to pursue sports as a career. It is drilled into a child here from the very beginning that playing in the field will get him nowhere in life, and that his salvation lies in concentrating on studies.
One often wonders why a country of over a billion people struggles to win even a single medal. The answer lies in this lack of sports culture, and apathy, which have been the biggest banes for Indian sports.
Therefore, the achievements of Dipa, Sakshi and Sindhu are completely their own, our sports authorities have no contribution in them.
But Sakshi and Sindhu's medals can't and should not make us ignore the sad reality that India still has to struggle for a bronze medal here and maybe an occasional silver medal there so many years after independence, while even Kosovo, a country the size of Tripura (the state from which Dipa Karmakar hails), goes ahead and wins gold.