Sachin Tendulkar bowed out of international cricket, on a high, exactly three years ago.
The Master Blaster, playing a historic 200th Test at his home-ground, played a classy innings to bring down the curtains on a career that lasted a quarter of a century. Tendulkar had made his debut in 1989 and carried his bat through for India till 2013, breaking several records along the way.
He has the most runs in international cricket and is the only man with hundred international hundreds and 200 Test caps to his name.
Understandably, it was an emotional moment in Indian cricket when Tendulkar decided to hang up his boots. Fans poured into the Eden Gardens, the venue of Tendulkar's penultimate Test.
Sachin Tendulkar bowed out of international cricket, on a high, exactly three years ago.
India decimated the West Indies but the match in itself was really a sideshow.
Kolkata loves Tendulkar but unfortunately, the Master did not get too many runs at the iconic ground. But he was tuned in for Mumbai and ended his glittering career on a high, smashing a fluent 74 in what turned out to be his last Test innings.
There was some expectation around the country when Tendulkar reached the 70s but there was a deathly silence at the Wankhede when the greatest cricketer of the generation tried to cut a flat one from Narsingh Deonarine but only ended up edging it to Darren Sammy at first slip.
The West Indies players did not celebrate the wicket - such was the solemnity of the moment.
Moments later, as Sachin walked off for the final time as an India batsman, the whole ground applauded a great career. What followed after India wrapped up another innings win over the hapless victors, was a farewell speech that will remain etched in the memories of Indian cricket fans for years to come.
Tendulkar is now a true statesman. A member of the Rajya Sabha, he lends his voice in support of India's Olympic stars and is vocal about several social and national issues.
Sachin Tendulkar with the writer. (Picture: Twitter/Boria Majumdar)
Boria Majumdar walks down memory lane to recollect his meeting with Sachin Tendulkar soon after the legend had walked off the field for the final time as an India cricketer:
It was exactly three years ago. Not out on 38 overnight, Sachin Tendulkar set the Wankhede alight with some breathtaking shots first thing in the morning. A trademark straight drive for four to bring up his fifty, the Sachin, Sachin chants were going through the roof in the near-packed stadium.
"Can he get that elusive hundred in his last innings?" was the only question doing the rounds. He couldn't. But what he did was no less. Vintage batsmanship to finish off, he had given his fans something they will forever cherish.
The walk back to the pavilion for one final time, the turnaround to absorb the applause, the tears that flowed the next day and that incredible farewell speech, Sachin could not have finished off any better.
The speech, a spontaneous one from the heart, will rank as one of the best farewell speeches delivered by a sports icon. Not many could have imagined Sachin was capable of such word play and rendition, which spanned a good 20 plus minutes.
Meeting Sourav on the way out, greeting Rahul and Laxman when they were shown on screen and bidding a final goodbye to his fans from inside the team bus, it was as if the gods had scripted the perfect swansong for the best ever batsman of all time.
I did have the opportunity of meeting Sachin in the evening on the day it all came to an end. By then he was Bharat Ratna, the ultimate recognition he could have asked for and the first ever Indian sportsperson to have been given the honour.
It was in his 19th floor room at the Taj Mahal hotel in Mumbai and the legend was all relaxed while all around him were getting emotional. Ajit Tendulkar, his brother and more, was with me when we met up in his room at 7pm or so in the evening.
Sachin presented me with a box of dark chocolates, signed the match ticket with the words "I am Bharat Ratna" to mark the end of what had been an incredible journey. Amidst all the emotional outpouring around him, he was still playing the perfect host.
Three years have passed but the cricket world still misses him. And it must be said he still misses cricket as well. Even if he doesn't acknowledge, it was apparent to everyone who had seen him practise in November 2015 ahead of the Cricket All Stars that Sachin was enjoying every moment of it.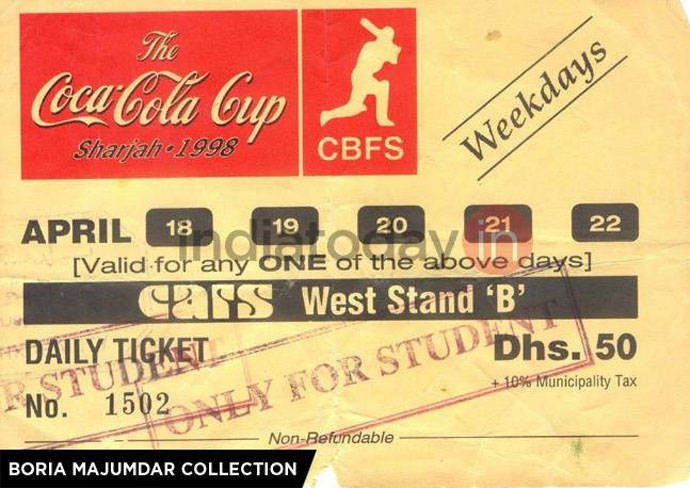 Picture: Boria Majumdar Collection.
Cricket, unlike other sports like tennis or golf, Sachin would say, does not have a developed masters circuit. With the All Stars proving to be a runaway hit, it could well serve as the genesis of a masters circuit in cricket in the United States.
There were a series of apprehensions before the series started. Will crowds come out to see retired stars who are now well past their prime? Will they spend serious monies to watch 50-year-old men run around baseball stadiums?
Will icons, who once dazzled fans with their skill, cut a sorry figure for themselves or will they be able to roll back the years and entertain crowds like they did in the past? Will they take the concept seriously or will they treat the series as mere exhibition matches, which have little to do with serious cricket?
26,000 plus people in New York and another 28,000 people in Houston and finally 25,000 plus in Los Angeles served as the answer. Clearly, Cricket All Stars season one was a success.
Having taken an interest in the ISL - he is co-owner of the Kerala Blasters - Sachin is also taking the gaming brand Smaash, which he co-owns, to the USA next month.
Picture: Boria Majumdar Collection.
And finally he is trying to do his bit for society in every way he can. Having donated the royalty from his autobiography, Playing it my way, which he co-wrote to Apnalaya to help the cause of the underprivileged girl child to getting electricity in the village he has adopted as a member of Parliament, his second innings is more about giving back than anything else.
And what allows him to do all of this is the unequivocal love he still enjoys from his fans. His was a retirement like no other. And for the sport itself, which Sachin had served with distinction for 24 years, it was a moment of reckoning.
At the same time, he had left us all with unforgettable memories and the sport was richer for it all. It was indeed a career unrivalled. And forever will be.