On Friday, Tim Paine stepped down as the Australia Test cricket captain. Announcing the decision in a press conference in Hobart on November 19, Tim read out his resignation, battling tears. Calling the decision in the best interest of his career and family, Paine acknowledged the support of his family and fans.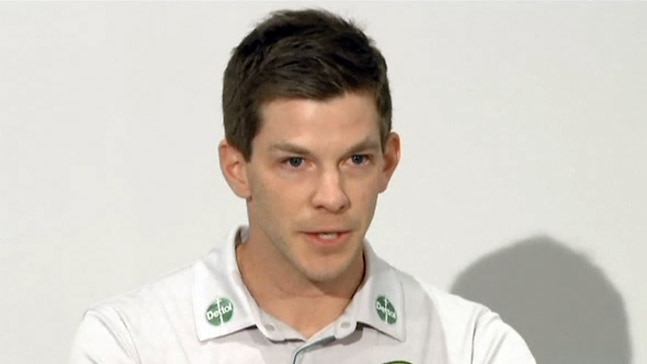 Tim Paine in a press conference in Hobart on Friday stepped down as captain of Australian Test cricket team. Source: India Today
WHY DID TIM PAINE RESIGN? The controversy dates back to November 2017, during the first Ashes Test at the Gabba centre in Brisbane. Tim Paine had sent some explicit messages to a woman co-worker working with Cricket Tasmania. The conversation has now been made public. The woman lodged a formal complaint with Cricket Australia and Tasmania Cricket Authority back in 2018. She also wrote to the Australian Human Rights Commission, which led to an investigation.
Calling the messages (which even included the photograph of his genitals) unsolicited, sexually explicit and unwelcome, the female employee said she was offended by Paine's obnoxious behaviour. Australian newspaper 'The Herald Sun' was the first to report this incident.
Along with the complaint, she also resigned from Cricket Tasmania. She was in regular touch with Paine for about a year before the text messages turned explicit. The two knew each other since Paine's early days in cricket.
TWIST IN THE TALE: Soon after Paine tendered his resignation, Tasmania Cricket Board chairman Andrew Gaggin in a statement said that the allegations against Tim Paine were brought to light only in 2018, when the employee was terminated on theft charges. Until then, the November 2017 incident was not addressed.
He said that although being made privy, no action was taken against Tim Paine, as the conversation was between two mature adults, consensual, private, not repetitive, and occurred on only one occasion. He said that although the board did not condone the action, at the time the complaint was raised, the board had personally discussed it with Paine.
WHAT TIM PAINE SAID: Tim Paine decided to step down as the Australia Test cricket captain once he got to know that the messages were about to be made public. "I recently became aware that this private text exchange was going to become public," Paine said.
"I believe that it is the right decision for me to stand down as captain, effective immediately. I do not want this to become an unwelcome disruption to the team ahead of what is a huge Ashes series," Paine said, biting back tears.
Paine, father to two kids Milla and Charlie, also expressed gratitude for his wife Bonnie's support. He said he is thankful to her for standing by him despite knowing everything.
Tim Paine during a cricket match. Source: India Today
SO, WHAT NOW FOR AUSTRALIA? Cricket Australia has accepted Paine's resignation, and star all-rounder Pat Cummins is touted to be the next captain of the Australian Test cricket team.
Pat Cummins during a cricket match. Source: India Today
Cummins will also be the first bowler to lead the team in 65 years of Australian cricket history.