Is there anything left for Virat Kohli to try in this IPL? It started in the dugout, with Kohli nursing a shoulder injury. Next, after a few RCB defeats, Kohli rushed himself back.
AB de Villiers appeared. Gayle played. Gayle did not play. Same with Shane Watson. Ditto with Travis Head. Even de Villiers went on to miss a game. After starting off with 4 for 9, Samuel Badree ended up on the losing side, he featured in only six of RCB's matches.
After missing the first four games, Kohli has now been part of an unending horror run. Even though RCB beat Gujarat Lions (in Kohli's third game), they went on to lose to the 7th ranked team two games later.
RCB's only other win was against a directionless Delhi Daredevils - a match both Kohli and de Villiers did not feature in. It was this season's 5th match, and at that time, RCB ended up defending 157 - the lowest total ever defended at the Chinnaswamy stadium.
Nearly a month later, RCB helped break that record against KXIP - failing to chase 138, RCB slid to their eighth defeat.
Much before that, however, Kohli threw the ball to Shane Watson for the 20th over - Watson was smashed for 18 by Axar Patel, and KXIP's total was pushed to a competitive 138, at least for RCB. Kohli walked back distraught, mumbling something to himself and de Villiers - de Villiers consoled his skipper, patting him, as for Watson, he walked back alone.
When RCB came on to bat, Kohli did not open the innings. When a team has tried everything, why not try this too, may have been the approach. Not that it worked. A formless Gayle fell for a duck off his second delivery.
These days, the slightest of things seem to set off Kohli and an RCB collapse - coming in at one down, Kohli seemed set to just give it a tonk. He did, but one boundary later, an adventurous saunter down the wicket had him castled.
It was a dismissal that would have done a lower order hitter such as Zaheer Khan or Umesh Yadav proud when there was nothing left to lose.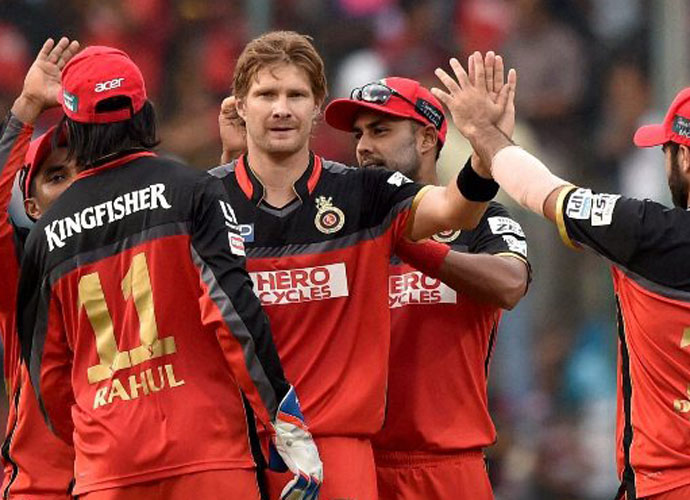 Evidently, there isn't much left to lose for RCB.
Evidently, there isn't much left to lose for RCB. At such a time, the usual platitudes are mouthed, and then again, there is utter dismay that none of them work. Nothing seems to be working. They haven't tried changing their jerseys yet, or reversing the batting order with Chahal and Choudhary opening the innings, but there is every likelihood that that too must have crossed their minds.
There will be a huge churning after this season, chances are, not many, if any of the overseas' players will be retained. But all that is for a later day. The focus, as it often is, is yet again on Kohli. It's not so much as what he can do to turn things around for RCB, because that ship has long sailed, but should he even be part of this sunken ship?
It's obvious the defeats are scarring Kohli's batting and muddling his mind as captain. Personally at least, the bad run seems to have stretched from the Australia Test series into the IPL. The injury was a much needed breather for him to put his feet up and get some much needed chill-time on the sidelines. After that, Kohli just hasn't been able to switch off.
It might be just a few matches, only three really, and Kohli and the RCB management must consider resting India's captain for the rest of the season - it will be a service to Indian cricket and Indian cricket fans.
There's a Champions Trophy round the corner, India are the defending champions. In the past it has been seen how a long IPL season impacts international series straight after. This might be no different. With Shikhar Dhawan finding some form this IPL, chances are, he will take KL Rahul's place on top along with Rohit Sharma.
The key concern though is India's main man at No. 3. What can Kohli do between now and then to recuperate, to be whole again - sooner rather than later, he will have to start pulling himself out of the hole that RCB has become.
There's much cricket to be played, and there's nothing to be gained from trying to steer a lost cause. RCB is done, as is Kohli with them. Time to move on at least for this season.
Kedar Jadhav has played all 11 RCB games, often looked like their best batsman although he too has underachieved. Could he be made captain in Kohli's place? As an India player, much like Karun Nair is captaining the Delhi Daredevils, who knows, there could be something to be gained from this Dravid-like experiment.
Of course, was Dravid in charge of RCB, by now he would've dropped not just Kohli but Gayle and de Villiers too. What do they say about desperate times?