India has witnessed 165% growth in app downloads across iOS and Android devices in the last two years. What's driving this, and who's benefitting?
Earth is showing shifts in the north magnetic pole and here is why you should be concerned — or not.
Hang on! Is Facebook collecting data for a facial recognition system that it's developing? This is something you should know, before posting pictures of you ten years ago to now.
Let's compare the two phones and see which one comes out on top.
Smart toilets to robot puppies, here are the biggest takeaways from CES 2019.
Are we finally closer to answering the question that has troubled humanity since the start of time: Are we all alone in the universe?
The cybersecurity landscape is evolving at a rapid pace, and hackers and experts are both using newer, more innovative ways to stay ahead of each other.
A 'super blood wolf moon', stunning meteor showers and other major astronomical events of 2019 coming up!
From location data to information on sexual orientation, religious beliefs and health status, tech giants are gathering a great amount of sensitive knowledge about their users. That's us.
|
Quantum Leap
| 3-minute read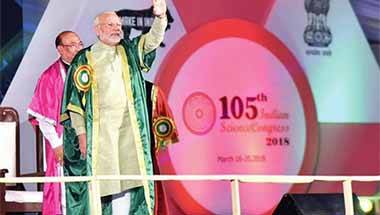 Quantum Leap
The Science Congress brings on one platform policymakers, top science bureaucrats and leading scientists.