Twitter was always chaotic but somehow controlled... until Elon Musk took over and all hell broke loose. Twitter has definitely been more entertaining than ever, but that doesn't really translate into good business and company health.
Here's a look at Elon Musk's 3 weeks in the Twitter office:
Elon Musk doesn't want to be the CEO of Twitter anymore. Well, that was fast!
Okay, so that's not the full story. Musk is not leaving Twitter tomorrow. He might leave the day after; we never know with a man so inconsistent and impulsive. 
Anyway, Musk said that "over time", he would like to find someone else to run Twitter.
I expect to reduce my time at Twitter and find somebody else to run Twitter over time.
- Elon Musk
He had made this statement to investors earlier too. But he doesn't really have a pick as of now on who will succeed him. Musk wants to build Twitter into a strong company before he hands over the reins to someone else. 
Did you guess Jack Dorsey may come back? Nope! Or at least that's what Dorsey is saying now. 
Jack Dorsey in response to a Twitter user asking whether he would return to his role, the Twitter co-founder said he won't. 
So, seems like that door is closed… for now! 
At Twitter headquarters: 
Firings and more firings! The employee exodus from Twitter doesn't seem to be over yet. After the mass layoffs and resignations, Elon Musk has been firing employees left, right and centre.
Turns out, the absolute-free-speech lover doesn't like it when his employees talk back to him, poke fun at him or criticise him... in public or on internal Slack channels. 
Musk has reportedly put a team of his goons to comb through internal messages on Slack, their tweets and such. Anyone found criticising Musk, making fun of him or questioning him, pointing out his mistakes, etc are being fired. 
Musk himself fired an employee on Twitter for contradicting his claim on Twitter (he's since deleted the tweet).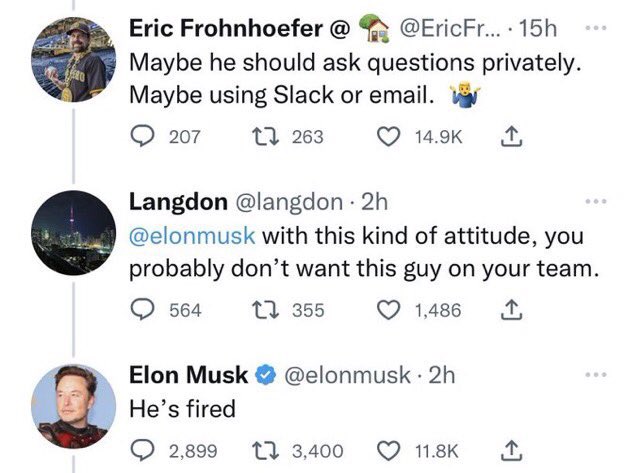 Work 'hardcore' or get out: That's the email document that Elon wants Twitter employees to sign. 
Phew... work at Twitter or perhaps all of Musk's companies sounds like a labour camp.
Elon Musk sent an email to Twitter employees to sign a document pledging to work "long hours" at "high intensity" to build a Twitter 2.0 focused more on engineering. 
Anyone who has not done so (click "yes" on the link) by 5 pm ET tomorrow (Thursday) will receive three months of severance.
- Elon Musk in email to Twitter employees
Twitter Blue's spectacular fall: Everyone on Twitter, even those who don't use it, witnessed in real time the chaos created by Musk's version of Twitter Blue.
Pharma major Eli Lilly and Co suspended its advertising indefinitely, a day after a user impersonating the company with a blue checkmark tweeted that the company is making insulin free for all. 
Eli Lilly and Co's stocks fell as a result, despite them making fervent attempts to call out the impersonator. Twitter's action on the impersonator also came too late and too slow. 
Anyway, Twitter Blue is set for a relaunch on November 29 and it's supposed to return stronger, 'rock solid'. Users changing their account names will temporarily lose their blue verified checkmark until Twitter verifies it is not an impersonator or are playing by the rules of 'parodying'.
Empty chairs: Twitter's inability to act fast in cases like that of Eli Lilly and Co shows the impact of layoffs. There's simply no one at Twitter handling these issues because they have been fired. 
New York Times reported how they weren't able to get any comment from the Twitter Communications department as they were mostly all laid off. 
Elon Musk famously dissolved Tesla's PR team a few years ago claiming that it was a redundant job. And according to reports, Musk has cut down Twitter Communications team to just two people. 
Also, a few weeks ago, Elon also acknowledged that Twitter's 'bankruptcy' is entirely possible. 
Musk also complained about Twitter being too slow in India. Irony: Just days ago, he fired 90% of Twitter India staff.
What's Elon tweeting? The man seems to spend more time tweeting than running Twitter! 
So, Elon Musk replied with a cryptic tweet to another cryptic tweet by Jack Dorsey. Does anyone else understand this secret language used by billionaires?
Then, before that, we had them arguing on whether Twitter's community-driven program putting context to tweets should be called 'Birdwatch' or 'Community Notes'.
Fake news or just sarcastic comments are going viral as fake news on Twitter quite soon. Talk show host Jimmy Fallon was surprised to see #RIPJimmyFallon trending on Twitter. He's alive if you didn't figure it out already!
Fallon asked Elon to fix it. And Elon said it was the job of the 'Community Notes' team to add "context". And also took the opportunity to poke fun at Fallon asking him to prove he's not an alien. 
Elon has also been going on and on about the FTX collapse and during a trial pulled up SEC for not keeping a watch on it and instead being obsessively on his tail. 
Why was there no attention given to FTX? Investors lost billions. Yet the SEC continues to hound me despite shareholders being greatly rewarded. This makes no sense.
- Elon Musk
He also claimed that coverage on FTX on Twitter was "faster and better" than in traditional media. 
Elon Musk also promised a solution for long-form tweets.