The mindset of bureaucrats in the Ministry of Finance remains stuck in the past. It is here that Modi could learn from Donald Trump.
BJP can take a 'holier than thou' stance all it wants, but most of its politicians reek of entitlement, much like Lutyens' Delhi.
The Congress is having a breakdown facing political life without the direct running of the Gandhis. There are very important lessons for other political parties here.
A Union Budget must be more than a roll-call of schemes, however innovative.
Home Minister Amit Shah has made the Modi 2.0 govt's tough stand on Kashmir amply clear. This extends to dealings with Pakistan as well. But the Valley faces a whole new threat.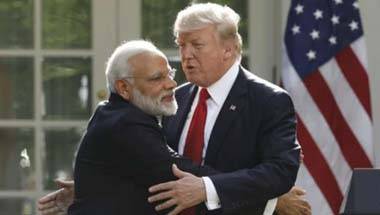 With heightened tensions between US and Iran, and India slapping tariffs on US exports, Modi will have to adopt a clear-eyed strategy at the summit.
The recent doctors' strike signals danger for Mamata Banerjee. In her tenure, Bengal saw fervent minority appeasement, harsh political violence and deep corruption. Can it be cured?
From Kashmir to Ayodhya, Citizenship Amendment Bill to Naxalism, India's new Home Minister has no dearth of tough issues to take on. He also has a host of comparisons riding on him.
After a humiliating defeat, Rahul is in a quandary. Should he defy his family, courtiers and stick to his decision? Or should he take the easy way out, set in motion a half-hearted effort to find a replacement
"In the Congress, we are very tolerant, very democratic, except that we don't take kindly to public dissent," they said. "Charming couple," Suleiman grinned.