Despite the legacy of Indira Gandhi, the Iron Lady who split Pakistan into two, the Congress failed to make a strong anti-terror statement and instead questioned the Balakot airstrike. This has only put patriotic Indians off.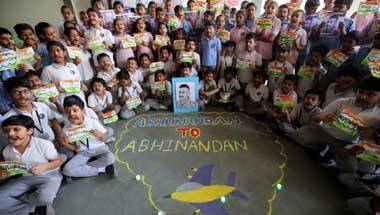 This is the land of Indira Gandhi, the PM who dealt with Pakistan with an iron hand. It's time to adopt a similar approach. That is both righteous dharma and true intelligence.
The Kumbh Mela made me realise so much about my faith, my self, my fellow travellers in this strange and wondrous journey that we call life.
Priyanka has shown enormous guts in tough times. Her decision to formally join the Congress when it is going through one of its hardest moments is a testament to her grit, and her ability to change Indian politics.
The recent Kartarpur Corridor announcement is definitely a matter of glee, but it brings reasons to be worried too.
For Rahul Gandhi, pledging to clean the Ganga is an opportunity to win the hearts of millions of Hindus.
There's no party which has mastered the art of 'whatsapping' better than the BJP.
Weak organisational structure of Congress has made an election with clear choices, one of the most difficult ones.
A blast happens in Bengal. The blame is landed on saffron, a Hindu symbol of faith. How come other religions aren't treated with such glaring contempt?
Ram Mandir? No. Clean Ganga? No. Uniform Civil Code? Return of Kashmiri Pandits? No. The Congress works for Hindus. The BJP only works for itself.