Indira Gandhi built the Congress on toughness, empathy and pride in roots, culture and national security. Today's Congress leaders seem determined to dissipate her legacy.
Narendra Modi used digital and social media brilliantly, and ages before others. In contrast, the Congress' gameplan looked slow, surly and sloppy. This made all the crucial difference.
This election, we saw the worst kinds of name-calling, mud-slinging and foul-mouthed behaviour. Is this how our netas think they are representing Indian culture?
PM Modi's recent remarks about the late Rajiv Gandhi shocked many. It valued cheap sensationalism over the dignity due to the deceased. This is no example to emulate.
Despite the legacy of Indira Gandhi, the Iron Lady who split Pakistan into two, the Congress failed to make a strong anti-terror statement and instead questioned the Balakot airstrike. This has only put patriotic Indians off.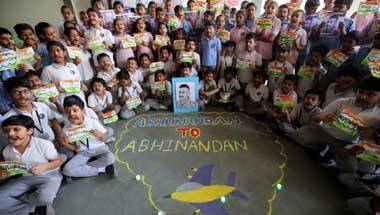 This is the land of Indira Gandhi, the PM who dealt with Pakistan with an iron hand. It's time to adopt a similar approach. That is both righteous dharma and true intelligence.
The Kumbh Mela made me realise so much about my faith, my self, my fellow travellers in this strange and wondrous journey that we call life.
Priyanka has shown enormous guts in tough times. Her decision to formally join the Congress when it is going through one of its hardest moments is a testament to her grit, and her ability to change Indian politics.
The recent Kartarpur Corridor announcement is definitely a matter of glee, but it brings reasons to be worried too.
For Rahul Gandhi, pledging to clean the Ganga is an opportunity to win the hearts of millions of Hindus.