It's a tragedy that can melt even the stony-hearted. As many as 27 children aged between 10 and 12 years on Monday, April 9, died after the school bus they were travelling in veered off the road and fell into a 200ft-deep gorge in Himachal Pradesh. The accident also claimed the lives of the driver and two teachers. Twelve of those injured are critical.
The bus, which had about 40-45 people onboard, was carrying the children back home after school. While every life lost in the accident was precious, the death of 27 children is particularly heartbreaking because there is just so much the children missed out on seeing, knowing and experiencing.
The picturesque mountains and rivers of Himachal are so breathtakingly beautiful that it is hard to imagine they can so callously claim human lives, especially those of young, innocent children. Monday's tragedy, which happened in the Kangra district, is not an isolated one for the state. Similar incidents in the past have left people shocked, shaken and devastated.
Data recorded by the police shows that every year, on an average, around 3,000 road accidents take place in the state, in which around 1,000 people are killed and 5,000 others injured.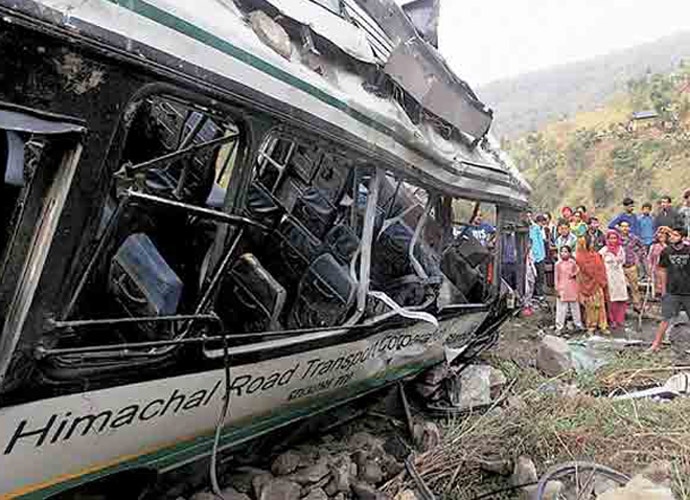 In April 2017, a bus swerved off a mountain road and plunged into a deep ravine in Shimla district, killing at least 44 people. The bus that was carrying 56 passengers plunged into a river around 115 kilometres from Shimla.
The private bus was on its way to Tunni village in Shimla district, from Vikas Nagar in the neighbouring state of Uttarakhand, when it skidded off the road and fell into the Tons river.
In August 2016, 30 people were injured when a private mini bus carrying 60 passengers skidded off the road and rolled down a hill in Himachal Pradesh's Mandi district.
In 2014, at least 25 persons drowned and 17 others went missing after a bus fell into the Gobind Sagar reservoir at Rayian near Bilaspur, 95 km from Shimla. The 40-seater bus was packed to capacity and some people were said to have been also travelling on its roof.
In 2012, a similar accident claimed the lives of 52 people. Those killed, included two children. Another 46 were left injured in the incident, which reportedly occurred after a tyre of the bus burst and the driver lost control over the vehicle.
The 42-seater bus, on its way to Chamba from Dulera, was carrying over 100 passengers and many of them were travelling on the roof of the vehicle when the tragedy struck.
The litany of road tragedies in Himachal can go on and on.
According to the National Ambulance Service (NAS), there are 682 black spots on Himachal roads that have continued to claim thousands of lives every year with an average accident count of 27 per day. The NAS report also claimed that for some strange reason most of these accidents happen on Sundays, followed by Saturday and Mondays. The study suggests that this could be because of travellers partying during weekends.
According to the experts, difficult hill terrain, bad road conditions, sorry plight of state-run buses, abjectly poor maintenance of private buses and government apathy are believed to among the main reasons for the accidents.
Many buses involved in accidents have been found to be in a poor condition, lacking proper maintenance. And we don't seem to have learnt any lessons despite the loss of lives that is taking the tally of the dead up every day, every hour in Himachal.
The lack of basic infrastructure on roads like the side stockades and parapets have also resulted in many accidents.
We do not know the cause of the accident in which 27 children died. Some reports suggest the bus was being driven rashly. That is a matter only investigation can settle.
But we must pause and think what can be done to stop Himachal roads from turning deadlier. Not all accidents are avoidable. There are human errors, bad judgements, mistakes in negotiating turns on hilly roads that lead to tragedies but some steps like advocacy on safe driving, parapets and stockades sure can be implemented so that children leaving schools reach home, tourists live to tell tales of what Himachal looked, felt and smelt like.
Himachal Pradesh draws tourists not just from across the country, but across the globe. We must do all we can to ensure safety is our top priority.