The media has gone into an overdrive following the arrival of Egyptian Eman Ahmed in Mumbai.
The woman from Cairo, who weighs around 500kg, reached Mumbai on Saturday in a specially arranged flight for a weight-reducing bariatric surgery in Saifee Hospital.
Initially refused a visa by the Indian embassy in Cairo, Eman finally got one after bariatric surgeon Dr Muffazal Lakdawala stepped in and tweeted to external affairs minister Sushma Swaraj to help her receive the treatment that she needed.
The hospital reportedly claims it will treat her for free (something that is praiseworthy).
However, Eman soon turned into a subject of photography and a news story of - "10 things to know about Eman Ahmed" across websites and newspapers.
And each story carried a picture of Eman, her body sprawled on a special bed (details of the bed and crane used to lift her have already been reported widely) her head tilted to one side, arms spread out (one of which is paralysed), helplessly looking into the camera.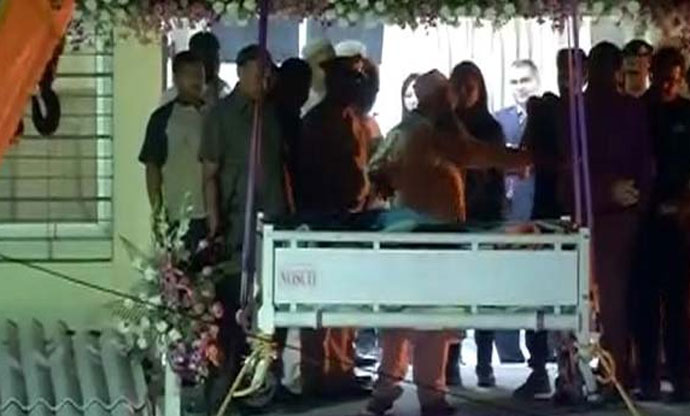 The media has gone into an overdrive following the arrival of Egyptian Eman Ahmed in Mumbai.
The intention behind photographing her and publicising the surgery preparations may have been good (Dr Lakdawala claims to have started an online crowd-funding campaign on BitGiving.com for Eman — #HelpSaveEman — to raise Rs 50 lakh for her air and road transport and medicines), but the surgeon addressing a press conference and giving out a blow-by-blow account appears not just like premature celebration, but also blatant disrespect for the patient's privacy.
While Dr Lakdawala heaped praises on her "sole caretaker", sister Shaimaa Ahmed, who was also present at the press meet, it was Eman who had to bear the camera lights while helplessly watching everyone gorging into details of her vital statistics.
According to a press release issued earlier by the surgeon, Eman suffers from severe lymphedema and water retention. She has already suffered a stroke resulting in paralysis of her right arm and leg, she cannot speak coherently, has type 2 diabetes, hypertension, hypothyroidism, has severe obstructive and restrictive lung disease, gout and is at a very high risk of pulmonary embolism, added the release.
Imagine the trauma of being suddenly exposed to shutterbugs for someone who had not moved or left her home in 25 years.
She cannot even move and speak coherently. So was it right for her team of doctors and the media to expose her to the entire world?
With the world going selfie crazy, Eman's dilemma shouldn't have been difficult to gauge. While we all want to be photographed in our best dress and face, capturing Eman on camera in her moment of pain appeared absolutely devoid of good taste or common sense.
Her pictures splashed across websites and newspapers along with slideshows not just seemed in poor taste but also felt like watching pornography of misery.
It would be foolish to expect the Indian media to consider ethics and morality, but we also cannot deny the fact that people are equally hungry for publicity.
The media can also easily shift the blame to its viewers/readers because today's audience demands more of photographic evidence when it comes to news consumption.
So, who will decide where to draw the line?
While news pictures must capture the truth, it should also capture the emotion that was experienced for the readers to see and feel what it was like to be present at the scene.
In this case, nobody – neither the media nor her team of doctors – bothered to think what the subject was going through, forget her pain and that helpless look.