Daily Recco, January 1: Start 2021 on a sweet note with almond cake
It is the first day of 2021 and it has to start on a sweet note for the year to hold all the sweet memories.
2021 has dawned and the vagaries of 2020 are behind us. The year needs to start on a sweet note for it to encase all sweet memories as it goes along. The sweet should also be healthy and with that in mind, we bring you an easy to make almond cake.
Photo: Wikimedia Commons
What you'll need:
One and a half cups of sifted maida
One cup of almond flour
Two teaspoons of baking powder
Four eggs (large ones)
One and a quarter cups of sugar
One tablespoon of icing sugar for garnishing
Three-fourths cup of vegetable oil
One cup fresh of orange juice
Two tablespoons of orange zest (from the oranges used to squeeze the juice)
One teaspoon of vanilla extract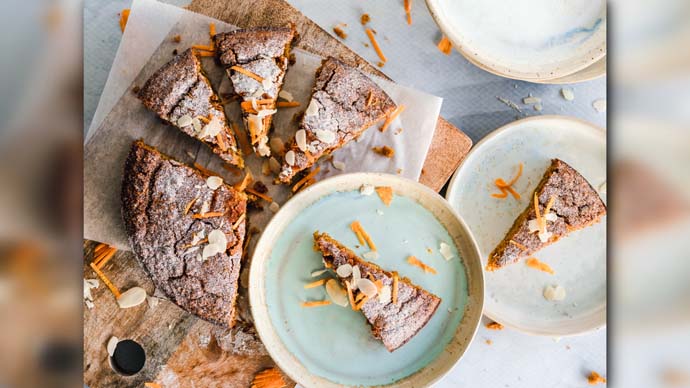 Photo: Wikimedia Commons
How to:
Before you start:
1). Preheat the oven 325 degrees Fahrenheit (or 165 degrees Celsius)
2). Grease a 10-inch Bundt pan or fluted tube pan with vegetable oil and set it aside.
In a mixing bowl sift the maida, almond flour and baking powder together.
In another mixing bowl, whisk the eggs and sugar together till it is pale and fluffy.
While whisking (slowly) add the oil little by little until combined with the mixture.
Next, add the orange juice, zest (save a little for the garnish) and vanilla extract. Keep whisking slowly until combined.
Using a spatula, fold in flour mixture just until it combines. Ensure that you don't over mix.
Pour batter in the Bundt pan and bake for an hour. Remove and check if a toothpick or knife inserted into the centre of the cake comes out clean. If it doesn't, bake for another 10 minutes.
Remove from the oven and put the pan on a wire rack, allowing it to cool completely.
Let it sit for 15 minutes and then run a knife along the edges. Carefully invert the cake onto a plate.
The cake can be stored in the fridge in an airtight container for five days. Before serving, let it sit on room temperature and garnish with icing sugar and orange zest.
The views and opinions expressed in this article are those of the authors and do not necessarily reflect the official policy or position of DailyO.in or the India Today Group. The writers are solely responsible for any claims arising out of the contents of this article.