Walmart nearing $7 billion Flipkart deal in India: What it means for e-commerce market
With Walmart-Amazon rivalry spilling over to India, there is only one likely winner - the consumer.
India's e-commerce war is all set to heat up with American retail giant Walmart Inc stepping up efforts to acquire a significant stake in Flipkart.
A Bloomberg report suggests that Walmart is currently in the final leg of striking a deal that will see it spending about $7 billion to become the largest investor in India's leading homegrown e-commerce firm, Flipkart, which is currently locked in a fierce battle with Amazon.
If the deal comes to fruition, Walmart will be put in a straight battle against its old rival Amazon, which in the last decade has been slowly eating into the former's share in its home market of America.
According to the report, the proposed deal will see Walmart buying about a third of Flipkart's shares to become the majority stakeholder, in part by purchasing stakes from Tiger Global Management and SoftBank Group Corp. This goes against earlier reservations by Japan's Softbank which had shown reluctance to let Walmart take the driving seat in the e-commerce venture.
Why the deal is a win-win for Flipkart and Walmart
If the deal goes through, it will only come as good news for Flipkart as it is expected to push the valuation of the homegrown startup to about $20 billion, up from about $12 billion last year. The report further adds that the deal could be finalised in the next two weeks, with Walmart making its entry as early as April 2018.
For Walmart, it would give the company a direct route into what is widely regarded as one of the most important e-commerce markets in the world. The burgeoning e-commerce sector in India has been on an upswing of late and, according to an assessment by investment bank Morgan Stanley, will swell at a 30 per cent compound annual growth rate and be worth $200 billion by 2026.
In a report titled India's Digital Leap– The Multi Trillion Dollar Opportunity, Morgan Stanley said an increasing number of internet users, all new to e-commerce, will help lead this growth and market penetration in India to 12 per cent in the next nine years, as compared with the two per cent in 2017.
Long-running rivalry
Apart from being a sound financial bet, Walmart's entry into the Indian e-commerce sector would also represent a long-running rivalry between Amazon and Walmart shifting bases to India. As Business Insider points out, no feud in business was more solidified in 2017 than the one between Amazon and Walmart.
Walmart solidified its market share in the sector in 2017 after the retail giant made a strong move on to Amazon's turf in 2017, eating away at online market share with a revamped Walmart.com. In its home country, America, Walmart saw a staggering 60 per cent increase in online sales in 2017.
However, Amazon responded to this by taking a string of important steps such as opening Amazon's Whole Foods stores to erode into Walmart's specialty of low-priced grocery segment. It further eroded Walmart's position as a market leader after it opened its AI-powered checkout-free Amazon Go grocery store in Seattle.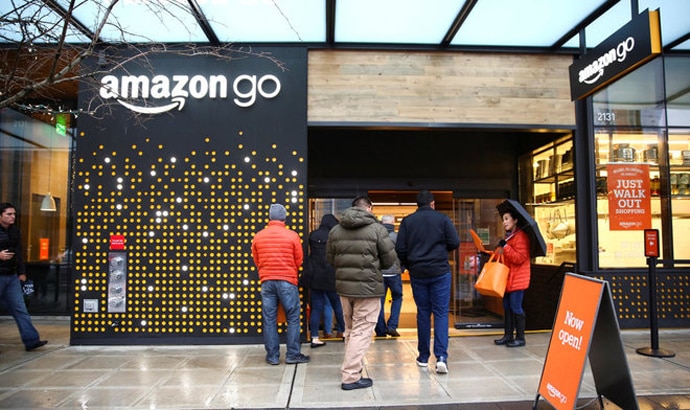 Good for consumers
This rivalry between the two led to a clear winner in the US market: the consumer. Now with the two looking likely to lock horns in India, expect the Indian consumer to enjoy similar benefits as the e-commerce sector brings to the Indian buyers better deals, discounts and offers than before.
There is no denying that with all the sales, 2017 was a great year for the Indian e-commerce buyer. But things could get better in 2018 with the rivalry between Amazon and Flipkart intensifying, and with Walmart and its deep pockets becoming part of the equation.
Also read: Have questions over Rafale deal made Nirmala Sitharaman lose her sheen?
The views and opinions expressed in this article are those of the authors and do not necessarily reflect the official policy or position of DailyO.in or the India Today Group. The writers are solely responsible for any claims arising out of the contents of this article.