KOCH DIARIES
DailyOh! Shah's signature sends Surat's Patel to jail, to the Biblical Famine we keep talking about
All Rajesh Patel wanted was to travel to Gujarat from Maharashtra - the lockdown notwithstanding.
Hey there,
Thursdays used to come with the promise of weekends once upon a time. But it's all a blur now. Well, if you too are working from home, at least you won't have to deal with your boss over the weekend. We'll get to that happiness tomorrow. Today, the one person who is really unhappy is our Covidiot Of The Day.
Remember how we all (okay, some of us) forged our parents' signature on the school report card when our marks were certain to leave slap-marks on our faces? And sometimes, our teachers did not realise the ghapla? A 38-year-old real estate broker from Surat thought he could do that with Home Minister Amit Shah.
Rajesh Patel was in Mumbai to visit his brother when the country was locked down. He turned to his friends for advice on how to go back to Gujarat. One of them came up with this brilliant plan. This guy created a 'special letter', forged Shah's signature and WhatsApped it to Patel pronto.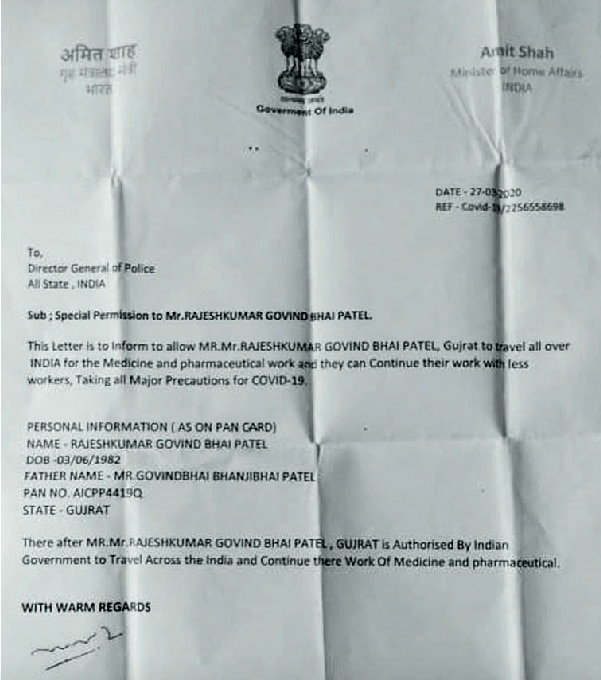 The letter with Amit Shah's forged signature.
Patel, now, armed with this letter from the Home Minister, took off on his 300-km journey from Mumbai to Surat. He zoomed past several checkpoints before one cop realised something was amiss. When the policeman at the Vaghaldhara checkpost in Gujarat asked to see a physical copy of the letter, Rajesh Patel fumbled. And you know what it is like when you're caught lying. After the first fumbling, it is very difficult to maintain your composure. So Patel was caught and charged with forgery and criminal conspiracy among other sections. Saaru nathi!
By the way, the policeman we told you about yesterday, who made his homeguard do sit-ups for asking for a pass from Araria District Agriculture Officer Manoj Kumar? That policeman has been suspended. We don't yet know what is being done to Kumar though.
On the other side of the Gujarat border, Pak Prime Minister Imran Khan has tested negative for the novel coronavirus. We told you yesterday that he took the test after one of the people he came in direct contact with tested positive. Well, we are happy for Khan.
Pakistan Prime Minister Imran Khan has tested negative for the novel coronavirus. (Photo: Reuters)
The numbers of positive cases in India, however, has crossed 21,000. 1,400 people were tested positive yesterday and it took the number to that. 681 people have died due to Covid-19. We are going through with the lockdown till May 3 as of now, but you never know what is waiting for us on May 4. While virologists are saying we need to stay home at least for 10 weeks, the executive director of the World Food Programme has said that the economic impact of the worldwide lockdown can result in several famines of Biblical proportions. So what is this Biblical famine everyone keeps referring to these days?
These seven years of famine struck Egypt. In Genesis 41, Joseph interprets a dream for the Pharaoh. He says God sent his message via a dream to the Pharaoh: Egypt will have seven years of abundance, followed by seven years of famine. This interpretation, the Bible says, came true. And when famine struck Egypt, the Pharaoh asked his people to go to Joseph for food. Now thanks to his interpretation of the dream, Joseph had already gotten the Pharaoh to prepare for the seven years of famine by storing food in advance during the seven years of abundance. This came handy, and while the rest of the world was struggling with a famine - of biblical proportions - Egypt had enough food.
The World Food Programme has said the economic impact of the worldwide lockdown can result in several famines of Biblical proportions. (Photo: Reuters)
In Egypt's Aswan, there is even an inscription on a rock which talks of this seven-year famine during the reign of Djoser. This Famine Stela was first thought of as referring to the story in the Bible. But then historians found out that this seven-year famine has been quite common a motif across the Near East, or Middle East, as we better know them today.
If you have difficulty placing Djoser (history is difficult; the 5,000-year Egyptian history, more so), he is the king who that Step Pyramid in Saqqara is for. This Step Pyramid is the first pyramid ever built. Yes, its more famous counterparts in Giza came many years later.
Now keeping with what the coronavirus might do to the world, famine is also our Word Of The Day. The word originates from Latin 'fames', which means hunger. Famine today means an extreme shortage of food or can also refer to the period of extreme shortage of food, like what experts world over are saying Covid-19 will do to the world.
The coronavirus crisis is also telling us that not all people are bad. Well, social media will almost always make you turn a misanthrope, but good people do exist. Take these migrant workers, for example. They were quarantined in a school in Rajasthan. Since the school looked after them during these times, they wanted to do whatever they could. This group of painters offered to paint the school. The school administration, goes without saying, did not know how to thank them.
Now here is a positive story. Migrant labours from MP & Gujarat were quarantined at Palsana, Sikar. As a gesture they offered to colour the school since were getting food etc from there. Sarapanch arranged material. People are beautiful & inspiring. pic.twitter.com/1ncjTJGKA0

— Parveen Kaswan, IFS (@ParveenKaswan) April 22, 2020
Schools remind us of books, and it is World Book Day today. So we will tell you what the second most read book in the world is. The first you know is The Bible (but by most read, we mean most sold because there's no way to find out whether you read a book after buying it). So while The Bible sold 3.9 billion copies in 50 years (from 1962 to 2012), the second most sold book was from China: Quotations from the Works of Mao Tse-Tung. By 2012, it had sold 800 million copies. Some of the most quotable quotes from this book were printed and sold in small sizes, to make it easy to carry. The West called it the Little Red Book. This was before Kindle happened and made it easy to carry any book anywhere with you.
On Kindle or in paper and ink, keep those books around. They have been mankind's best friends since the first book went to print. And books, sure, are the only way we will get through this lockdown period.
So stay home. Read and read more.
See you tomorrow.
Also Read: DailyOh! China used vaccines 800 years before Jenner, to the Quarantine Island you cannot visit
The views and opinions expressed in this article are those of the authors and do not necessarily reflect the official policy or position of DailyO.in or the India Today Group. The writers are solely responsible for any claims arising out of the contents of this article.