IAF air-strikes: Why BJP and Opposition playing politics over Balakot is advantage Pakistan
Amit Shah putting a number to casualties is a self-goal, while Navjot Singh Sidhu has forgotten the difference between being a guest on comedy shows and an elected MP.
When 12 Indian Air Force (IAF) Mirage 2000 that took off from Gwalior airbase entered Pakistani air space and dropped 1,000 kg bombs, the message to Islamabad from New Delhi was unequivocal — India has reset the terms of engagement and won't shy away from climbing up the escalation ladder, should the neighbouring country continue to allow its soil to be used as a breeding ground for terrorists.
The IAF air-strikes sent out a clear message — India was ready and willing to climb up the escalation ladder. (Source: Reuters)
That message, which the world took note of, building pressure on Pakistan to release IAF Wing Commander Abhinandan Varthaman within 48 hours of his being held captive, runs the risk of getting lost in the din of India's competitive politics.
A debate in India has taken over the current political discourse, on the number of casualties the IAF air-strikes caused on February 26. Worse, some are asking for 'proof' that the air-strikes even happened.
Trinamool Congress leader Mamata Banerjee was among the first to demand proof. Banerjee said, "National television channels were saying that 300-350 people were killed [in the operation]. Some international channels say one died. We want to know how many actually died."
Meanwhile, senior Congress leader Digvijaya Singh wants the Narendra Modi-led BJP government to 'clear the doubts' being raised by the foreign media over the impact of the strikes carried out by India. Joining the chorus for proof was another Congress leader Kapil Sibal.
Sibal said, "Modi ji must answer as the international media like New York Times, Washington Post, London-based Jane Information Group, Daily Telegraph, The Guardian and Reuters, are reporting that there is no proof of militant losses at Balakot in Pakistan."
But in this politicisation, Opposition leaders are only taking a cue from BJP president Amit Shah who, during a public rally, said that 250 terrorists were killed in the air-strikes. When asked about where Shah was getting the numbers from, since he holds no official position in the government, BJP spokespersons said Shah was making an intelligent guess.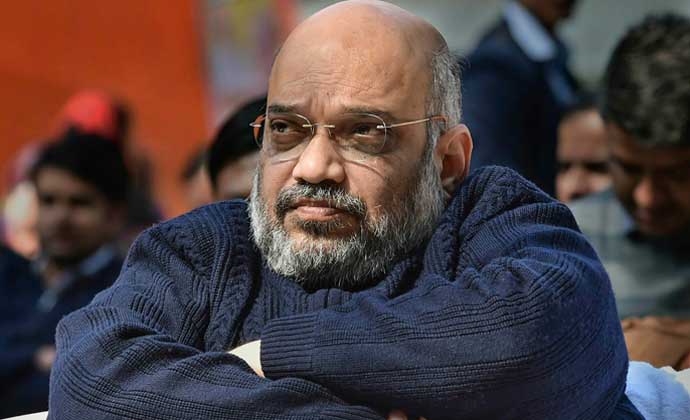 At a time of national seriousness, the BJP president is busy making 'intelligent guesses' on Balakot's casualties. (Source: PTI)
Debating numbers at a time when India should be thinking about the next step to sustain the pressure recently built on Pakistan, politicians are only showing a lack of intelligence at best — and the eagerness to capitalise on the valour of India's defence forces at worst.
Congress leader Navjot Singh Sidhu, on his part, seems to have forgotten the difference between being a guest on comedy shows and being an elected Member of Parliament. Sidhu wants the government to answer if those attacked by the IAF were trees or terrorists.
Navjot Singh Sidhu wants the BJP government to tell him if the air-strikes hit trees or terrorists. (Source: PTI)
India's politics and its politicians seem to be in a race to fail this country — in a bid to win an election.
They seem to have absolutely no regard for Abhinandan Varthaman who looked straight into the eyes of the Pakistani military men questioning him, and refused to give out any details that could have jeopardised India's strategic edge over Pakistan.
Politicians in India are currently doing everything to give away that advantage to Pakistan.
The first conformation of the air strikes came from Pakistan, with the country's military confirming that Indian fighter jets had entered its airspace and dropped payloads. If this is not proof, what would be?
Payload of hastily escaping Indian aircrafts fell in open. pic.twitter.com/8drYtNGMsm

— Maj Gen Asif Ghafoor (@OfficialDGISPR) February 26, 2019
As strong and apt follow-up action, India should now be looking at isolating Pakistan on the world stage. Indian External Affairs Minister Sushma Swaraj used the Organisation of Islamic Cooperation (OIC) meet to raise the issue of Pak-sponsored terror being used against India. But why should the world community trust India when India itself is raising doubts over whether Pulwama was an act of terror or a mere accident and whether IAF fighter jets struck terror targets in Pakistan or not?
The air-strikes are proof that Pakistan has a thriving terror infrastructure.
Those questioning it are indeed helping Pakistan, which can then use reckless statements being made in India to deny the same.
The air-strikes are proof that Pakistan has a thriving terror infrastructure. Isn't that enough for our netas? (Source: Twitter/@OfficialDGISPR)
By claiming credit for the air-strikes through trying to put a number to the casualties it caused, the BJP has scored a self-goal. By asking how many died, the Congress and other Opposition members are helping the Pakistani narrative, even if unknowingly.
Reports coming in from Pakistan every day now suggest that parts of the country are observing blackouts in anticipation of another strike. This is the impact the IAF strikes had. Pakistan has been told there will be consequences for messing with India. 'Business as usual' is no longer going to be the norm.
Political leaders are, however, telling us it is going to be business as usual when it comes to domestic politics.
That the Chief of Air Staff BS Dhanoa had to come out and say, "...If we plan to hit the target, we hit the target, otherwise why would he (Pak PM) have responded, if we dropped bombs in the jungles, why would he respond," is proof that the air-strikes had an impact.
But that Air Chief Marshal Dhanoa felt the need to say it in the first place is a commentary on the politics at play.
Also read: From Doklam to Uri to Pulwama, India was caught off-guard. But preparedness is the only way to combat terrorism
The views and opinions expressed in this article are those of the authors and do not necessarily reflect the official policy or position of DailyO.in or the India Today Group. The writers are solely responsible for any claims arising out of the contents of this article.