DailyOh! Arvind Kejriwal will take oath on February 16. What else is special about the day?
On February 16, Arvind Kejriwal is taking oath as the chief minister of Rajdhani Dilli for the third time. The day also has something to do with almonds.
Hi there,
We thought once the Delhi election results come out, there would be some peace, even if for a brief period. But the blame game over why those who won won and those who lost lost is now turning out to be just as bitter as the claims over who would win before elections did. While Aam Aadmi Party (AAP) and the BJP are sparring with each other, Congress, finding no one to spar with, has started fighting among themselves.
We don't want to get into the details of what's happening in the Congress camp, but this tweet war between P Chidambaram and Sharmistha Mukherjee is just too good to skip. So here you go.
AAP won, bluff and bluster lost. The people of Delhi, who are from all parts of India, have defeated the polarising, divisive and dangerous agenda of the BJPI salute the people of Delhi who have set an example to other states that will hold their elections in 2021 and 2022

— P. Chidambaram (@PChidambaram_IN) February 11, 2020
With due respect sir, just want to know- has @INCIndia outsourced the task of defeating BJP to state parties? If not, then why r we gloating over AAP victory rather than being concerned abt our drubbing? And if 'yes', then we (PCCs) might as well close shop! https://t.co/Zw3KJIfsRx

— Sharmistha Mukherjee (@Sharmistha_GK) February 11, 2020
Now, the fighting can continue for as long as it has to but Arvind Kejriwal is set to take oath as the Delhi chief minister for the third time. The only other person to have occupied that CM's chair thrice in Delhi was Congress's Sheila Dikshit. She is, of course, no more. But Kejriwal will take oath on February 16. Once we got to know about the date, we began wondering what was so special about February 16. Apart from the fact that it is a Sunday, there is nothing special about the day in India. Okay, all days are special depending on how we treat them, but in India, no great event worth remembering is associated with February 16.
In the US, however, February 16, is National Almond Day. The United States dominates the global production of almonds (California almonds, remember?) followed by Spain and Italy. California is actually the world's largest producer of almonds. It is said that 80 per cent of the world's almonds come from California. How can we talk about California without remembering that lovely song, Hotel California?
Listen to it here:
Let's get back to the almonds now. Almonds are the healthiest of snacks, but did you know that almonds are not nuts? So what are they? They are actually seeds of a fruit — the almond fruit. When the almond fruit is ripe, we remove its flesh and shell. We then eat the small kernel inside. Colonels protect our borders and kernels protect our health. Not all kernels, but almond kernels.
So next time someone tells you almonds are nuts, tell them that a nut is a dry, hard-shelled fruit, which almond is not. And this applies to a lot of other nuts that are actually not nuts. They include walnuts, cashews and pistachios. So when you eat mangoes, you can forget the kernels, but when you eat almonds (or walnuts, cashews and pistachios) you can't afford to do that.
You must be aware that in India, Kashmir has the reputation of producing good quality of almonds and walnuts. Dry fruits from Kashmir are, in fact, sold across India and are even exported.
Oh, talking of Kashmir, we did tell you sometime ago that three former chief ministers of J&K, Farooq Abdullah, Omar Abdullah and Mehbooba Mufti, have been booked under the stringent Public Safety Act (PSA). Omar's detention plea came for hearing in the Supreme Court today. If you want to read more on what happened in court today, you can read this.
Do you know who has moved the plea on Omar's behalf? Sara Abdullah Pilot. Yes, yes, she is Omar's younger sister. Sara married Congress leader Sachin Pilot on January 15, 2004, after they met while pursuing higher education at Wharton School of the University of Pennsylvania. Given that Sara was a Muslim and Pilot a Hindu, the former's family raised objections to the alliance.
Omar Abdullah with younger sister Sara Abdullah Pilot. (Photo: India Today)
This looked a bit odd to many because Omar was himself married to Payal, a Hindu then. Also Farooq had married Molly, a Christian. Molly was not even an Indian citizen. She was British. However, when the issue of Sara and Sachin came up, many in the National Conference objected to the alliance and thus, Omar and Farooq decided to skip Sara's wedding.
They stayed away from the wedding but there was no rift in the family. This was just politically suited for the family. Omar, Sachin and Farooq now enjoy a strong bond. But Omar and Farooq continue to be under detention.
Congress leader Sachin Pilot (C) with former Jammu and Kashmir chief ministers Omar (L) and Farooq Abdullah. (Photo: PTI)
Talking of detention, did you hear about Mohammed Nalapad, Karnataka Congress MLA NA Harris's son? Let us tell you what the guy has done.
Nalapad, who was out on bail in a case where he beat up a man, drove so rashly that he hit an auto and a biker. The biker has suffered a fracture in his leg. Now, all these rich and powerful people are known to drive luxury cars. Guess what Nalapad was driving. A Bentley.
Our eyes popped out when we found what the costliest model of Bentley (Rapier) costs — US$ 45,00,000. That is Rs 32,09,26,500, which is over Rs 32 crore. Imagine the things you could do if you had Rs 32 crore in your account. Strike that. Imagine what three of your generations could do if you had that much money.
Have you heard of the Bentley Rapier with the number plate JB 3? No, it wasn't owned by James Bond. It was customised for a certain notorious prince, Prince of Brunei Jefri Bolkiah. Bolkiah is the brother of Sultan of Brunei Hassanal Bolkiah, who came to be called 'The Playboy Sultan' after ABC Australia aired a documentary by the same name.
This particluar Bentley Rapier was made in 1996 at the height of prince Jefri's spending spree. It is said Jefri spent millions of dollars over a week. The Bolkiah family is so rich that once while 'The Playboy Sultan' was scheduled to visit the US, then president Barack Obama joked that he "encourage him to do some shopping" to "strengthen the US economy". And then the Sultan arrived in style. He flew his own Boeing 747 to the US. He also owned 2,000 luxury cars and a terribly named yacht (propriety is making us not name it here, but you can go ahead and Google).
Now, that is what we call living it large.
Since we are talking about global matters, the one big issue that everyone is worried about these days is the coronavirus. The death toll, it is believed, has crossed 1,100. The world is busy figuring out a way to deal with the epidemic. The World Health Organisation (WHO) has proposed an official name for the illness now: COVID-19. The acronym stands for coronavirus disease 2019. That is because the illness was first detected towards the end of 2019.
Have you ever wondered when viruses began getting proper names? The first virus was discovered in 1892. For the first 60 years or so of that discovery, there was no system in place to name viruses. They were named randomly.
About 30 years ago, when the Human Immunodeficiency Virus (HIV) was discovered, it was named 'GRID', or 'gay-related immune deficiency'. Only when it became clear that the disease was sexually transmitted was it renamed to HIV. The H1N1 flu was also called swine flu or Mexican swine flu despite objections being raised that while the former hurt religious sentiments, the latter was offensive towards a nation.
And who can forget the superbug enzyme that some scientists called New Delhi metallo beta lactamase or NDM-1? The Indian government called it "malicious propaganda". In 2015, the WHO recommended that diseases not be named after places. Who wants a world full of disgruntled countries, no?
While WHO has set clear guidelines on how not to name diseases, the Central Board of Film Certification (CBFC) has set no clear guidelines on what could offend it and hence be axed from movies. The latest victim of the CBFC axe is Imtiaz Ali's Love Aaj Kal that stars Sara Ali Khan and Kartik Aaryan. Apart from beeping words, the CBFC has replaced a scene where the actors are undressing each other with 'blow up shots of the duo'.
A kiss has been reduced to a flash. Reports suggest the visuals of cleavage too have been blurred. Here's the full list of changes: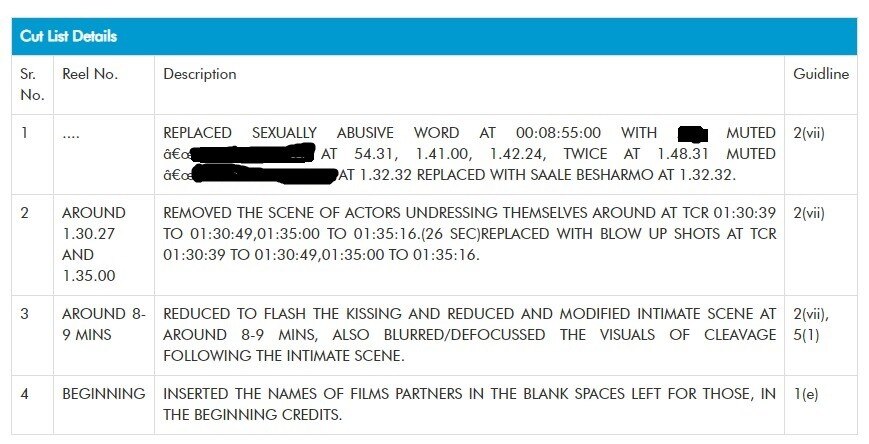 The certification board in India is also called the Censor Board. But it has been very arbitrary in its axing act.
In Kangana Ranaut's 2014 hit Queen, there were several scenes involving bras. CBFC allowed the one in which the lead character Rani tries to wear one while under a blanket. But in another scene where she holds it out in her hand, the bra was blurred. And much earlier, the CBFC had no objection to the 1994 Dilwale Dulhaniya Le Jaayenge, in which Shah Rukh Khan (Raj) holds Kajol's (Simran) bra in his hand.
Many have objected to CBFC's haphazard snipping act. They say CBFC should just give out certificates to movies. True indeed. Neither 'C' in CBFC stands for censor. But what does censor stand for?
First things first, censor is our Word Of The Day. Censor means "to examine in order to suppress or delete anything considered objectionable".
The word is believed to have originated in ancient Rome. The government in Rome appointed officials to supervise public morals. Thus, a censor is an official whose job it is to examine literature, movies, or other forms of creative expression and to remove or ban anything she considers unsuitable.
Now, ban is not a word we like. Let creative ideas flow from all directions and let people decide what is good for them and what is not.
Art is made, remade. Interpreted and reinterpreted. Let there be creative freedom. But this remake business reminds us of the latest song that has been remade — Dus Bahane. Dus Bahane, which you and we both heard in the movie Dus, was the most played song of 2005! How many bahane did you have to hit rewind on Dus Bahane?
Whatever may be the count, if you're one of those fans of the original Dus Bahane, you will be hurt to hear what the music composers Vishal-Shekhar have done to their own song. Dus Bahane has been remixed for Tiger Shroff and Shraddha Kapoor-starrer Baaghi 3. This version is called Dus Bahane 2.0. Want to listen to the song? Here:
A lot of people say this remix business is bad and it is killing creativity, but remixing is also creativity. Our fear is probably that the new would destroy the old, when actually both can coexist.
Too much gyaan?
Let's lighten it up for you. Listen to the older version of Dus Bahane here:
Hope you enjoyed both.
We will leave you with this for today and meet you again tomorrow.
Have a good time till then and beyond. Bye!
Also read: DailyOh! How Bigg Boss cost Manoj Tiwari his marriage to why Deen Dayal Upadhyaya's death is a mystery