Barbie has been an icon and inspiration for women across the world. Since its creation in 1959, Barbie has evolved from being only a doll for young girls to a global symbol of 'anything is possible'.
The doll, however, has a long history of lacking inclusivity, in terms of race and body shape. Celebrities like Kim Kardashian and Lizzo have made the non-Barbie body type 'stylish' and as social media is evolving to become a safe space for all body types and races, Barbie has begun making changes of its own.
Here are 5 groundbreaking Barbie dolls that promote body acceptance and racial diversity: 
On May 11, Barbie's latest Fashionistas line was announced and it was a reason for joy for many consumers with hearing disabilities. The new collection, for the first time, features a Barbie doll with behind-the-ear hearing aids.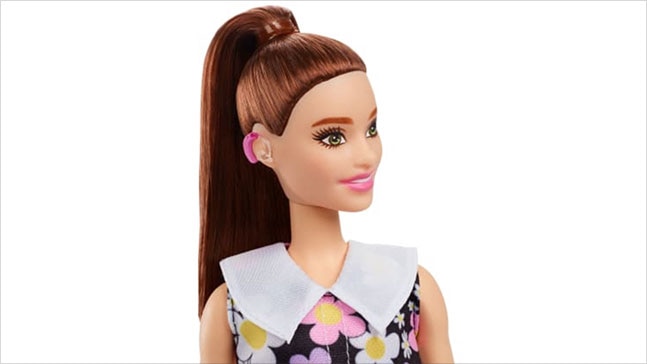 Photo: Mattel
The new line also features a doll with a prosthetic leg and a Ken doll with vitiligo.
Mattel's Barbie team collaborated with expert and hearing loss advocate Dr Jen Richardson in order to accurately represent the doll.
"I'm honoured to have worked with Barbie to create an accurate reflection of a doll with behind-the-ear hearing aids. As an educational audiologist with over 18 years of experience working in hearing loss advocacy, it's inspiring to see those who experience hearing loss reflected in a doll," said Dr Richardson.
Barbie's 2019 Fashionistas line marked the first time Mattel released Barbie dolls with physical disabilities. Available to buy since June 2019, the new line featured a Barbie doll with a prosthetic leg and another doll with a wheelchair. 
Check out this picture of Barbie's 2019 Fashionistas line: 
Mattel also worked with the UCLA Mattel Children's Hospital and wheelchair experts to design the Barbie doll with a wheelchair.
Not only the physically disabled Barbie dolls, Mattel also introduced a Barbie DreamHouse compatible ramp to promote infrastructure accessibility for the physically disabled.
Back in January 2016, Mattel announced that Barbie will now be available to buy in three new body shapes; tall, petite and curvy, marking the first time the popularly skinny doll was available in other body types.
Named Oriental Barbie, Mattel's first Asian Barbie doll was released in 1981. The collector doll was a part of Barbie's Dolls of the World collection.
The Oriental Barbie was released in a long yellow dress with red trimmings and a red and golden-flowered jacket. Oriental Barbie described herself as from Hong Kong. Since Oriental Barbie was the first Barbie of its kind, the face sculpt came to be known as the Oriental / Miko / Kira Face Sculpt.
While Mattel did release an Asian Barbie in 1981, it was ultimately in March 2022 when the toymaker released its first Desi Barbie. To celebrate Women's History Month, Mattel released a South Asian Barbie who was modelled after Deepica Mutyala, the founder and CEO of makeup brand Live Tinted.
View this post on Instagram
The doll was seen in a pink pantsuit with jhumkas, bangles and featured one of Live Tinted's popular products, a T-shirt that read "My skin is not a trend".
Christie came in 4 versions; Talking, Twist 'n Turn, Live Action, and Sunset Malibu.
Ultimately it was in 1980 when Mattel released African-American Barbie, along the first Hispanic doll. Black Barbie was created by Louvenia "Kitty" Black Perkins. Perkins's aim was to ensure that Black Barbie was sophisticated, confident, glamorous, svelte and special.
In a Mattel press release, Perkins said, "Barbie offers a whole new way for children to imagine and play. With that in mind, knowing that the Afro-American community was really looking for something that they could identify with and that children could be proud of, I think we achieved that with the Black Barbie doll."