For asking votes in the name of religion, the Election Commission barred Bengal chief minister Mamata Banerjee from asking for votes under any name for 24 hours yesterday. The 24 hours end today at 8 pm. To kill the hours in between, Didi (O Didi) reached for her paint brush. You would reach the end of imagination and still not be able to tell what Didi painted because her painting went past the artistic horizon. It could be a smoker's lungs, or the remnants of a forest fire painted to depict climate change - a possible reach out to Great Thunberg for support. It could be anything and nothing. The good news is Didi's painting would stop at 8 and she would go back to campaigning in Bengal. The bad news is Didi may resume painting if she loses.
Mamata Banerjee shows her painting. (Photo: Twitter/@iindrojit)
We will come back to the campaigning in Bengal. For now, we must go look for Prince Harry.
Prince Harry lost his grandfather, Prince Philip, on April 9, so he landed in the UK on April 11 to pay his last respects. Harry will remain in the UK at least till April 17 to attend the farewell service of Prince Philip. The Punjab and Haryana High Court, however, believes Prince Harry could be sitting at a cyber café in some village of Punjab. Even if one were to believe that the prince has run out of data, after running out of favour from the royal family over racism charges made during an interview with Oprah Winfrey, he still wouldn't need to come to Punjab for internet.
The court in any case wasn't referring to Prince Harry but 'the so-called Prince Harry'. The court's remarks came after a woman filed a petition demanding Prince Harry's arrest "so that no further delay would occur in the marriage". The woman, who represented herself in the court, presented emails as evidence to support her claim. The court threw the petition out of the court faster than love goes out of the window post marriage saying: "It is a well-known fact that fake IDs are created on various social media sites like Facebook, Twitter etc... There is every possibility that so-called Prince Harry may be sitting in a cyber cafe of a village in Punjab..."
The EC has acted on the very real comments by BJP leader Rahul Sinha banning him for 48 hours from campaigning in Bengal. Sinha had said eight, not four, people should have been killed in the Cooch Beehar firing. An EC decision on action against Dilip Ghosh is pending because he has time until 10 am tomorrow to respond to a notice from EC. Ghosh had said more Cooch Behar-like incidents may happen if "naughty boys like the ones who received bullets in Sitalkuchi" try to take the law into their hands. By the time Ghosh responds and EC takes a decision on the response, campaigning in Bengal for the fifth phase might have drawn to a close.
But was Rajasthan Royals captain Sanju Sampson right in his decision to deny strike to Chris Morris in the last over in the match against Punjab Kings yesterday? Legendary batsman Brian Lara and many of Sanju's fans say yes. If you didn't watch the match, here's a quick recap of the last two balls. Sanju Samson single-handedly took Rajasthan Royals close to the finish line in a chase of 222 against Punjab Kings. Sanju hit a six on the fourth ball of the over and brought the game down to 5 from 2 balls. He, however, denied the strike to Morris despite hitting one to the cover boundary in the penultimate delivery of the match.
Sanju Samson single-handedly took Rajasthan Royals close to the finish line in a chase of 222 against Punjab Kings. (Photo: Twitter/@rajasthanroyals)
That meant five runs on one ball to win the IPL match. Sanju hit the ball for a six but got caught. Rajasthan lost the match and many raised questions over the decision even as many supported Sanju for deciding so.
The development brings us to the Word Of The Day – decision. Decision comes from the Latin word decidere, which is a combination of two words: de (off) and caedere (cut). So decidere meant to cut off what you don't want to arrive at what you want. Oxford dictionary defines decision as 'a choice or judgement that you make after thinking and talking about what is the best thing to do'. The decision to not think and talk before taking a decision can also be your decision.
The decision over a full lockdown in Maharashtra is awaited even as the spike in cases continues. Maharashtra minister Aslam Shaikh has blamed celebs and cricketers for their decision to occupy hospital beds despite not having any serious Covid symptoms.
Delhi CM Arvind Kejriwal, meanwhile, has demanded that the Centre cancel CBSE examinations amid a massive spike of 13,500 cases in the 24 hours ending this morning. The vaccination drive is on and a third vaccine, Sputnik V, which joined the drive yesterday, has not been able to join in fully because of one sticking point – the price. The Indian government is paying about US $2 for Covishield but Sputnik V is selling for US $10 (Rs 754.1) in global markets. Also, Sputnik V has so far been selling at the same price in all countries. Will there be a concession for India? We will let you know when a decision has been taken.
Sputnik V is selling at about US $10 in countries. (Photo: Reuters)
The one decision that has been taken is to fast-track the process of emergency approvals of Covid-19 vaccines that have been granted emergency use approvals in other countries. The approval for Sputnik V was part of the same policy. The first 100 people, who get the foreign vaccines, after they get Indian approval, will be observed for seven days. The vaccine will be rolled out for larger use after the seven days of observation.
What day is it today? Yes, Tuesday. But also Gudi Padwa day and the first day of Navratri. Before you say it is Ugadi day too today, let us tell you Gudi Padwa is celebrated in Maharashtra and the people of Karnataka and Andhra Pradesh observe Ugadi on April 13. Both the festivals mark the first day of the New Year according to the Hindu calendar.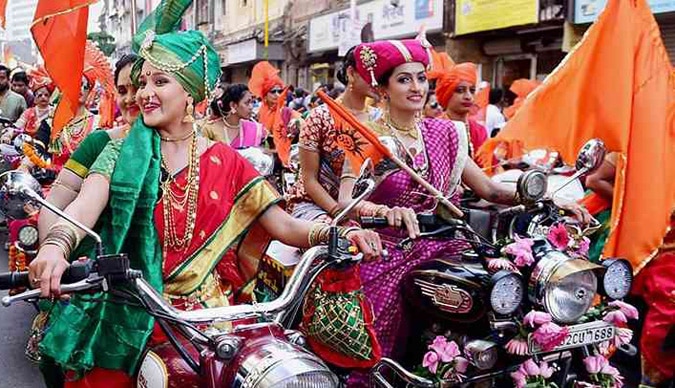 Gudi Padwa celebrations in non-Covid times. (Photo: PTI)
Why is Lord Brahma worshipped on this day? Brahma Purana has the answer.
It is believed that many years ago there was a great deluge on Earth. Everything on the planet was destroyed. And then on this day, Lord Brahma created the world as we see it and time began to tick from this day forth. So today is the first day of the world. Happy birthday, world!
For some, the day also commemorates the coronation of Lord Rama in Ayodhya after his victory over Ravana. The tradition of hoisting Gudi (victory flag) is linked to this victory, even though different legends declare different figures as victorious over different villains.
Let us now tell you about a story that has no villains but is an account of many victories. Victories of individuals over life's situations told hilariously. Actually, we won't tell you the stories but suggest you watch Gullak on SonyLIV for the anecdotes.
We will leave you with that for the day. Remember, coronavirus is not ready to leave us just yet.
We will be back tomorrow.
Now get the all-new DailyOh in your mailbox. Click here to subscribe.