Few things in life offer the cruel combination of not being able to look away, and cringing at the same time. And Bigg Boss is certainly one of those things. For almost a decade now, the reality show has locked up B-grade actors and celebrities inside a house and put cameras everywhere to watch the drama unfold.
When you intentionally lock up volatile people inside a house for three months, they will explode. And explode they did. Every season of Bigg Boss has dozens of moments of ridiculous drama, unacceptable behaviour and pure entertainment. The show may be scripted, for all we know, but who cares about that?
From Kamaal R Khan to Dolly Bindra to Raja Chaudhary, here are some of the best worst moments on trash television you will ever get to witness.
1) Raja Chaudhary and Sambhavna Seth's toxic relationship
Whether it was canoodling, or getting into loud attention-seeking fights, this duo had its moments in the Bigg Boss house that no one is likely to forget anytime soon. Raja Chaudhary and Sambhavna Seth were solely responsible for 90 per cent of the drama in the second season of the show.
2) Kamaal R Khan. Need we say more?
In Season 3, not only did entrepreneur and self-proclaimed film critic Kamaal R Khan throw a water bottle at Rohit Verma during a conversation (incidentally the bottle missed its mark), he also got embroiled in verbal abuse/shouting match with stand-up comic Raju Srivastava. All in the same day. Not to mention he was also slapped by Vindu Dara Singh. Say what you may, KRK is as entertaining as he is vile.
3) Kushal Tandon and VJ Andy's fist fight
Kushal Tandon, in Season 7 of Bigg Boss, was notorious for his temper. He had verbal fights with almost everyone and even managed to indulge in actual physical warfare with VJ Andy. Thankfully, that is where Bigg Boss decided to draw the line and evicted him from the house. He was back, however, in a couple of days.
From fighting with Urvashi Dholakia, to even making comments on the show's host Salman Khan, Imam Siddique managed to annoy everyone.
Photo: Screengrab
5) Dolly Bindra's never-ending drama
She was loud, she was rude, she was perpetually angry and she managed to fight with everyone. In fact, she successfully caused others to fight as well. Dolly Bindra is the kind of contestant who makes everything about herself and her fight with Manoj Tiwari was the highlight of the season. Something as small as eggs managed to cause a rather memorable bout of drama on the show. And who can forget Dolly's famous "mere baap pe mat jaana"?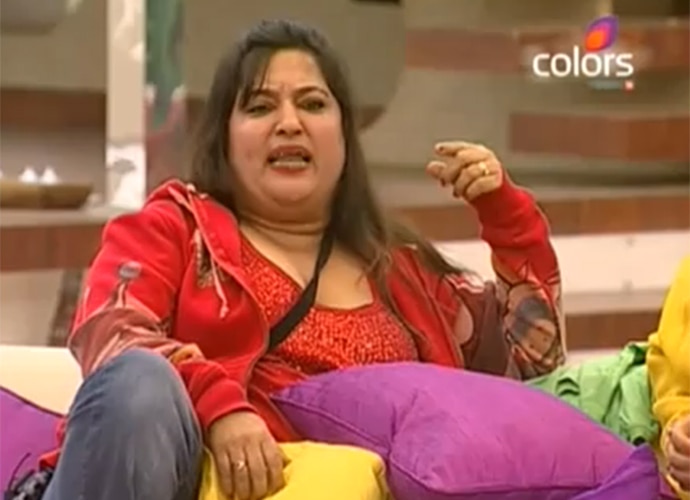 Photo: Screengrab
Rakhi Sawant is the embodiment of attention and managed to gain it on several occasions, either with a dress showcasing Prime Minister Narendra Modi's photos all over, or by demanding a ban on ceiling fans. But in the first season of Bigg Boss, Rakhi had to resort to making constant attacks on Kashmira Shah throughout the show. Shah did fight back, but who do you think had the upper hand? Obviously, it was Rakhi.
Photo: Screengrab
7) Armaan Kohli and Sofia Hayat
Armaan Kohli's fight with Sofia Hayat on Bigg Boss led to her filing an assault charge against him. Kohli was even arrested by the police at the Bigg Boss house. Talk about reality TV getting too real.
Photo: Screengrab