The social experiment reality show Bigg Boss (Big Brother in many countries) is a hit because the audience enjoys the gradual unmasking of celebrities, who shed off the artificial air and layers about them one by one and reveal their real self — which isn't all that different from the average person on the street. The mathematical word for average is "mean". And one can easily add selfishness, petulance and flatulence to the meanness and kameen-ness.
And hypocrisy. They share that with the audience.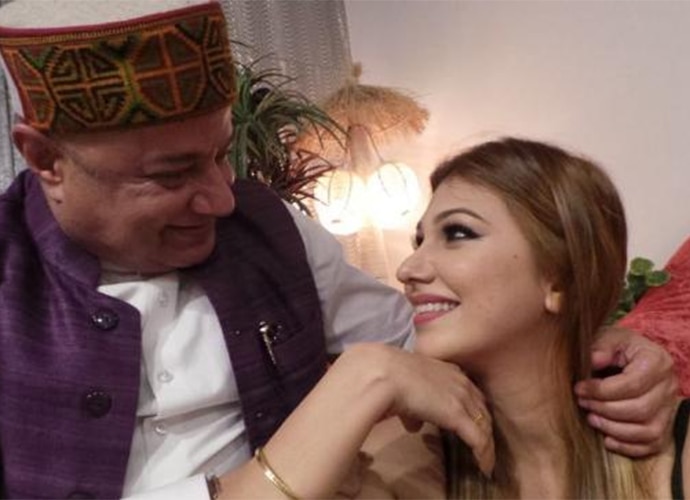 Anup and Jasleen. They've already kicked off a storm. (Photo: Indiatoday.in)
This year, even before the show could unfold, the audience's hypocrisy was exposed in the collective "haw" as two contestants — Anup Jalota and his lady friend Jasleen Matharu — made their way into the house.
You see, Anup Jalota is 65 and Jasleen is 28. That is why the collective "haw". It's natural in some cases. He is your dad's age and you don't want your dad dating a girl your age (who is hot to boot). But, if the girl has "the hots" for the old man, what on planet earth can you do?
The comments have been awful, to say the least. And one can smell the burn. There is jealousy. Calling Anup Jalota short, dark and not handsome and Jasleen a pretty gold-digger is sexist, ageist and egregiously misogynist.
If she is in love, she is in love. Love is always blind and often deaf. She has her ears wide open and clearly loves his voice. He is blind to some facts of life, but if they ever get married, marriage will open their eyes. The middle class that watches the sexually-tense Bhabhiji Ghar Par Hain is tense about a girl in hot pants who is cool holding hands with her lover divine.
Look, Jalota isn't loved for his looks. He was a mean semi-classical singer who found his fame by replacing Hari Om Sharan from the pedestal of singing bhajans. He became the new "bhajan samrat".
We think of Jalota as the man from the bhajans, not just the man who sang the bhajans. He who loves god mustn't make love, but perform aarti in the bedroom. The reason Arun Govil couldn't get a decent drink in a bar is because he played Ram in Ramayana. His career destroyed, the man vanished after his Z-Grade films tanked. People had his portraits in their puja rooms, leaving him no cinema scope. Bhajans did the same to Jalota's career as a ghazal singer. He was a decent ghazal singer till he became a bhajan singer. Overnight, people expected his mouth to sing only Krishna and Ram, and never saaqi and jaam.
He's just a man who sings bhajans. Not a man from bhajans. (Photo: Indiatoday.in)
Even Salman Khan had to hold his jaw from dropping to the floor because the stocky, dark, rotund man with a hair-transplant-gone-wrong had in his arms a tall, fair girl with a typical Delhi-Punjabi countenance and Colgate-ting teeth, stained only by the burning red lipstick on her brimful lips.
Even — and this is a big 'even' — Salman was stumped. (Photo: Screengrab)
Everybody and their aunts expect Jalota to be singing deeply spiritual stuff, even in his strictly personal life. He may be into BDSM, for all you know. His bedroom, his kinks and whatever Jasleen thinks.
Remember, he is a mean singer. He has a lady-killer voice. Girls fall for his Urdu-wala fun, not his looks. If he turns out to be English-wala fun, that's a bonus. His first wife was his student. She fell in love with his vocal cords, and then with his entire being. His tabla player too had great vocals. Sonali left Jalota to sing duets with Roop Kumar Rathod. Jalota has married twice again since then.
Jasleen loves singing and was single. He put the sing in single, and was ready to jingle. Shouldn't surprise anyone that they sing slow ghazals at home and he keeps bhajans only for concerts. Bhajans mean money. Religion is floating in money and bhajan singers take their slice in the pie.
It's time to stop this gully gossip. He is successful. He is a master in his field. Be like him. Then find someone who looks at you like Jasleen looks at Anup Jalota. With total indifference. Love with a difference. Love doesn't need mush. Love needs a plain, realistic sense of just what you are into.
Don't Jalo-ta with jealousy, Jasleen back and enjoy. Let Bigg Boss be judgin'.