On Birsa Munda's birth anniversary earlier this month, the name of this unmatched tribal revolutionary was heard buzzing in and around social media circles in Tamil Nadu.
Reason: Tamil Nadu's acclaimed film director, Pa Ranjith, announced his foray into Bollywood with a biopic on Birsa Munda.
Without going into predicting the success of the film or the contents of the script, the announcement itself is significant, because here is yet another unsung hero whose story must be told.
While the entire state of Jharkhand has memorials, educational institutions and airports named after the tribal hero and freedom fighter, other states know little about his bravery.
However, today, let alone India, the world itself has become a small place in terms of the direct connection we are able to have with each other due to high-speed connectivity; hence, Birsa Munda's life need not only be restricted to Jharkhand, or Ulhatu, where he came from.
November 15, 2018: Birsa Munda's 143rd birth anniversary. (Credit: Wikimedia Commons)
Cutting across circles in both academia and politics, the fact that there should be a relevant movie made, contemporising Birsa's life and message, is indeed a long-pending wish. Yes, there have been some books, movies and documentaries made on the stalwart, but he remains unknown to the youth of today. There is no doubt that the time is ripe to bring back Birsa for the people of today, and there cannot be a better moment than now.
Subaltern personalities, like Uda Devi, Rani Jhalkari Bai, Udham Singh, Tirot Sing and Birsa Mudra, are the defining beacons of the Indian freedom struggle who ensured that the British got a stiff dose of India's ability to fight any kind of oppression. Love for India, feelings for the masses, leadership skills and the ability to feel for one's beloved cause are all important lessons to be picked up and lived by each and every one of us.
These heroes have taught us to think big as each played a pivotal role in enabling the masses to promptly strike back whenever they faced cultural imperialism. These are personalities who are not just meant to be seen as idols, but more importantly, as ideals. During their time and age, they inspired thousands from their respective communities.
Today, we must look up to them — and internalise the qualities that they stood for.
The contribution of the tribal personalities towards the Indian freedom movement remains unmatched, despite battling adversarial circumstances related to living, eating, even the most basic of life's requirements.
Imagine, Birsa Munda was all of 25 when he died — yet, his impact has been so profound.
Birsa's life was driven by poverty, but he still set a powerful example for the youth to emulate in their pursuit of giving more to society than what is taken. He has been an astounding contributor to modern India, but he has also unfortunately been relegated to the background in today's times.
At the age of 25, Birsa managed to understand the pulse of his fellow tribal citizens. His vision for his Munda community was to trace their roots and ethos back, and as a result, a whole section of society benefited.
Home Minister Rajnath Singh paid homage to freedom fighter Birsa Munda's statue at Ulihatu village in 2016. (Credit: PTI)
There is a popular belief that Birsa's faith in Christianity enveloped his priorities and, thereby, his life too. However, AK Dhan, writes of how Birsa compared Christian missionaries to the British rulers and suggested there was not much difference between the two. In Dhan's words, "Birsa's faith in the Christian missionaries began to dim and this threw him into despair. He was able to convince other community members that there is not much of a difference between the missionaries and the British rulers and exploiters."
In fact, it is also recorded that his period of stay in Chaibasa proved to be a turning point in his life, specifically between 1886-1894. This is when Birsa began his efforts to participate in the agitations against the British for the rights of the tribals. 
Fearless was Birsa in acting on the need of the hour and taking the all-important initiative to battle the oppressors. Birsa went on to find a spiritual way of life and came to be regarded as a religious master at a very young age. For his people, he was verily God.
Another key facet from Birsa's life is the sharpness of his memory. In another book on the legend by Gopi Krishna Kunwar, the author mentions how sharp Birsa was as a student and that this led to him being liked by his teachers at a tender age. He writes, "Birsa was an extremely intelligent kid and far ahead in studies than other kids in the school. He did not have a competitor. He was quick to pick up what his teachers taught him and would remember it for a very long time. No subject was difficult for Birsa."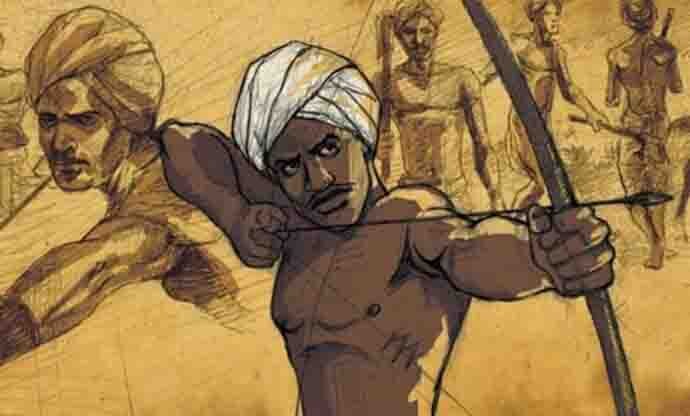 Studying the culture and valour of Birsa Munda's tribe is a deeply valuable exercise. (Credit: YouTube screenshot)
Clarity of thought is another takeaway from Birsa's life. When once his tribal community was visited by a Christian priest, Birsa, who was all of 11 at the time, taught the visiting Christian priest a lesson or two by putting into perspective how following one's religion was about practising individual choice and this was not to be discarded as mere superstition. 
Studying the culture and the various threads connecting his tribe can be a valuable exercise. Birsa's life is a reminder for us to take out some time to visit those parts of India where the community lives — to understand its composition and what keeps it going even today, in these times of cultural dilution. It is because of his efforts all those years ago that this tribe can live with their heads held high today.
November 15, 2018, was Birsa Munda's 143rd birth anniversary. In the same month, November 26, is another important date in India - it is on this day that in 1949, the Constitution of India was adopted.
The draft of the Constitution prepared by the committee under Dr BR Ambedkar's aegis was approved and accepted on this day.
The government, through an official notification, paid tributes to Babasaheb in observing this day. After our Constitution was passed, there have been several ways in which the tribal communities have been empowered rather than disenfranchised, and several laws by respective state and central legislatures have also been passed.
The blood of our heroes was thus not shed in vain.
It is a perfect tribute that Birsa Munda's portrait (the only one of a tribal leader) hangs in the Central Hall of the Indian Parliament, as a mark of honour and respect.