Bigg Boss 11 blog: Why Arshi's eviction is not a shocker
Was the live voting, which made Vikas Gupta the first semi-finalist, fake?
For the first time in the past three months, Arshi Khan was nominated for eviction this week. And receiving the lowest number of votes, she was evicted from Bigg Boss 11 on Saturday's Weekend ka Vaar episode. At the same time, Vikas became the first semi-finalist of the season after bagging 71 per cent of audience votes. No, these are not at all surprising, and here are the reasons why.
Arshi Khan with host Salman Khan after eviction
Is a court case behind Arshi's eviction?
Arshi Khan has been a constant entertaining factor inside the Bigg Boss house. She was, obviously, more energetic than Akash Dadlani and Puneesh Sharma, who apparently received more votes than her. Hence, her eviction may shock many.
But then there's more here than meets the eye.
An arrest warrant was issued against Arshi recently for missing hearings of a court case for the past three months. As far as we know, the warrant is still out, but the police have been restrained from taking any action before January 15, as evidence has been presented before the Jalandar magistrate court to establish that Arashi is locked inside the Bigg Boss house.
The case against her was filed for painting the national flags of India and Pakistan on her semi-nude body.
However, while this may be one reason for releasing Arshi Khan, there's no denying the fact that she received a lot of flak from the audience too, for misbehaving with Shilpa.
Still cant believe Arshi is out of @BiggBoss..Girl u were super entertaining and yes i loved u..phaadu ladki meri jaan @ColorsTV..Moohfat lekin dil ki acchi

— Sambhavna Seth (@sambhavnaseth) December 23, 2017
#BB11 BIGGBOSS fans are Trending #FixedWinnerVikas as instead of Bashing Him for Physical Violence He has been Made semifinalist! Retweet if you are Trending#FixedWinnerVikas

— The Khabri (@BiggBossNewz) December 23, 2017
When a such a big character leaves @BiggBoss it's always sad. #ArshiKhan really has made her mark. #BB11

— Andy (@iAmVJAndy) December 23, 2017
The game has totally changed post #ArshiKhan's exit. #ShilpaShinde is so clear. Her reaction is so real and understanding. I am amazed. Good or Bad it was Real. #BiggBoss11 #BB11 #BiggBoss #ColorsTV #WeekEndKaVaar #WeekendKaVaarWithSalman

— salil sand (@isalilsand) December 23, 2017
Everything is fixed...voot app chl ni rhi den 71% kaise????#BiasedBiggBoss @BiggBoss

— PragYank🔥 (@pragya13_) December 23, 2017
Only reason #Arshi is out of #BiggBoss11 is what she did with #Shilpa in the show.. She crossed all the limits .. Audience hated her & its a fact.. #Weekendkavaar

— Sumit kadel (@SumitkadeI) December 23, 2017
It was the biggest joke of the season. Seriously how can you live vote when the episode has been already shot? I didn't get it. #BiggBoss11

— juri boro (@juri_boro) December 23, 2017
If this was live voting then the episode should also have been live. The episode shoot was before the voting so how did Salman already know the results before the live voting?

— Don'tStealMyTeddy🔥 (@Bulbul_C_) December 23, 2017
Hina Khan
Vikas Gupta
No rebuke, only reward for Vikas
Recently, Vikas Gupta clashed with Akash. Physical violence is not permitted inside the house. While Weekend ka Vaar is for host Salman Khan to roast the candidates, he didn't dwell on the issue when dealing with Vikas. Instead, there was a surprise reward for him.
Evicted Arshi Khan was given a special power to select two persons who would be able to seek live votes from the audience. The one with more votes would jump straight to the semi-final. Arshi selected Vikas and Priyank.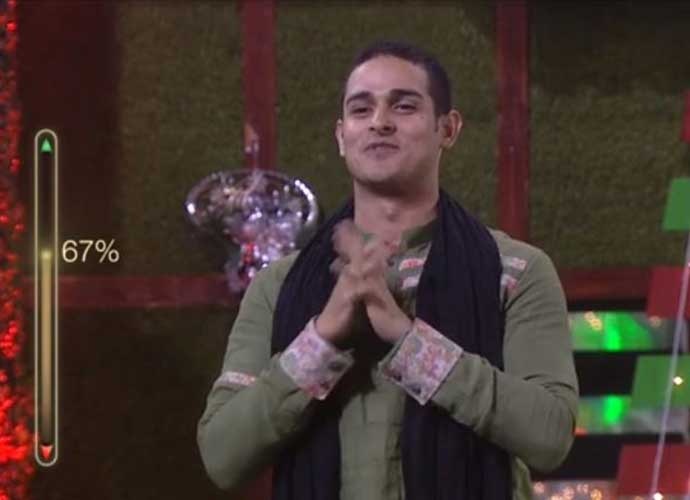 Live voting for Priyank Sharma
Live voting? Seriously?
Both the candidates sought votes from the audience and explained why they deserved support. One good thing was there was no mud-slinging between Vikas and Priyank, as they only presented their case, without getting into comparisons with the other. But was it for real?
The polling began at 9.40 pm, and with 71 per cent of votes, Vikas emerged as the winner and the first semi-finalist of the season. But Twitter exploded, slamming this "fixed" voting for Vikas. Many raised the question that how an episode, which had already been shot, could suddenly go live.
Live voting for Vikas Gupta
#BB11 Live Voting plan and script was completely changed after Arshi had to be evictedSuddenly on saturday itself.

— The Khabri (@BiggBossNewz) December 24, 2017
My friend - Life ka sabse bada regret kya hai? Me - Colors TV par bigg boss ki live voting dekhna 😂😂😂😂😂 #BB11

— #BiggBossFan (Saisha) ✨ (@BiggBossFannn) December 24, 2017
Also read: Why Indian states are failing
The views and opinions expressed in this article are those of the authors and do not necessarily reflect the official policy or position of DailyO.in or the India Today Group. The writers are solely responsible for any claims arising out of the contents of this article.