When it comes to filmmaking, innovation helps but at the same time, it also threatens artistic integrity with a retrospective effect. A few days ago, an online conversation with a filmmaker revealed how some iconic Hindi films had suffered at the hands of technology.
The movie in question was Tridev, which turned 30 this year, and the filmmaker, Atul Sabharwal, pointed out that the film was not available on DVD format in its original 2.35:1 aspect ratio.
Tridev is not available in its original 2.35:1 aspect ratio. 
In some other countries, it would be sacrilegious to present a film in a format different from its original, but keeping in mind that this was India or the DVD manufacturer did not consider Tridev (1989) to be an endeavour worthy to maintain the artistic integrity, this is a common and even accepted norm.
In fact, with the advent of streaming platforms, many films that were lost to time are enjoying a well-deserved revival, but the same trouble continues to plague most of them.
Try catching Sadma (1983), Mera Gaon Mera Desh (1971), Woh Kaun Thi? (1964) or Aar-Paar (1954) to name a few films, online, and you'd notice how the modern technology simply zoomed in from the then-standard 1.33:1 aspect ratio to update them to the standard 1.85:1 ratio for the screens.
The discussion that sparked off this conversation, oddly enough, began with an appreciation of Boris Kaufman, the cinematographer of Elia Kazan's On the Waterfront (1954). When Kaufman shot the film, the industry standard was slowly shifting to the widescreen 1.85 frame to fight the lure of the television that was keeping the audience away from the theatres.
But as studios weren't sure which movie halls will be able to exhibit the film in widescreen — it needed anamorphic lens to be put in front of the projector — most films were shot in the 1.66 frame as a safety measure. It's Kaufman's genius that he shot On the Waterfront in a style where irrespective of whether you saw it in 1.33, 1.66 or even 1.85 the film's visual authenticity is not sacrificed at all. Today, most On the Waterfront DVDs or Blu-ray discs have both versions and it's indeed a great joy to watch the films in different aspect ratios.
For the past few months, the film versus Netflix debate has had classicists and mavericks split down to the centre.
The jury is still out on whether online streaming platforms are causing great harm to film by making the big screen redundant or preserving some sanctity attached to the format by pumping millions into films made by auteurs such as Martin Scorsese and Alfonso Cuarón.
But there are other pertinent questions that need to be asked.
If the entire fight between filmmakers such as Steven Spielberg and platforms such as Netflix hinges upon what is defined as film — Spielberg believes once a filmmaker commits to the 'television' screen format she ought not to be allowed to compete for awards at the Oscars et al — then how come none of them ever raised as much hue and cry when DVDs and TV were killing films by distorting how the filmmaker intended for it to be seen?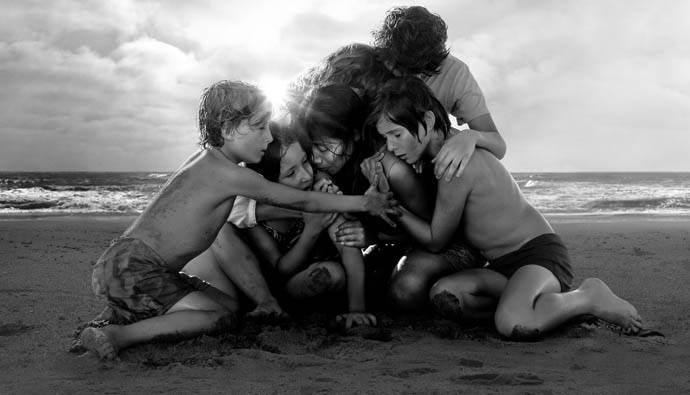 A still from Alfonso Cuarón's Netflix release Roma. 'Filmmaker Mode' can put the film/screen debate to rest.
In what could be an epoch-making development, TV manufacturers have now expressed an interest in the 'Filmmaker Mode' feature in their products that would offer the viewers an option to see films just how the filmmaker wanted them to be viewed.
A bunch of filmmakers including Scorsese, Paul Thomas Anderson (Phantom Thread), Ryan Coogler (Black Panther), Patty Jenkins (Wonder Woman) and Christopher Nolan (Dunkirk) reached out to the UHD Alliance which provides information on premium Ultra High Definition (UHD) devices. It comprises the world's leading consumer electronics manufacturers, film and TV studios, content distributors and technology companies to extend true cinematic experience into the living room to maintain creative intent for movies. The cause of worry for the filmmakers was features such as motion smoothing that even out visual details while watching a film on TV.
With the 'Filmmaker Mode', viewers will be able to see the movie as it was originally mastered, with as little post-processing as possible. Moreover, the setting will also have the same name across every TV manufacturer, and the UHD Alliance also said that it would want the setting to be enabled automatically when cinematic content is detected besides, otherwise, easily accessible via a button on the TV remote. Now, only if filmmakers in India would stop fighting with the distributors over ticket pricing during the release of their films and such, they could probably undo a bit of the harm done to their films.