Calcutta to Bombay. A tale of many Christmas cakes
What's Christmas without a sumptuous meal? And what's Christmas without memories?
One can feel so lonely on Christmas.
Or, so I thought on my first Christmas in Mumbai. The year was 1997. This was my first Christmas away from home, too.
When I stepped out of my PG (paying guest accommodation) near Bandra station for a walk that evening, I saw no signs of Christmas around me in the 'queen of the suburbs', as they call it in Mumbai. I was later told that I should have gone to Hill Road if I wanted to see Christmas.
This was very different from the way things were in the humble suburbs of Bansdroni in South Kolkata where I lived before Bandra. There was a church next to our house there. On Christmas, people would queue up to see the decorations, just as they had outside the Durga Puja pandals three months earlier.
The cakes of Nahoums and Flurys were the most famous and sought-after back then in Kolkata. Yet, even the street-side shops in Bansdroni would have 'Xmas cakes' from local bakeries, with brand names such as Bapuji and Priya. Cake-mixing events, where fruits are soaked with alcohol, are a thing in the five-star hotels of both Kolkata and Mumbai today, as you might know, thanks to social media updates. Well, there was not a drop of rum which had gone into Bapuji's Christmas cakes — and yet getting them home and having a slice felt so posh and heady.
Mount Mary in Bandra, Mumbai, is the place to be on Christmas! (Source: YouTube screengrab)
The Empress of the suburbs of Kolkata, far away from the world of the boxwallahs of Park Street, was the Christmas cake from a chain called Jalojog. I am talking of the mid-1980s and the 1990s. Before Monginis (now Mia Amore) came up, or the super-posh and very aspirational Kookie Jar.
Christmas had been a big part of my life even before I moved to Kolkata with my parents. I was born in Canterbury, in the UK. The hospital that I was born in, and the house we lived in, was not too far from the Canterbury Cathedral. There was a figurine of Father Christmas (I would never call him Santa Claus then) that my parents had got with them from a Christmas party at the hospital where my father was a doctor, and where I was born. It travelled with us to Liverpool, then Teheran and Rasht, before we moved to Kolkata in the early 1980s. My mother would take it out every Christmas along with gifts for me, and later for my brother too.
Kolkata's Park Street decks up for Christmas every year. (Source: TripAdvisor)
Sitting all alone in my PG, in Mumbai that year, I remembered the much-thumbed photo albums lying in the cupboard in my room in Kolkata.
They had sepia-tinted, coloured photographs of our Christmases spent overseas. I was carried in my parent's arms in the pictures in the earlier ones, kept in a pram in others. Then there were ones where I'd be dressed in a three-piece suit with a bow tie — all of three feet tall. The last one was in Kolkata and had black-and-white pictures instead of colour ones. It was from the time when my father threw a Christmas party for my friends after we moved in there. He wanted me to feel that life was the same and that I was still home. A Christmas party in the year 1980, in Dhakuria, was a new experience for most of my new friends. Many had their first taste of a Christmas cake that night.
I sat in my shared room in Mumbai that evening and thought of the Christmas that came a couple of years after that big party in Kolkata.
That sauce-filled roll of flaky bread! Delightful! (Source: YouTube screengrab)
My father had just passed away. We were at my maternal grandparents' place, and my grandmother insisted that we have a small Christmas tree at home in the spirit of the 'show must go on.' My mother and one of my aunts were sent off to buy a cake — a smaller and simpler one this time.
My other aunt, who had come down for the holidays, my brother — just two then, and I — all of ten, spread out the children's supplement of the Statesman newspaper. There was a DIY article on how to make a 'Christmas tree' using a shrub cut from the garden and paper cuttings. That became our Christmas tree that year, and the tree at the Canterbury Cathedral could not have seemed any grander to me in comparison. We moved to our own place in Kolkata the next year. Every Christmas since that year, our 'tree' would be pulled out from the loft, my grandparents would walk down and we would have a Christmas cake from Jalojoga, chips (I no longer called them crisps the way I would in the UK) from an unbranded plastic pack with a pouch of black salt in it, and ketchup and chilli sauce-filled egg rolls from the 'paarar roller dokan' — the corner roll shop.
Waking up to the sweet smell of cake on Christmas morning! (Source: Tumblr/ fantasiawandering.tumblr)
In Mumbai, these seemed like distant memories that Christmas day in 1997 — and that hurt.
The next day I went to work and was welcomed by one of my colleagues, Loyola, with a bag of what looked like small, white seashells. Loy is East Indian (an ethno-religious Indian Christian community who live primarily in Mumbai and around it), and she explained that these were marzipan sweets that she had made at home. They were so sugary and milky. They reminded me of the kora paak shondesh of home. And I finished the whole bag!
The next evening, another colleague in the market research agency that I worked in, Sandy Mathias, invited me and a couple of other colleagues to tea to his home in Goregaon. He was Goan, and his mother got us a tray full of local Christmas treats — kulkul, guava cheese, jujubes, home-made Christmas cake, marzipan, of course, and some port wine. That was the first Christmas party that I had attended in Mumbai. In my first year here itself.
Ten years after I moved to Mumbai, I began writing my food blog, Finely Chopped.
What's Christmas without a big, fat feast! (Source: Reuters)
I became friends with some other bloggers through it. A couple of them suggested that we all meet at our place for the first time (bloggers used to stay anonymous back then) over Christmas. I picked up Goan porcine treats of sorpotel and sanas from the local market in Bandra and a Christmas tree from Hill Road. Another friend brought another Christmas tree. Now we had two. Another friend, Gia Fernandes, baked a delicious chocolate cake. We met again next Christmas, and she baked us the same cake again!
The bell rang the morning after the party, and it turned out to be our neighbour with his grandchildren. They were Christians, and they came bearing paper plates sagging under the happy burden of Christmas cake, marzipan, kulkul and jujubes. We have had Christian neighbours in Bandra ever since we moved in — though we have moved three apartments — and have been woken up with cake and other goodies every Christmas morning.
Candies is well-known for its Christmas cake with marzipan layering. (Source: Kalyan Karmakar)
The lead-up to Christmas this year saw many lovely meals for my wife and me, thanks to our lovely new friends. We were invited into the Bengali home of Pia Promina Dasgupta Barve, to a never-ending Christmas feast, featuring an egg mayonnaise salad, roast duck with East Indian masala, cured salmon, steak and kidney pudding, pork pie and boiled ham.
I strategised my meal as there was a delicious Christmas pudding that she had baked, waiting for us at the end of the meal. She flambe'd it and then cut it as she sung, 'Come on, baby, light my fire' — drunk on the Christmas spirit.
A couple of days later, we had friends from London over at our house. They wanted desi food — and I made them the Bengali treats of alu posto and kosha mangsho. In the end, we had a boozy Christmas cake that a school junior, Rahul Arora, had couriered to me from his café in Kolkata. The next day we went over for dinner at a friend's house. While I carved out the grilled chicken, to be served along with lasagne, Awadhi biryani and Kakori kebab, we made plans to meet on Christmas. I promised to take out the Christmas pudding and brandy butter that our friends, Kurush and Katy Dalal, had sent across from their kitchen in Mazgaon.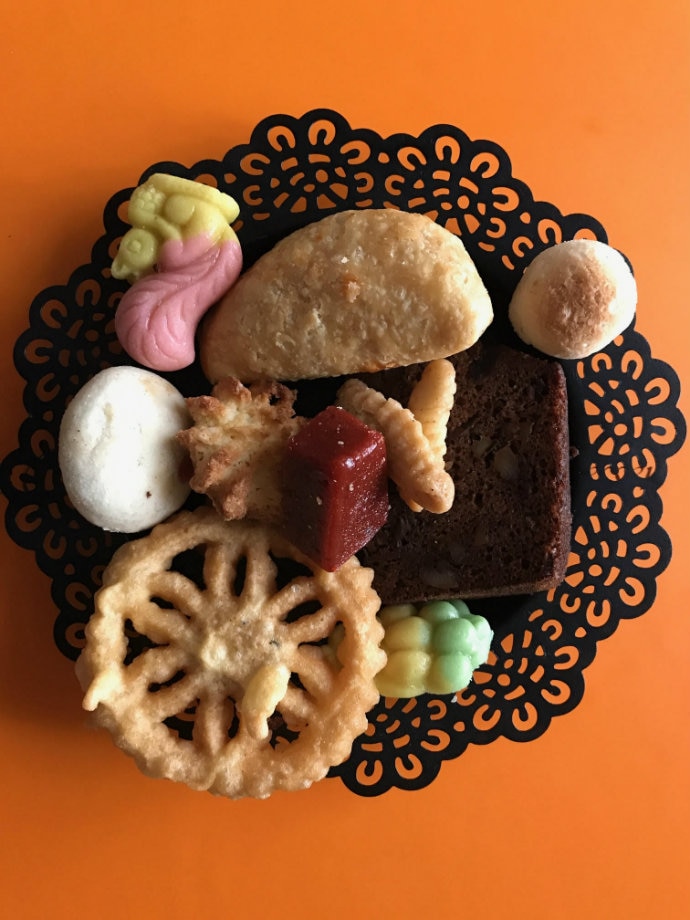 Happiness, on a platter. Courtesy, the Cutinha's. (Source: Kalyan Karmakar)
The doorbell rang just as I finished writing this piece. The Pereira's, who own our favourite cafe in the whole wide world, Candies, had sent us a Christmas cake with a marzipan layering. Loyola would have approved. The bell rang again. It was our neighbours, the Cutinha's, bearing a box bursting with jujubes, kukuls, guava cheese, marzipan and, of course, slices of Christmas cake.
The point that I am trying to make is simple. If you are alone on Christmas and are feeling miserable the way I did 21 years back, remind yourself of one of my favourite sayings — winter always turns to spring.
Things will change. The next day itself, for Christmas is when one can feel the most loved, too.
Also read: How Internet found its Santa this Christmas: Barack Obama
The views and opinions expressed in this article are those of the authors and do not necessarily reflect the official policy or position of DailyO.in or the India Today Group. The writers are solely responsible for any claims arising out of the contents of this article.