DailyOh! How Italy once offered a quarantine model for the world to follow
The sea got the plague to Venice, it also helped contain the spread.

DailyBite
Hey there,
We know that coronavirus has been on your mind much of this weekend because it's been on our minds too. The cases in India are rising by the hour with 114 people being tested positive for the virus so far.
But the worst news with regards to Covid-19 came from Italy on Sunday with 368 deaths being reported from the country in a single day. That took the number of deaths in the country to over 1,800. Many are wondering how did so many get infected with the virus in Italy in the first place. This is something health experts would study once the virus it is time for stock taking. For now, everyone is busy stopping the spread of the virus. And since there is no targeted vaccine for the virus so far, governments are trying measures that are preventive in nature.
The worst news with regards to Covid-19 came from Italy on Sunday with 368 deaths being reported from the country in a single day. (Photo: Reuters)
China's example has shown that quarantine is perhaps the most effective. Yes, China's initial attempts to play down the virus outbreak could have cost the world dear but blame game can wait for now. It can probably resume once the world is able to defeat the virus.
But talking of quarantine and the outbreak in Italy, it is worth noting that Italy once had a quarantine mechanism so effective that it was a role model for the rest of Europe to follow. It is said that the first most refined system to defeat a virus existed in Venice, a city in northeastern Italy. Venice is a port city and has been a busy commercial centre because of that. Venice was thus exposed to plague that arrived from sea with travellers or tradesmen.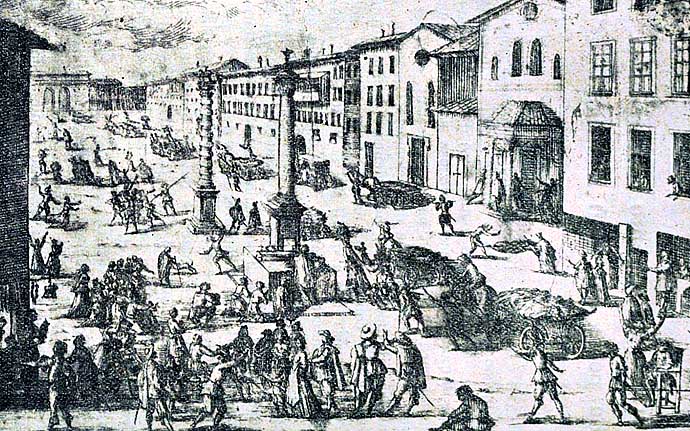 It is said that the first most refined system to defeat a virus existed in Venice. (Photo: Wikimedia Commons)
You may think that it's bad to be a port city then. The thing was that the waters of the sea also helped build an effective quarantine. With air, rail and road transport now part of Italy's travel system, it is difficult to ensure quarantines work.
In India, stories of people running out of isolation centres are trickling in. We don't know what to say to people who are being so utterly irresponsible. Perhaps, the government should announce stringent measures to deal with this lot.
We understand a person can panic when she finds out that she may have the virus. But the problem with panic is that it clouds one's ability to take sound decisions. That is why governments are telling us not to panic.
We have been saying that too. Not panicking in the current situation is so important that we thought it would help to dwell on the word a bit more. Panic is thus our Word Of The Day.
The word originated from the name of the Greek God Pan. Now, Pan sometimes caused humans to flee in unreasoning fear. We have no clue to why any God would do that (or why someone doing that would be considered God) but this is what Greek mythology says. Now, Pan is also said to have had a loud and powerful voice. Once during a battle between Greek Gods and evil forces Pan's shout instilled fear in the evil forces who then fled the battlefield.
What kind of 'forces' flee the battlefield just by listening to a shout is difficult to say.
Today, the Oxford dictionary defines the word thus: "A sudden feeling of great fear that cannot be controlled and prevents you from thinking clearly." Our advice, "Don't let Pan scare you."
If anxiety and fear are getting the better of you, you can try yoga. Harvard Medical School has recommended yoga to deal with the anxiety, fear and panic arising out of Covid-19 outbreak. And how exactly does yoga help?
Pay attention to your body. You may have already noticed that in times of stress and anxiety, our bodies constrict. We may hold tension in our shoulders, necks, jaws, or elsewhere. When there is too much muscular tension, it sends feedback to our mind that further perpetuates the unease. Yoga helps to loosen anxiety's grip on our bodies. Those who do it know it, those who don't would know as soon as they start yoga.
We, on our part, can help you ease your anxiety by talking about things that are not about corona for some time. That doesn't mean we are letting out guards down. Doesn't mean you should either. But we got really intrigued on getting to know about this news where a drunk man pulled over to pee on a roadside in Noida. Don't blame it on alcohol. We know even sober people pee on roadsides.
Anyway, so this man got off the car to pee and while he was relieving himself some people drove away his car. Sorry, we didn't tell you what car it was — a BMW.
There are some pains alcohol can numb but losing a BMW is not one of them. We hope the man finds his car. We also hope he doesn't pee on the roadside again.
But do you know that BWM was not always a luxury carmaker. In fact, it got into the car business almost as a compulsion. The BMW brand was established 104 years back in 1916. Back then, BMW manufactured airplane engines for World War I-era Germany.
Much before BMW started making cars, it made airplane engines. (Photo: Reuters)
The war officially came to an end with the Treaty of Versailles in 1991 and the treaty had a clause which barred German firms from producing warplanes and engines that run the warplanes. So BMW stopped manufacturing the engines. But it still did not make cars. It started making motorcycles. It was in 1929 that BMW shifted its attention to making cars.
Today, BMW cars are a symbol of luxury. But money doesn't buy manners or civic sense so people driving luxury cars, or getting them driven by chauffeurs, can also be spotted throwing garbage out of those cars or getting off those cars to pee on the roadside.
We hope someday they would know and behave better.
Oh, have you been following the developments in Madhya Pradesh?
Let's just take you through what's happening there, which means we will have talk about Covid-19 again. So, the MP Assembly has been suspended till March 26 on the grounds of the coronavirus outbreak. But we know that you know there is nothing politicians fear more than losing power.
Now, Governor Lalji Tandon had asked Speaker NP Prajapati to hold a floor test and ask Chief Minister Kamal Nath to prove he has the confidence of the House (enough number of MLAs) to remain in government. The BJP has knocked on the Supreme Court's doors to find a solution. The court will hear the matter tomorrow but many are seeing the situation as an instance of the governor being snubbed.
Governor Lalji Tandon had asked Speaker NP Prajapati to hold a floor test and ask Chief Minister Kamal Nath to prove he has the confidence of the House. (Photo: PTI)
Position like that of the Governor and Speaker are supposed to be non-partisan but they rarely are. Governors are, in fact, not supposed to get into everyday political activities but there are so many instances when they did. And this isn't even a new trend.
In the mid-1980s Bishambhar Nath Pande was the Governor of Orissa (now Odisha) when the water supply in Bhubaneswar was hit as workers responsible for ensuring the supply went on strike. In a dramatic development, Pande announced that he would not drink water from Raj Bhawan till the demands of the workers were met. Not only that, Pande addressed hundreds of public meetings over the next few months. He enquired about rural welfare schemes and their implementation during these rallies. Of course, he also talked about inane things too.
Since all governments offer gubernatorial positions almost as a reward so that governors use their positions to help them when such a situation arises, everyone it seems has made peace with the status quo.
This peace is not part of the idea of world peace but who cares about world peace in the times of corona?
So even if you care two hoots about peace do take care of your panic. Don't hold it. Don't spread it.
Stay safe.
We will be back tomorrow.
Also read: DailyOh! Covid sees mass graves in Iran. How deep are they to why an Indo-Pak match was held without spectators