A deserted public space is still a public space. It is a public space even if occupied by just one person. It is a public place even if you are the only person paying back the loan on it. The Delhi High Court has ruled your car is a public space and so even if you are alone in the car, you can be fined for not wearing a mask.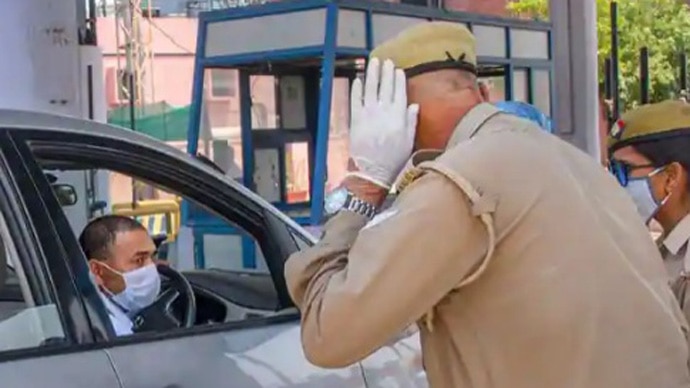 You can be fined for not wearing a mask inside the car even if you are alone. (Photo: PTI)
Judge Pratibha M Singh announced the decision while listening to petitioners who had challenged fines for not wearing a mask while driving alone. The petitioners were charged Rs 500 as fine. They asked for compensation for "mental harassment". What they got instead is a loss of ownership of their own vehicles. The Union Health Ministry told the court there is no rule which says a lone driver has to wear a mask. But then states are free to make their own rules. The Aam Aadmi Party government in Delhi passed an order in April 2020 saying a mask is a must for all in public and private vehicles. The Delhi HC has added that a private vehicle is also a public space and hence corona protocols apply.
Amid the rising cases of corona, the demand for universal vaccination is rising. Universal vaccination will also require universal monitoring of the vaccinated lot. Remember India is a country of over 1,36,63,99,999 people and to vaccinate all, we would need nearly 1,36,63,99,999 X 2 = 2,73,27,99,998 doses. Despite the population size, the size of the health staff is limited. So, monitoring and treating those with severe side-effects is a task that goes beyond vaccinating. 
Maharashtra, meanwhile, doesn't have enough vaccines to vaccinate even those above 45 years of age. Health Minister Rajesh Tope has sent an SOS to the Centre saying vaccination centres in Maharashtra had to be shut down since there weren't enough doses. The state has a target of vaccinating 6 lakh people every day and Tope says the state is inoculating 4.5 lakh daily. Andhra Pradesh too has asked the Centre to provide 1,00,00,000 vaccine doses saying stocks are running out. Union Health Minister Harsh Vardhan has assured that there is enough stock.
In the 24 hours preceding today morning, India recorded 1.15 lakh cases. These numbers are shocking not for being too high, but being too low. Imagine the size of election rallies and imagine the pace at which the infection must be spreading there.
Let's descend from Mars on Earth and let us take you to Assam straight up. An Assamese 'writer' has been arrested on charges of sedition for her post on the death of 22 jawans in Chhattisgarh on April 3. Sikha Sarma took to Facebook to explain why the men were not martyrs. Sharma wrote: "Salaried professionals who die in the line of duty can't be termed martyrs. Going by that logic, the workers of the electricity department who die of electrocution should also be labelled martyrs. Do not make people sentiment, media. (sic and sick)" We would leave that at that because it is over to the courts from here.
We will move to elections now. Amit Shah today held a road show in Singur where the Tata Nano could have been but is not. Shah's road shows in Bengal are drawing praise for being crowd-pullers but, you see, a lot of ground work goes into pulling the crowds to anyone's rallies. The only exception is when you have a helicopter closing in. Parties do not register helicopters as their star campaigners because the Election Commission doesn't ask them to but there isn't a better crowd-puller than the not-so-humble helicopter.
Thousands line up just to see the helicopter touch ground blowing gusts of dust that then settles on the onlookers by the kilos. If politicians don't give credit to helicopters for bringing in the crowds, helicopter-gazers don't give it the blame for swirling around the dust. No give and no take.
Star Shruti Haasan brought in crowds for her father Kamal Haasan yesterday and trouble for herself over 'trespassing into polling booth'. The BJP has filed a complaint against the Makkal Needhi Maiam (MNM) chief's daughter accusing her of trespass.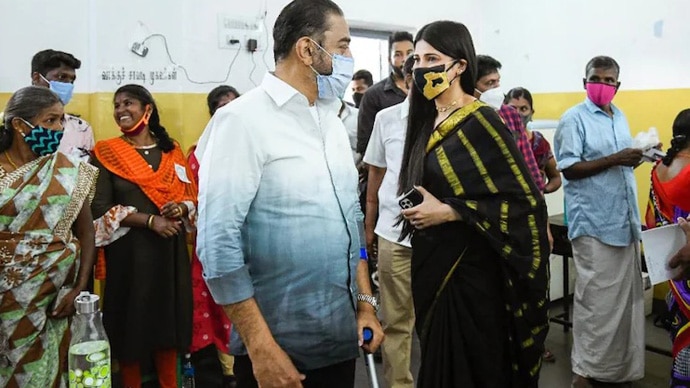 Kamal Haasan with daughter Shruti at a polling booth (Photo: Twitter/MNM)
Kamal Haasan has also filed a complaint against the BJP for allegedly promising to distribute money on winning the Tamil Nadu polls. The law of election promises says whatever has to come will come only before the polls. The only thing that will come after the polls is poll results. Mark the date: May 2.
Two people have been caught in Chennai tampering with EVMs. Guess who caught the men? Apparently, Swiggy delivery staff. The two were first caught on camera travelling with the EVMs on a scooter and then tampering with them at a secluded spot by the Swiggy staff. Does that mean EVM tampering is possible? The police are investigating.
The Election Commission has said the EVMs were part of the reserve unit and not part of the EVMs used for voting on Tuesday. So why were the men tampering with it? Maybe just to check if tampering is possible.
What is tampering? The Word Of The Day. It is also to meddle, especially for the purpose of altering, damaging, or misusing. Around the 1560s, the word tamper was used to describe 'working in clay so as to mix it thoroughly'. It drew from tamp. In 1819, tamp meant to fill a hole containing an explosive with dirt or clay before blasting it off. And so it is believed the word could be a variant of temper. That also probably explains why the word was spelt as temper back then.
Tempers flew Taslima Nasreen's way yesterday after she threw 'sarcasm' Twitter's way. In a tweet Nasreen said, "If Moeen Ali was not stuck with cricket, he would have gone to Syria to join ISIS." For the uninitiated, Ali is a cricketer from England.
Nasreen's 'sarcasm' came after reports that Ali refused to sport an alcohol brand on his Chennai Super Kings jersey. CSK CEO Kasi Vishwanathan, however, said, "There has been no request made by Moeen to CSK to remove any logo." Then came demands, including one from Jofra Archer who is Ali's teammate, that Nasreen's tweet be removed from Twitter. Nasreen deleted but not without lashing out at people for not getting her 'sarcasm'.
The tweet was as far removed from sarcasm as Nasreen is from Bangladesh, her country of origin. But do you know what Ali once told a fan 'sarcastically' about drinking?
In an interview Ali once spoke about a drunken spectator who began abusing him. Ali said this is exactly why he didn't drink. That abuse was smashed straight out of the boundary.
Many boundaries may be hit when the Indian Premier League starts this Friday with a match between Mumbai Indians and Royal Challengers Bangalore (RBC). RCB player Daniel Sams today tested positive for coronavirus. Kiran More, who is part of MI's coaching staff, tested positive yesterday. Scores levelled for now.
On that note, we will take your leave for the day.
Now get the all-new DailyOh in your mailbox. Click here to subscribe.