It's a public relations nightmare for a state obsessed with image. Personal Protective Equipment (PPE) and rapid test kits to detect the novel coronavirus sent by China to different parts of the world are failing the quality test. China was the biggest supplier of PPEs for healthcare and industrial use before the crisis. With the crisis, demand boomed and the world literally shut down. China was seen recovering and as it happens, it raised the scale and in typical Chinese fashion, dubious manufacturers with little care for quality pooled in to fulfil the demand. 
Rapid test kits to detect the novel coronavirus sent by China to different parts of the world are failing the quality test. (Representative photo: Reuters)
Alas, this is not electronics. People buy a cheap mobile phone, it goes bust in a few months, they buy another one. Or the portable battery charger. You buy a cheap one, it catches fire, burns down your house and you move on and buy a better one of good quality, possibly made in China again, but expensive. Peace of mind.
This is about life and death. A not-up-to-the-standard PPE could mean the medical professional wearing it may end up contracting the virus herself. She may then infect a lot of her colleagues, who in the false confidence that she is protected by the PPE, may share closed spaces with her. One bad PPE can end up infecting many, and some may end up dead because this virus is evil and has killed many surreptitiously. The rapid test kit showing false positive or false negative is equally dangerous, putting at risk all the measures taken by governments to break the chain. 
Not that all that is Chinese is of poor quality. There are a lot of world-class products that are made in China. In fact, some first-copies as they are called are as good as the original. Apple's iPhones are assembled in China but Apple ensures that it designs not just the phone but the manufacturing process for each part and then every little screw is designed and the process is defined. This is why iPhones are so expensive. 
Not all that is Made in China is of poor quality. It's about how much you pay. (Photo: Reuters)
But then China hasn't become China making iPhones. Chinese companies have often indulged in intellectual theft, copying designs and parts, making small changes to these, and producing their own copies. They did this in software too. By blocking Internet giants from entering Chinese cyberspace, Beijing got Chinese companies to create exact images of these for its people. Weibo is their Twitter, WeChat is their Whatsapp, Baidu their Google, and RenRen is their Facebook. That's how giants like Tencent and Alibaba were born. Their industriousness and the Great Wall of China coming together. That's what gave them the financial heft to now invade the world with TikTok and Zoom. The Chinese regime and its fronts buy out companies all over the world to buy technology and patents. China's economic superpower status is cemented now but it was built on disingenuous and predatory tactics.
Today, in the middle of a crisis, the world seems to be angry with China. Not just because the virus originated in China but also because they have to look up to China in this hour of need. China has been generous like the big daddy but the help isn't helping. The lack of quality control was never so important to them. Now that a killer virus is on the loose, they have to dump the badly needed PPEs and test kits because of a lack of trust.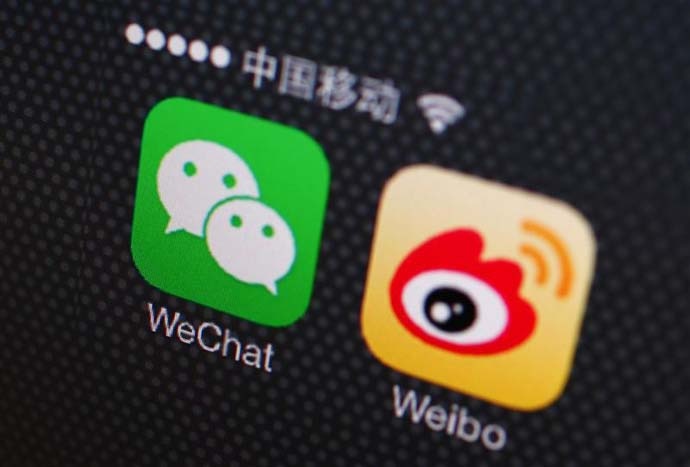 Beijing got Chinese companies to create exact copies of software for its people. WeChat is their Whatsapp and Weibo is their Twitter. (Photo: Reuters)
You can't just joke about the Chinese maal, Chinese quality because the coronavirus isn't funny. This is lasting longer than the cheap Chinese MP3 player you bought at Palika. China has expressed displeasure at reports of faulty relief equipment and at the same time promised to tighten quality controls. But remember, that comes from Beijing's need for image management. Had Beijing been as worried about the virus spread as it was about image management, this could have been contained in Wuhan. But it threatened doctors who raised the red flag, twisted WHO to say there was no human-to-human transmission, and then even tried to blame it on the US Army.
The Trump-led US has been in a policy war with Xi-led China for quite some time and this crisis is not going to help the ties between these two big players. Europe will see a pushback against China's economic imperialism. Countries, in China's debt, have begun squirming as they prepare for a post-Covid-19 world order. India, with her chequered past with the Communist giant neighbour, will have to keep that balance. China, like the rest of the world's, is India's factory site too but then India itself wants to become that factory site. This is possible with cooperation with China and Chinese investment. China will extract the cost in kind and in cash. China had a role in making this crisis, it will have a role in recovery too.
Not all that is Made in China is of poor quality. It's about how much you pay.