It is going to be four months since the first lockdown was announced, but it feels like four years already. Fatigue, impatience, angst have given way to a spirit of resignation. Wiseacres — who were freely dispensing advice on homoeopathy to herd immunity and epidemiology to pharmacology earlier — have decided to reserve their counsel for the more familiar territory of economics and governance. The pandemic has shown yet again that it has a mind of its own that does not heed social or political hierarchy.
Talk of the 'new normal' is now passé because no one has a clue about how life will pan out. Past experiences are irrelevant and new trends raise hopes only to deceive later. States that appeared to be doing well, surprise by new spikes, while some areas are still showing abnormally low counts.
This is happening not just in India but the world over. Sweden's decision to continue life-as-usual has clearly backfired. Dr Anthony Fauci has warned of a resurgence in certain states due to early relaxation of restrictions. Melbourne – Australia's second-largest city with a population of five million — had to reimpose lockdown after a second surge in infections. In the Philippines, the most stringent lockdown is continuing for four months now and showing no signs of the restrictions being lifted any time soon. Next comes the challenge of economic revival as some of the European countries are recovering early from the pandemic.
Well into the fifth month of the pandemic, everyone is still playing blind as it were. Many who called the lockdown "draconian" and argued for a rapid rollback of the lockdown had to eat their words later. In cities, offices that started operating with partial strength soon realised the futility of working with skeletal staff. Besides, a fresh outbreak of positive cases and announcements of new containment zones forced establishments to shut down after reopening.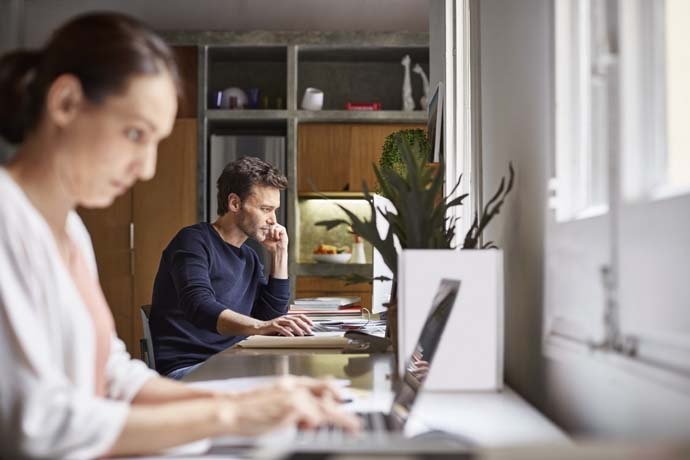 Counterintuitive as it may seem, home-offices, far from improving work-life balance, may actually end up destroying it. (Photo: Getty Images)
While some large corporations had prepared for remote working much earlier, organisations that had reluctantly adopted to let their employees work from home are slowly coming to realise that it may not be a short-term phenomenon as they had initially thought. Many big advertising agencies are not looking at reopening offices before the end of the year unless there is a miraculous improvement in the Covid-19 situation. Advertising films are being shot on mobile phones and edited from home. Who would have thought that television news channels would let anchors operate from home studios with smartphones!?
A former colleague who is now heading one of the largest broadband providers mentioned the sudden explosion in demand from corporate clients for providing high-speed internet connections at the homes of employees. This is not restricted to IT companies alone. Even traditional employers are now understanding that work from home is not possible for an extended period without technological backup.
This will start a new trend of businesses shifting large cost buckets towards technology sooner than later. Consequently, they will look for savings in other areas such as real estate, office running expenses, travel and headcount of service and support staff. Cloud computing will replace large data centres rapidly. 
This will bring about a paradigm shift in human resource management. Managing virtual teams does not come easily to many homegrown family-run businesses. Changing work culture and building teams remotely are new competencies. Down the line, teams will have to be self-governed and that will call for major changes in work-ethics. Work from home also means intrusion into the family structure. Counterintuitive as it may seem, home-offices, far from improving work-life balance, may actually end up destroying it. Psychological burnouts will become rampant — not only for the employees but also for their family members. Employers cannot look away from it as personal problems of the employee without jeopardising morale, productivity and retention. Ensuring the wellness of the families will be as important as those of the employees themselves. In short, offices will be atomised. Instead of managing large facilities, organisations have to deal with hundreds of micro work-places at people's homes across large geographies.
At the consumer end, so far as urban India goes, the changes are on expected lines. There is a massive movement from 'out of home' to 'in-home' consumption. Preference for 'contactless delivery' has given a boost to online sales and e-commerce. The latter was boosted after the lockdown was relaxed and e-tailers were allowed to deal in non-essential goods. With the boom in ready-to-cook food, personal hygiene products, immunity boosters and white goods, DIY (Do-it-Yourself) has started picking up in India.
There is no reason to believe consumers will revert en masse to their pre-lockdown buying behaviour post Covid. In fact, marketers predict that protecting lives and minimising risk of infection will be major drivers for the middle-class lifestyle. Happiness quotient will command a premium. That will lead to 'home-cocooning' becoming a way of life. These are still early days to conjecture how much of this novel mindset will percolate to rural India. But if people place health and safety above everything else, like nations looking inwards, our villages may also try to become more self-contained. 
The bigger challenge, however, is a tectonic shift in business structures and employment patterns that we as a nation must brace for. SMEs, traders and shopkeepers are already reeling under the impact of lockdown. The sorry plight of tourism, hospitality, shopping malls, multiplexes, restaurants and bars does not bear repetition. The media industry has seen mass retrenchments. The once-booming service sector of banking, insurance, and airlines will take a massive hit at least in the short-run and pink slips will fly all over. Of course, nothing can compare with the tragedy of daily-wage earners.
Tax sops, credit relaxation and doles may provide some short-term amelioration. However, that will not solve the fundamental changes that will come about in the medium to long term even after the economy gets back on track. These signs have already started emerging in countries on the recovery path in Europe and Asia. Among other things, it will call for massive re-skilling both by the government and industry. Tokenism and lip service of 'missions' and 'commissions' run by a bloated bureaucracy will not work any longer. Large-scale Public-Private Partnerships have to be rolled out on a war footing.
Smart commercial organisations are, therefore, working on a pronged strategy of 'Act Now' (for business continuity) and 'Plan Now' (for the future). The Sales Director of a leading consumer products company told me during a web tête-à-tête that life right now is all about coping with daily disruptions and will continue to be so for a long time to come. That should be the mantra for those in power as well.