As of January 7, India has registered 1,17,100 new Covid-19 cases and 302 Covid-related deaths.
In Maharashtra, even though there has been an increase of nearly 30% in the cases registered (26.8% to be exact) in the last 24 hours, the state Health Minister has said that there is no need for a lockdown.  
First, take a look at the Omicron numbers in India at the moment:
1. INDIA HAS 3,007 OMICRON CASES IN TOTAL NOW
Andaman and Nicobar Islands – 3
2. ODISHA REPORTS INDIA'S SECOND OMICRON DEATH 
On January 6, Odisha reported the country's second confirmed Omicron-related death in Balangir district. The deceased was a 55-year-old woman who lived in Agalpur village. She died at the Veer Surendra Sai Institute Of Medical Sciences And Research (VIMSAR) in Burla, Sambalpur district on December 27, 2021. The woman had no prior travel history to a foreign country.
Balangir Chief District Medical Officer (CDMO) Snehalata Sahoo told India Today that the woman had suffered a stroke and thereafter, on December 20, 2021, was admitted to the Bhima Bhoi Medical College and Hospital in Balangir. After undergoing treatment at the hospital for two days, her health began to deteriorate further and she was then referred to VIMSAR. Sahoo said, "Her swab samples were collected and sent for examination by the VIMSAR authorities on December 22, 2021. She had tested positive for Covid-19 the next day, on December 23. Following which, her samples were sent for genome sequencing, which confirmed the presence of the Omicron variant." 
Explaining the cause of death, Sahoo said, "The woman was found positive for Omicron. But we are still clinically investigating the cause of death because we cannot say whether she succumbed to Covid or died of stroke."
3. MAHARASHTRA HEALTH MINISTER SAYS NO LOCKDOWN REQUIRED 
Maharashtra Health Minister Rajesh Tope has said that the state government will be releasing new Standard Operating Procedures on January 6 in context to home quarantine, and that an immediate call on lockdown and shutdown of suburban train services was not required.
Tope also said on the same day that genome sequencing tests are not required for now and the state will be relying on 'rapid antigen test and RT-PCR tests to ascertain Covid infection'. The state government is planning to release a state dashboard on Covid. It wil be similar to the one currently being used by the Brihanmumbai Municipal Corporation (BMC).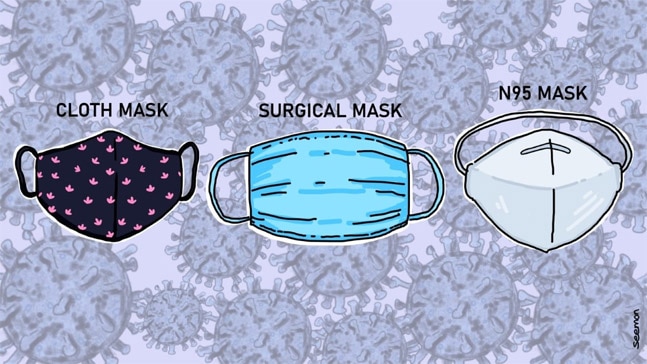 Illustration: Seemon, DailyO
4. WHICH MASK IS THE BEST TO KEEP COVID AT BAY? 
The Association of Industrial Hygienists and Practitioners, headquatered in Ohio, US, have released a detailed mask advisory to help prevent Covid-19. The advisory is based on the effect various face coverings have on the transmission of Covid-19.
Outcomes show that for both the infected and non-infected, an N95 mask proves to be the most beneficial. If both the infected and non-infected are wearing a N95 mask, it delays the transmission of the coronavirus for 25 hours (a little over a full day). In comparison, if the infected and non-infected are both wearing a cloth face mask, the transmission time is just 27 minutes.
Take a look at the break-up:  
Photo: India Today
Bottomline: if you're stepping out, wear an N95 mask.
5. DELHI HOSPITALS SEE SLOW RISE IN COVID ADMISSIONS, DOCTORS SAY NOT TO WORRY
New data shows that there has been an increase in the hospital admissions for Covid-19 in the past two days. India Today reported that on January 5, 945 out of 12,025 Covid beds were occupied. Out of the Covid beds, there were '11,405 oxygen hospital beds and 921 of them were occupied'. 187 out of 3,303 ICU Beds were occupied and 65 out of 1,523 ICU beds with ventilators were occupied.
On January 6, 1,125 Covid beds were occupied, 1,099 oxygen beds were full and 213 Covid ICU beds were occupied. The number of people on ventilators rose to 72.
"We are experiencing the third wave. Hospitalisations are increasing and we have 13 healthcare staff admitted as well. But they are not dependent on hospitals' support. However, those with comorbid conditions need to be more careful," said Dr Atul Gogia, senior consultant, Sir Ganga Ram Hospital.