In the last 24 hours, India saw a marginal drop in Covid-19 cases as the Ministry of Health confirmed on January 17 that 2,58,089 new Covid cases and 385 deaths have been registered. The total number of cases registered till Monday morning saw a drop from the 2,71,202 registered Sunday morning. 
Here is a break-up of Covid-19 cases and related deaths registered in each state: 
Photo: India Today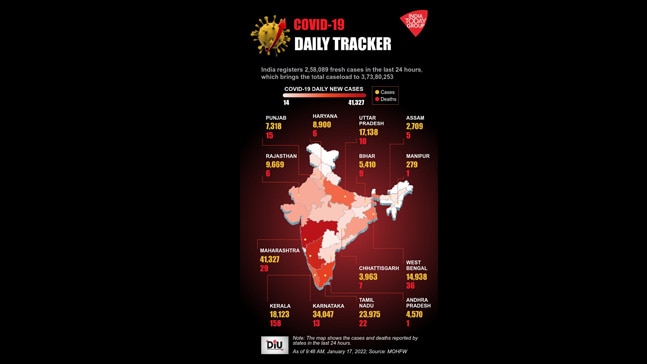 Photo: India Today
Omicron has now been detected in all 29 states of the country. Although slim, recent data has instilled hope that India's third wave will subdue soon. Cases in the UK and South Africa have also seen a dip in the past couple of days. 
1. INDIA REGISTERS 8,209 TOTAL OMICRON CASES 
Here's the state and UT-wise breakdown:
Andaman and Nicobar Islands – 3
2. DELHI HEALTH MINISTER SAYS DROP IN CASES EXPECTED 
Delhi Health Minister Satyendar Jain said on January 17, "Delhi to report around 14,000-15,000 cases today, much less than yesterday. Around 2.85cr doses have been administered in Delhi; 100% eligible population inoculated with 1st dose, 80% with 2nd dose, & 1.28 lakh people received precautionary dose." 
3. FIRST DOSE COVERAGE GIVEN TO ALL BETWEEN 15-18 IN TAMIL NADU 
Tamil Nadu Health Minister Ma Subramanian confirmed that all school students between 15-18 have been vaccinated with the first dose of Covaxin in the state.
4. GETTING VACCINE JAB NOT MANDATORY FOR DISABLED: GOVT TO SC 
In an affidavit to the Supreme Court, the Centre has stated that receiving vaccination is not mandatory. The affidavit was filed by the Centre in a Public Interest Litigation (PIL) for door-to-door vaccination of disabled persons.The PIL by Evara Foundation raised concerns that the vaccine put disabled people at high risk.
The affidavit read, "The Covid-19 vaccination is for larger public interest in light of the ongoing pandemic situation. It is duly advertised, advised and communicated through various modes of media that all citizens should get vaccinated." The Centre continued to say that it had "not issued any Standard Operating Procedure (SOP) that required persons with disabilities to carry Covid-19 vaccination certificates for any purpose."
However, it added that the 'Near-to-Home Vaccine Centres (NHCVCs) and the Har Ghar Dastak Abhiyan policy' have been created to ensure that "door-to-door vaccination of eligible beneficiaries, including persons with disabilities is carried out".
5. NO SPECIAL SOP FOR PEOPLE ARRIVING IN MUMBAI FROM UAE 
The Brihanmumbai Municipal Corporation (BMC) said on January 16 that no special Standard Operating Procedures (SoPs) will be applicable to passengers arriving in Mumbai from the United Arab Emirates, including Dubai. Based on previous SOPs, arrivals had to test as soon as they landed and follow a mandatory 7-day quarantine. This order came into effect today, January 17.
The BMC said, "No special SOPs henceforth will be applicable for passengers coming from the United Arab Emirates including Dubai. Guidelines applicable to international travellers arriving from countries 'at risk' will be made applicable to travellers from the United Arab Emirates including Dubai." 
AROUND THE WORLD: Meanwhile, the French parliament has approved a law on January 16 that will exclude unvaccinated people from all restaurants, sports arenas and other venues, in an effort to control the rising number of cases; while people of Hungary, Malta and the Netherlands have taken to the streets to protest against Covid-19 curbs.
The UK government has also reduced self-isolation days for the Covid-19 positive to only 5 full days.