We begin on a positive note today before delving into the moroseness that the virus has brought with it.
Delhi finally has some respite after gasping for oxygen for over a month. (Photo: PTI)
According to Deputy CM Manish Sisodia, the requirement has come down from 700 MT a day to 582 MT a day. And this is because the state has lately started showing a decline in new cases of Covid-19 — Delhi's positivity rate is down to 14 per cent with 10,400 cases recorded in a 24-hour period.
And the not-bad news ends there.
With 3,62,727 new Covid cases reported in the 24 hours ending this morning, the number of daily infections has crossed daily recoveries in India once again. The daily recovered case count stands at 3,52,181. Maharashtra reported the highest daily new cases at 46,781, followed by Kerala with 43,529 and Karnataka with 39,998 new cases, according to the Health Ministry. In fact, ten states alone have accounted for 72.42 per cent of the 3,62,727 new cases, the Ministry added.
Concerned by the situation, 57 US Congressmen have written to President Joe Biden on Wednesday, urging him to bolster America's Covid-19 assistance to India. In their letter, they have stated that India is now the epicentre of the pandemic.
57 US Congressmen have written to President Joe Biden, urging him to bolster America's Covid-19 assistance to India. (Photo: Reuters)
Corona continues its carnage even as the country is haplessly trying to inoculate us masses. There are just not enough vaccines available and people are desperate. However, we bring you a word or two of caution. If you have been jabbed once and are waiting for the second shot, do not be tempted to mix vaccines based on availability. As in, if you have received Covaxin once, do not go for Covishield the second time (or vice-versa). A study published in the medical journal Lancet has indicated that this could accentuate the side-effects.
Credit: Rahul Gupta/India Today
But, if you have recently recovered from Covid, you have to wait a rather long wait before being jabbed, irrespective of Covishield or Covaxin. National Technical Advisory Group on Immunisation (NTAGI) has said that those who recovered from Covid-19 should wait for six months before getting vaccinated. And if you have tested positive for Covid after receiving the first dose and before completion of the dosing schedule, you have to wait for four to eight weeks after clinical recovery from the illness. Considering the acute shortage of vaccines, this might come as reassurance to some.
According to India Today TV, the Government of India tied up with South Africa back in October 2020, at the World Trade Organization (WTO) to propose relaxation in norms to ensure quick access to vaccines for developing countries. On the other hand, approval for technology transfer of Covaxin — developed by the Bharat Biotech and Indian Council of Medical Research (ICMR) — to ramp up production came last month. Yes, in April 2021, six months after the WTO tie-up.
The wait for these two is rather long, and the government seems to be responsible for it. (Photos: Twitter)
Serum Institute of India's Covishield, meanwhile, had to undergo its own share of red tape, invoking compulsory licensing involved legalities since it was developed under the international partnership. 
Masses wait as the government squats on licensing the vaccines. (Photo: PTI)
With the government's apathy and squatting on licensing homegrown vaccines even as people died in hordes, we wonder what is it about licensing that makes it so imperative. To know that, we must first know what license is.
Our Word Of The Day — license — is defined by the dictionary as 'permission, a permit, or a document that states you are qualified or allowed to do something.' It comes from the Latin word licere, which literally translates to 'be allowable or to be allowed.'
Now in the present circumstance, a license, going by its meaning, is necessary, especially when it comes to the matter of life and death like the Covid vaccines. What bothers us, however, is the delay in licensing as the virus is on its rampage.
The administrative red-tapism (we shall explain that term another day) is not limited to the top order. In Uttar Pradesh's Unnao district, 16 doctors have resigned after being subjected to what they termed "punitive orders, indecent behaviour and non-cooperation by the senior officials in the administration."
The health system of Unnao district fell into chaos after 16 senior doctors, in-charge of public health facilities, handed in their resignation. (Photo: India Today)
At a time when every single doctor should be roped in, Unnao officials have ensured that they lost the support of doctors, even as the district is ravaged by the virus.
(L-R) Rajsekar Pandian, Karthi, Sivakumar and Suriya handing over Rs 1 crore to Chief Minister MK Stalin.
Sivakumar and his family of philanthropists have been at the forefront of sharing their prosperity with the less fortunate. Be it the time when they donated Rs 10 lakh to Film Employees Federation of South India (FEFSI) workers who lost their livelihood due to the pandemic, or months later when Suriya alone donated Rs 1.5 crore for the same purpose.
Sivakumar has also been championing the cause of education with the Sivakumar Educational & Charitable Trust since 1979, providing scholarships to meritorious but financially weak students. His elder son Suriya has also been invested in the cause and launched the Agaram Foundation in 2006to improve the socio-economic status of rural Tamil Nadu by educating the students. His father is his role model, but who is his inspiration? Rajinikanth. Don't get us wrong, it is not superstar Rajinikanth, but a Class X student (in 2006).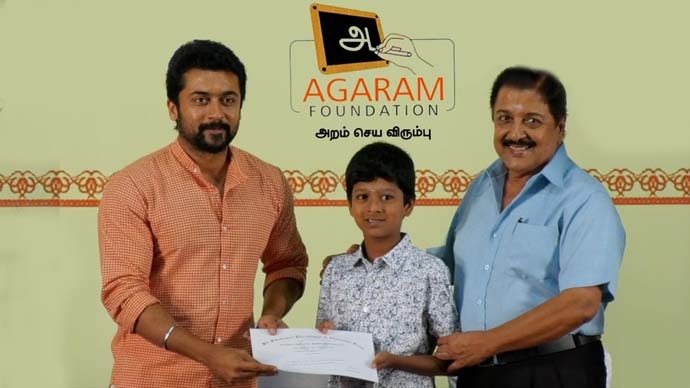 Suriya (L) like his father Sivakumar (R) has been championing the cause of education through his Agaram Foundation.
Rajnikanth was a first-generation student from a gypsy community. A brilliant student and sportsman, who excelled in extracurricular activities too. Impressed with his scores, Suriya presented him a cash award of Rs 8,000. The boy, in turn, asked if he could donate the money to the girl students in his class. Why? To help the girls in abject penury to buy new skirts. It turned out to be an eye-opener for the Kollywood heartthrob and became the inspiration to start Agaram.
Try to get your hands on it today, as you gear up for an extended weekend. Tomorrow is Eid, followed by the weekend. We will be meeting you tomorrow, of course, with a lot more news, views and trivia and an extra special treat for Eid.
Stay safe and stay happy.
Now get the all-new DailyOh in your mailbox. Click here to subscribe.