DailyOh! Covid reaches Mt Everest, to a Corona peak India is waiting for
The coronavirus has reached Mount Everest as a climber tested positive. India, meanwhile, is still waiting for the Second Wave to peak.

DailyBite
The last day of what seems to have been the longest week ever did not provide India any respite. Covid is raging through the country. 3.32 lakh people tested positive for the virus yesterday and 2,263 people lost their lives.
PM Modi e-met CMs today to discuss the Covid situation in the country. Photo: PTI
Delhi Chief Minister Arvind Kejriwal and Prime Minister Narendra Modi, meanwhile, had a not-that-amicable conversation about the Covid situation. The Delhi CM live-telecast their high-priority meeting. PM Modi pulled him up and that was telecast live too. Later, the Delhi CM apologised for any wrong that he might have done. The Coronavirus though hasn't apologised to anyone yet.
Our focus today is the Coronavirus crisis, but before we get to that, a story that you need to know.
THE GOOD
It is said that nothing tests humans like adversity does. So Pakistan's Edhi Foundation today wrote a letter to PM Modi asking for permission to open India-Pakistan borders. They wanted to help India with 50 ambulances, the foundation said, and wanted all logistical hurdles out of the way. Twitter from the other side of the border also trended #PrayForIndia yesterday. While we are yet to see if prayers, both ours and theirs, are heard, the Edhi Foundation sure is our Covid Hero of the day.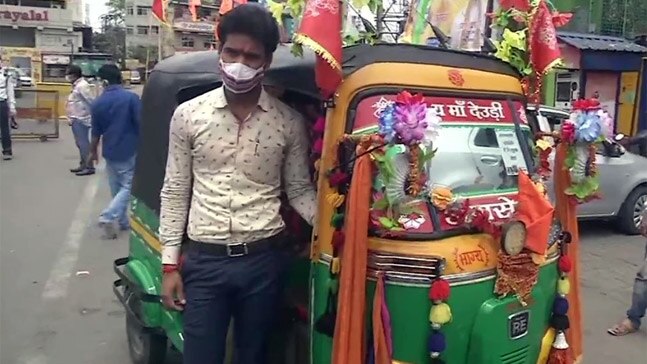 The Covid Hero from Ranchi. Photo: ANI
Another Covid hero from this side of the border was found in Ranchi. This auto driver, who is offering free rides to people who need to go to hospitals.
Sonu Sood tested negative for Covid today. Photo: Twitter/Sonu Sood
Meanwhile, Sonu Sood, the messiah of the masses in Covid 1.0 and Covid 2.0, tested negative for the virus. Twitter raised a toast to his good health. Sood worked right through his Covid days and today, he also helped airlift a patient from Nagpur to Hyderabad.
Now, the not-so-good news.
THE NOT-THAT-GOOD
The Supreme Court today heard the suo motu case on the Covid situation in India. The court had yesterday called it a 'national emergency'. The hearing began with senior advocate Harish Salve recusing himself from the case. But first things first, how did Salve come into the picture? Well, Salve was appointed by the Supreme Court Bench to assist the court in the matter. Some people did not take it too well, Salve said today. So he wanted to be out of the case. "It's the most sensitive case this court will look into. I don't want this case to be decided under a shadow that I knew CJI from school and college and allegations being made or there is conflict of interest... Please allow me to recuse with all humility," said the senior advocate before the Court recused him.
What decision did the Supreme Court arrive at?
The court will now hear the matter on Tuesday, April 27. That's four days from now.
THE BAD
India is fighting a battle of epic proportions against the virus. Photo: PTI
While hospitals move court seeking oxygen and people run from pillar to post looking for a bed or ICU, Covid took the life of music director Shravan Rathod. Shravan formed the one half of the music composer duo Nadeem-Shravan. If you are a 90s kid fed on Bollywood music, you will know the many songs by Nadeem-Shravan. As Nadeem grieved for Shravan, the late music composer's son said that his father had returned from Kumbh Mela. After coming back home, both Shravan and his wife tested positive for the virus. His wife is now recovering but inconsolable.
Shravan Rathod was one of the 2,263 people who lost their lives to Covid in India yesterday.
ON THE PEAK OF THE EARTH
The letter from Kailasa. Photo: Twitter/Nithyananda
A question that has bothered many of us - probably a rhetoric, but nevertheless - is whether there is any place on earth that Covid still hasn't conquered. We cannot answer that question for certain but Nithyananda, the sexual-assault-accused godman who fled India and created his own 'nation' called Kailasa, yesterday declared he wanted to keep Covid out of his island nation. So he banned Indians from entering his nation. We can tell you where Covid has reached. On Mount Everest.
Norwegian climber Erlend Ness became the first to be tested for Covid-19 at the Mount Everest base camp. He was flown by helicopter to Kathmandu in Nepal, where he was hospitalised. Ness said he tested Covid-positive on April 15. He then tested negative on April 22. He is now staying with a local family in Nepal.
So you know Covid has reached Mount Everest, but do you know which mountain peak has killed the most number of climbers?
The south face of Annapurna. Photo: Prajwal Mohan/Wikipedia
Annapurna I. This particular summit is so treacherous that it has killed 58 people in just 153 attempts. The death ratio is a staggering - literally so - 33.5 per cent. Roughly, 1 out of every three climbers here ended up dead.
That ratio, one out every three, is also the current statistics of Covid-positive people in Delhi. Out of every three people tested, one is positive.
A BREAK
What can you do to keep the harrowing, horrific stories out? Pick up a book. It is one of the oldest and easiest forms of escape available to us. Also, it is World Book Day today. So let us go back to why a book is called a book. Book, our Word Of The Day, owes its origin to multiple roots. Book comes from Old English boc, which in turn comes from the Germanic root *bok-, which is cognate to 'beech'. Beech is a tree, as you would know. Long ago, runes were carved on beech. So the word 'book' is said to have originated from there.
WEEKEND TREAT
Mint Lassi to keep you cool. Photo: Getty Images
This weekend, since all our focus is on strengthening our immunity, make yourself a glass of Mint Lassi.
This Sunday is Oscars, by the way. That's Monday morning in India. Nomadland is tipped to pick up several Academy Awards this year, given its spectacular performance at the Golden Globes. If you still haven't seen Chloe Zhao's Globe-winner film, here's a bit about it from us. You can watch Nomadland on Hulu.
That's all from us this week.
Mask up if you need to go out. Otherwise, stay home. Stay safe. Keep the virus away.
See you Monday.
Now get the all-new DailyOh in your mailbox. Click here to subscribe.
Also Read: Battling Covid-19 second wave and strategies for combat