A 2014 research paper filed in the International Journal of Pharmacy and Pharmaceutical Sciences by PhD scholars from Orissa University of Agriculture & Technology examined the "diversified uses of cow urine". The paper noted that the urine of a cow — equated with the mother in the Hindu tradition — is a "panacea of all diseases", that it could be used to treat myriad ailments such as "diabetes, blood pressure, asthma, psoriasis, eczema, heart attack, blockage in arteries, fits, cancer, AIDS, piles, prostrate, arthritis, migraine, thyroid, ulcer, acidity, constipation and gynaecological problems".  
Of course, the presence of a short research paper, filled with terms like "bio-pesticide" and "bio-enhancer" is not at all indicative of science. So why is an obscure paper like this relevant today? Because in an increasingly Hindutva-leaning, post-BJP India, cow — or rather its waste — is on top of the food chain when it comes to pseudoscience.
In 2015, Shankarbhai Vegad, a BJP Rajya Sabha MP from Gujarat, while pushing for a ban on cow slaughter, said: "Cow dung and urine can cure cancer. Today, if someone has cancer, there is no cure for it; cancer is equivalent to cancel." He added that he has, in fact, witnessed the aforementioned cure for cancer.
Cow-doscience does not end there. In fact, it has found new avenues of encouragement. In 2017, The Telegraph reported that the science and technology ministry set up a "national steering committee" to guide research to assess the virtues of Panchgavya, a traditional concoction of cow dung, urine, milk, curd and ghee.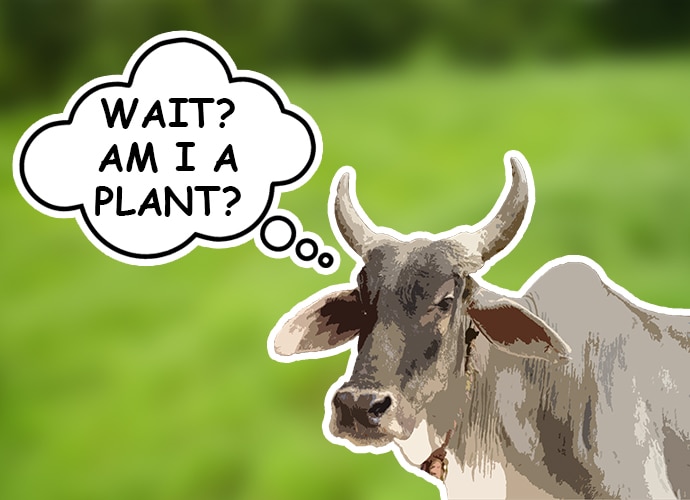 Photo: DailyO
And who can forget Rajasthan education minister Vasudev Devnani, who proudly proclaimed, "Gai ek matra prani hai jo oxygen grahan karta hai, aur oxygen his chhodta hai (The cow is the only animal that takes in oxygen and also releases oxygen)." He also claimed that cow dung has ample vitamin B that helps soak up radioactivity.
Most recently, Uttarakhand chief minister Trivendra Singh Rawat claimed that research has proved that the use of cow urine concentrate could cure migraine, depression and many other diseases. He further said that cow dung is also useful for skin diseases.
At this point, it is safe to assume that at least for the Indian political class (especially with BJP ties), cow-doscience is almost as important as defending demonetisation. And when cow urine is in currency, the attempt to monetise and milk it is the next step.
Patanjali, Baba Ramdev's Ayurveda brand/FMCG venture, sells a product called Divya Godhan Ark. This "ark" or extract is supposedly "an ancient Ayurvedic medicine" made from the "goodness of gomutra or cow urine" and can cure a variety of serious ailments such as problems of liver and stomach, eczema, diabetes and cancer.
A 2016 Times of India report stated that the Gujarat government's Gauseva and Gauchar Vikas Board was extolling the virtues of skincare products containing cow urine and dung, claiming they would give women a "Cleopatra-like glow". Companies like the Delhi-based Holycow Foundation started making more profits from cow urine as compared to milk, because cow pee, even back in 2016, would be sold for Rs 100-200 a litre. And once the urine is distilled and added to soaps, shampoos etc, even more money is to be made. As per the report, a 250ml bottle of Holycow Foundation shampoo cost Rs 250.
Photo: DailyO
Just last month, it was reported that the government Ayurvedic pharmacy at Pilibhit, Uttar Pradesh, has prepared a proposal to collect, process and sell packaged bottles of cow urine. Dr Prakash Chandra Saxena, principal and superintendent of Government Ayurveda College and Hospital in Pilibhit, told Times of India, "Not just for medicinal purpose, we will promote cow urine as a health-giving drink. We have prepared a plan and will discuss it with Ayurveda department in Lucknow for approval. Drinking 10 ml to 20 ml cow urine daily will act as a preventive against seasonal diseases like fever, cough and stomach-related ailments. Daily consumption of cow urine will also help increase people's immunity. Our aim is to make cow urine easily available to common public."
Dr Naresh Chandra Gangwar, in charge of the pharmacy, added: "The state government has placed the order and we will start making medicines using cow urine by this month. These drugs will be used in curing several ailments, including fever, jaundice, piles and stomach- and liver-related diseases. Several researches have shown that cow urine, which is an integral part of Ayurveda, is beneficial for health."
Clearly, one cow's waste is a man's profit.