Now, it's time for 'Beta Bachao': UP govt approves a sex sorted semen scheme to deliver up to 95 per cent probability of a female calf
The states with the most abysmal ratio of human females to males are vying to top sex selection to produce more females to males. We mean cattle.
Uttar Pradesh takes its cows seriously. Very seriously.
So much so that its Hindutvadis would not only lynch humans over suspected cow slaughter — the government would not even let bulls be born. The state has now discovered a mechanism to ensure only cows are born. No bulls.
According to news reports, the Uttar Pradesh state government has approved a 'Sex Sorted Semen' scheme, under which chances of cows delivering a female calf are as high as 90 to 95 per cent.
This comes after the scheme was "successfully" tested as a pilot project in three districts — Etawah, Lakhimpur Kheri and Barabanki. Sex-sorted semen technology allows the preselection of the sex of offspring by sorting or separating the X- chromosome from Y-chromosome.
"In the pilot project, of the 581 calves born, 522 were female," Shrikant Sharma, UP government spokesperson and Cabinet Minister, reportedly said. The state cabinet has approved the project to be launched in all 75 districts of UP. This comes barely a day after news of two killed in clashes over alleged cow slaughter in Bulandshahr — a town in western Uttar Pradesh — shook the country.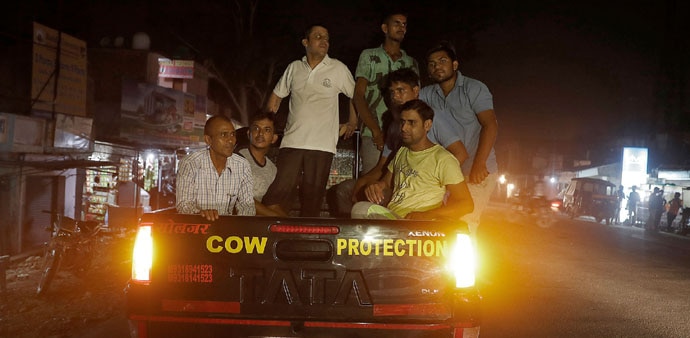 A cow vigilante patrol on prowl to 'punish' the slaughterers of cows. No, we did not say bulls. (Photo: Reuters)
However, let us not pin all the blame on Uttar Pradesh alone.
In the neighbouring state of Uttarakhand, the chief minister, Trivendra Singh Rawat, unveiled the country's first Sex Sorted Semen Laboratory in Rishikesh in June this year. The Uttarakhand Livestock Development Board (ULDB) subsequently signed a memorandum of understanding (MoU) with US-based Inguran LLC Sexing Technology to produce sex-sorted semen doses by 2019.
Ironically, the states where the human sex ratio is abysmal and crimes against women reportedly rank the highest seem to be leading the race for sex selection in cattle — preferring the female over the male of the species.
Haryana, Rajasthan, Uttarakhand, Uttar Pradesh and Gujarat are the forerunners in wanting a cow over a bull.
Coincidentally, the BJP — which is forever reminding us of its 'Beti Bachao' scheme — is in power in all four states.
Haryana has a Sex Ratio at Birth (SRB) of 831 females to 1000 males — lowest amongst the states, according to the Sample Registration System (SRS) 2013-15, the latest available data endorsed by NITI Aayog. The data further states that SRB in Uttarakhand is 844, Gujarat is 854, Rajasthan is 861, and Uttar Pradesh is 879 female children born against every 1000 male children. Holy cow!
After assuming power in October 2014, the Haryana government took a slew of steps to protect cows, including a ban on beef and cow slaughter in the state — as the BJP has done in every state it took charge of. In March this year, while presenting the 2018-19 state budget proposals, finance minister Capt Abhimanyu reportedly said, "It is being done to solve the problem of stray bulls and simultaneously ensure increased availability of female cattle for milk production." The state went a step further when the chief minister had announced a day before the assembly session that the government will enact a law to punish people who abandon their milch cows.
One wonders what happens of those who abandon their daughters.
The Haryana government has already enacted the 'Gauvansh Sanrakshan and Gausamvardhan' Act for the protection of cows — not a word about 'Beti Sanrakshan'.
A cow-herd in Rajasthan. Does he know not many of his sex will be born in his herd? (Photo: Reuters)
Uttarakhand, meanwhile, is thumping its own chest. Soon after the signing of the MoU, R Meenakshi Sundaram, secretary of co-operatives and animal husbandry department, reportedly said, "Soon after the scheme was announced, we sent a proposal to the Centre. While states such as Gujarat, Haryana and Rajasthan are in the race to have their own sex-sorted semen centres, the Centre selected our proposal for signing the MoU."
However, it is Gujarat that aced the race to develop its own 'sex semen' technology and impregnate it into newly matured young cows, back in November 2014, way before other states could claim their place in the hall of reverse-sexism honour. And the centre was set up by dairy giant Amul. Dr Verghese Kurien — the man behind the White Revolution, the founder of Amul, and a champion of female rights — would be turning in his grave.
Incidentally, prenatal sex determination is a crime in India under the Pre-Conception and Pre-Natal Diagnostic Techniques Act (PCPNDT) 1994, as every hospital, clinic and diagnostic laboratory is kind enough to remind us. The cows (or should we say the bull-calves) would also be protected if only cows were walking on two legs and not producing milk for your morning coffee.
Maybe it is time the Prime Minister took up the agenda of 'Beta Bachao'. All for cows' sake, after all!
Also read: Wild, wild Uttar Pradesh: Yogi Adityanath's govt has prioritised cow protection. How about protecting human beings too?
The views and opinions expressed in this article are those of the authors and do not necessarily reflect the official policy or position of DailyO.in or the India Today Group. The writers are solely responsible for any claims arising out of the contents of this article.