It is Monday and we are back here, happy to be with you. We hope you had a good weekend, binge-watching shows and reconnecting with your loved ones during the lockdown.
First things first, let us give you a Covid-19 round-up. The number of positive cases has crossed 24 lakh globally, and 17,200 in India. Of these, over 61,000 people have recovered globally and more than 2,500 people have been cured in India. Of the more than 500 corona-related deaths in India, a 45-day-old infant sadly became the youngest Covid-19 casualty in the country.
Uttar Pradesh Chief Minister Yogi Adityanath lost his father this morning. Not to Covid-19. 89-year-old Anand Singh Bisht was undergoing treatment at AIIMS in Delhi since March 13 for liver and kidney ailments and was on ventilator support for days now. Anand Singh Bisht retired as a forest ranger in 1991, and moved to his native village, Panchur, in Yamkeshwar district in Uttarakhand. It was in Panchur that Yogi Adityanath was born as Ajay Singh Bisht in 1972, as the second among four brothers and three sisters.
Soon after Anand Bisht's retirement, spiritual calling pulled young Ajay to Gorakhpur. He renounced his family in 1993 and became a disciple of Mahant Avaidyanath, the then high priest of Gorakhnath Math. In 2014, Yogi Adityanath became the Mahant of the Gorakhnath Math, after the death of his guru.
Anand Singh Bisht attended Yogi Adityanath's swearing-in ceremony, and was last seen in public in 2017 when he attended a function that was presided over by the Uttar Pradesh Chief Minister.
Yogi Adityanath (R) with his father Anand Singh Bisht, who passed away today. 
But what has earned Yogi Adityanath much praise today is his decision to not attend his own father's funeral, keeping in mind the lockdown rules. Well, they say an example is better than a hundred precepts, and the UP Chief Minister is leading by example here.
Speaking of the lockdown, if you are living in one of those states that have partially relaxed the lockdown from today, then congratulations! You will be able to call your plumber or electrician for all those repairs pending since March 23. Also, you will be able to eat at the roadside dhaba (but we suggest that you stick to homemade food for a while, you never know). However, you still will have to wait for the major restaurants, hotels, malls and cinema halls to re-open. That is possible only after the lockdown is completely lifted. At this point, that date is May 4, because this phase of the lockdown is supposed to go on till May 3. We hope the spread of the virus is contained by then.
This lockdown has impacted all of us in some way or other. Including Manisha Koirala, who is self-quarantined at home with her family like most of us. However, she has taken a brighter view of the situation. She spoke about the six long months that she was locked up in her apartment in New York when she was being treated for ovarian cancer. Back then, she said, it was a thousand times worse for her than the present lockdown. The fear and uncertainty about her cancer, of course, weighed down on her and made that period horrible for her. We are glad she kicked cancer in the butt and made it out.
But did you know that seven months before she was actually diagnosed with cancer, she had a session with a Maori healer who had detected problems in her body? It so happened that this session was arranged by a friend of a friend of Manisha's. Here, Koirala was left with an experience that shook her (understandably). In 2014, she recalled this 'bizarre incident to India Today. She said that the healer did not even touch her body but just felt the energy. Manisha, this healer said, was "very angry with your ovaries so you should send loving energies to it".
The rationalist in the Dil Se star must have recoiled while thinking why would she be angry with her ovaries?! Then came the diagnosis. Manisha reached out to the healer soon after to tell her the ominous news. And the healer was scared. Whatever she was expecting, it was not cancer! You can read more about that experience, and Koirala's battle with cancer here.
However, our fighter star underwent surgery and chemotherapy in New York and was declared cancer-free by mid-2014. Her much-anticipated psychological thriller Chehere: A Modern Day Classic was released soon after. Well, the film did not make much of a mark at the box office, but you can listen to this song from it:
Koirala's experience and learning from her treatment days seem to be helping her deal with the present-day situation much better than a lot of us.
However, not everyone is as open to treatment or medical interventions. Hope you read about tennis legend Novak Djokovic willing to risk his career but not be vaccinated for coronavirus? If you haven't, then know that during a live Facebook chat with fellow Serbian athletes, Djokovic said that he is personally opposed to vaccination and wouldn't want to be forced to get a shot to be able to travel. But first things first: there is no vaccine for the Covid-19 yet.
But what if vaccination (if and when it is discovered) becomes compulsory for sportspersons who have to travel for tournaments? The Joker says he will have to make a decision. He has his own thoughts about it, and he doesn't yet know if those thoughts will change someday. 
Tough choice between career and beliefs for Djokovic. (Photo: Reuters)
This comes after former world number one Amelie Mauresmo tweeted this last month:
It translates to "International circuit = players of all nationalities plus management, spectators and people from the 4 corners of the world who bring these events to life. No vaccine = no tennis."
However, Djokovic was not always anti-vaccination, it seems. There was a time when the Novak Djokovic Foundation was actively promoting and educating people about vaccines as a part of the World Immunization Week campaign.
This was around the time Djokovic was appointed the UNICEF Goodwill Ambassador and was required to educate people on the importance of children's health. More recently, he and his wife announced that they will donate €1 million for the purchase of ventilators and medical equipment to support hospitals and other medical institutions.
But then, when it comes to vaccination, the anti-vaxxers have always had strong notions. Well, we can only hope his thoughts change at some point. No one would want to see Djokovic hanging up his boots, nay, bat, because of a virus.
If you're thinking Djokovic's stance on vaccination qualifies as 'covidiocy', hold your horses. We have some people who are way, way more worthy of the title: Covidiot Of The Day.
By now, all of us in India know about the Tablighi Jamaat incident. If you are on social media, Twitter trolls must have reached you with their opinions. If you're off it, WhatsApp forwards might have done the same. On social media, there have even been attacks on Muslims who themselves have condemned the Tablighis' idiocy. But then, that's social media. Expecting logic there is like arguing with a wall.
So our Covidiot(s) Of The Day were obviously not happy with this attack on Muslims being confined to the virtual world. So they took it a step further.
The authorities at the Valentis Cancer Hospital (VCH) in Meerut put out an advertisement in a newspaper that asked new Muslim patients and their caretakers to come for treatment to VCH after undergoing a Covid-19 test, and only if the results are negative. Who knows, they might have thought the virus is attacking only Muslims. But well. The virus doesn't discriminate. Looks like finally, some sense prevailed and the hospital management has now apologised for the advertisement.
Valentis Cancer Hospital in Meerut. (Photo: ANI)
This morbid turn of events in Meerut brings us to comorbidity, our Word Of The Day. Now you've been hearing that the novel coronavirus is far more dangerous in people with comorbidities. So what does this 'comorbidity' mean? Well, the dictionary defines it as a condition that exists simultaneously with and usually independently of another medical condition. The word is derived from 'co' which means along with, and "morbidity" which could mean 'characteristic of disease', or 'abnormally susceptible to gloomy or unwholesome feelings'. Morbid is derived from the Latin word "morbus" which means disease.
To give an example of the usage, nearly 19 per cent of the patients who succumbed to Covid-19 in Maharashtra didn't have any comorbid conditions like diabetes or hypertension.
But while the coronavirus is busy killing people in masses, humans are also not far behind. A gunman killed at least 17 people during the shooting rampage over the weekend in a small-town — Nova Scotia — in Canada. It is not known yet why the suspected killer — 51-year-old Gabriel Wortman — went on the killing spree. But he was reportedly wearing the Royal Canadian Mounted Police uniform and was going from door to door shooting down people. He was subsequently killed in gunfire with the police.
The senseless violence is among the rare ones in Canada. Now we all know Canada is a particularly peaceful country, unlike its southern neighbour, where mass shootings are so common that they need to be classified as 'deadliest' and otherwise. But in Canada, in fact, the last mass shooting in the country was on December 6, 1989, when a gunman ordered men out of the room and shot down 14 women. This happened at the Polytechnique Montréal in Montreal. But why? The gunman was apparently 'fighting feminism'. Before he opened fire, the 25-year-old killer Marc Lépine, said that he was fighting feminism. After killing the women and injuring 4 men, he shot himself.
The replaced plaque giving the true nature of the massacre.
This 1989 massacre made Canada make it's gun control laws much more stringent. But feminists and progressive thinkers across the world came together and demanded the attack be called what it was: an 'anti-feminist terrorist attack'. You know how the West behaves when they need to use the T word. So anyway, in December 2009, the motion was proposed to the Montreal administration. The killer, they argued, was not only targeting female students directly but also wanting to ultimately terrorise all feminists.
The Montreal administration took another decade to call a spade a spade. Finally, it was in 2019 that the authorities recognised it for what it was and the text on the plaque at the site was changed with a new description. This time, to say what it was — an anti-feminist attack.
We know these are anyway heavy days, what with what the coronavirus is doing all over the world. The one industry it has taken a complete toll on is travel and tourism. While the aviation sector has ground to a halt, cruises all have come to a stop. After Diamond Princess became a Petri dish for Covid-19 cases, and cruises were not being allowed to dock anywhere, the word cruise itself has been quite alarming. 
But today, the 'last cruise ship in the world' - at this point in time - is docking. The three last ships still out at sea — MSC Magnifica, Pacific Princess and Costa Deliziosa — will finally drop anchor today.
On January 5 this year, when Magnifica left Europe, it obviously did not realise what the next few weeks would do to it. This world cruise had to be cut short to half a world cruise. Its last stop was in Wellington on March 9, after which, it will finally return to Marseille today.
The Pacific Princess will dock in Los Angeles, and the Costa Deliziosa is scheduled to stop in Barcelona today. Costa Deliziosa will go on for the next few days and it will drop off passengers in Genoa later.
Now we don't quite know what the future of cruise ships will look like. But when you think of the past of cruise ships, you obviously think of the Titanic.
The Titanic set sail across the Atlantic on that fateful day; and the night of April 14-15 in 1912 made the then world see the sinking of the Unsinkable Titanic. Back then, it was the largest passenger ship in the world. We all have seen Leonardo DiCaprio and Kate Winslet's Titanic, and we all have tried our versions of the 'cruise pose', but that's another story.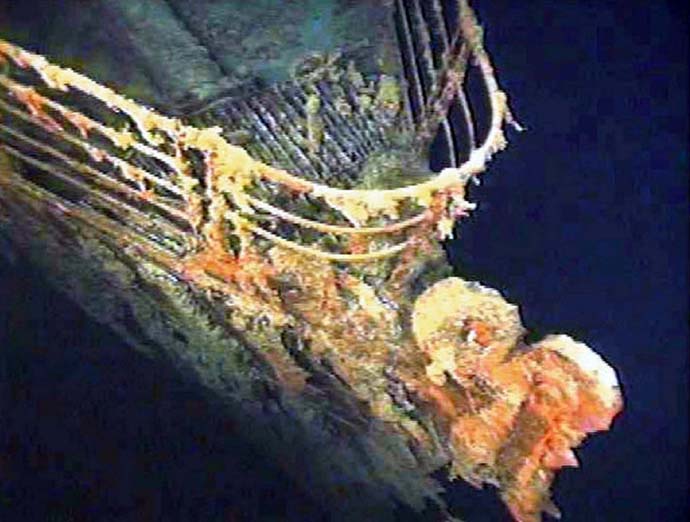 The remains of the port bow railing of the Titanic that is 12,600 feet underwater, off the coast of Canada. (Photo: Reuters)
The reason we are talking of the Titanic is because in another ten years, the ship might be lost forever. Yes, it is likely to disappear from even its watery grave in the Atlantic. It is being eaten up by at least five different kinds of bacteria... A documentary called Drain The Atlantic will tell you more in detail. You can watch it on Disney+Hotstar if you are interested in knowing more, but we will tell you what we found out from it.
In 2016, scientists found that a microbe called extremophile bacteria has been actively destroying the remains of the Titanic. The remains of the Titanic, which lie about four kilometres under the ocean, are slowly being consumed by several types of anaerobic bacteria. Now we all know at such depths of the sea, oxygen is hardly available. These bacteria can survive without oxygen, and for its supply of minerals and iron, well, it has got a huge mass of twisted metal to feast on! These group of scrientists who brought back these 'rusticles' from the surface of the buried Titanic, now say that in about another ten years, even the leftover of the Titanic might also be gone.
Want to see the ship before it disappears for good? Well, for starters you need to be loaded and ought to have US $100,000 (Rs 76.5 lakh) to burn. If yes, then an ocean survey expedition company called Oceangate can take you to the Titanic, and have you see the last bits of the once-upon-a-time marvel for yourself.
Don't have that kind of money? Well, there's always the James Cameron version to fall back on.
Once the pride of mankind, now meeting its end at the hands of a microbe!
Well, microbes these days are on a destruction spree. So defeat them. Stay home. Help flatten the curve.