This weekend the Air Quality Index in several parts of Delhi touched 'hazardous' levels, hitting almost 700. In any sanely governed society, this high level of pollution would solicit certain amount of shock and sense of emergency, among the 'governing' and the 'governed'. Most progressive cities of the world would either be shut down or evacuated.
Several studies point out that Delhi's air is severely poor almost 65 per cent of the days in a year. (Source: Reuters)
But we decided to remain silent and resilient and treat it as yet another hazy weekend, business as usual, and the government/s looked for high decibel attack and counter-attack on each other.
As much as we wake up to the smog and noise of air pollution in the month of October each year, several studies point out that Delhi's air is severely poor almost 65 per cent of the days in a year. Despite this finding, the narrative that finds best uptake is that 'stubble burning' is the cause of this air quality crisis in Delhi. It's important to delegitimise this narrative and put facts as facts, mostly inconvenient to our political dispensation. In the same breath, no one is saying that stubble burning is not polluting, it indeed is and it needs to be curbed and eventually stopped, but my only limited contention is that it's not the ONLY cause of air pollution in Delhi.
Before addressing the stubble burning issue, its causes and effects, let us look at other pressing causes of concern. As per an IIT-Kanpur study, the main source of pollution in Delhi is dust, emanating largely from the roads and the construction sites, almost ranging from 35-50 per cent of the overall pollution. Despite this data that was presented to the Delhi government as early as in 2015, there has been very little that has been done to address the issue. With strong support and leadership of the central government, the entire city of Delhi has had the sign of 'work in progress', massive demolition and construction activities at Kidwai Nagar, Sarojini Nagar, Nairoji Nagar, Pragati Maidan, and many other parts of Delhi. 
The other major source of pollution as per this study, validates by several other studies, is vehicular pollution — close to 35 per cent of the overall pollution.
One-forth (25 per cent) of this vehicular pollution is due to trucks that enter Delhi. Despite the Supreme Court order of 2004 to build a bypass road, it is still 'under-construction' and these polluting vehicles using diesel and obsolete technology transit through the gas chamber of Delhi.
With regards to private cars, in 2000, 4 per cent of the total car sales were diesel cars, which have now crossed over 50 per cent. As much as the focus of odd-even scheme was the cars, two-wheelers that almost have an 18 per cent share of vehicular pollution were left out of the scheme, on the ground that it's the 'aam aadmi' who will be inconvenienced.
Just last week, while the Supreme Court was hearing a matter related to air pollution in Delhi, the central government made a submission that out of the 200 Pollution Under Control centres in Delhi, 170 were either not functioning or were to be closed down. This fundamentally means vehicular pollution is not taken seriously by any dispensation. 
A man burns paddy waste stubble in a field on the outskirts of Chandigarh. (Photo: Reuters)
Another important fact with regard to vehicular pollution is that the central government made a very ambitious vehicle scrapping policy, aimed at scrapping all commercial vehicles that have crossed 20 years, a policy aimed at improving the air quality as most old vehicles run on old technology and dirty fuel. The Prime Minister's Office has made this scheme voluntary rather than compulsory, as it was envisioned to be, and lack of any incentive due to poor fiscal condition of states, the entire scheme has been delayed till 'further notice'. 
Burning of coal by the thermal power plants such as the one in Badarpur, throughout the year, fire at the expired but still operational landfill sites such as Bhalaswa, Gazipur and Okhla, industries emitting pollutants, open burning of waste by municipal workers, and tandoors and diesel gensets, all these together constitute primary sources of air pollution.
Despite several calls to shut down Badarpur power plant, no one really knows when it will happen. Despite strictures from several courts of our country, the landfill sites are still operational and emit high levels of toxicity into our air. Not a single industry has been challaned in the last one year for air pollution.
That brings us to two other factors that get the highest amount of causal limelight with regard to Delhi's air – fire crackers and stubble burning. Truth is that both these factors do have a huge impact on Delhi's air, and they need to tackled immediately. Firecrackers need to be absolutely banned. The issue of stubble burning needs to be addressed too, but with caution, empathy and better governance.
Stubble burning has been rampant since the last decade; around mid-2000 is when the state governments of Haryana and Punjab directed the farmers to delay the sowing of paddy crops, so as to address the ground water crisis in the region in summer months.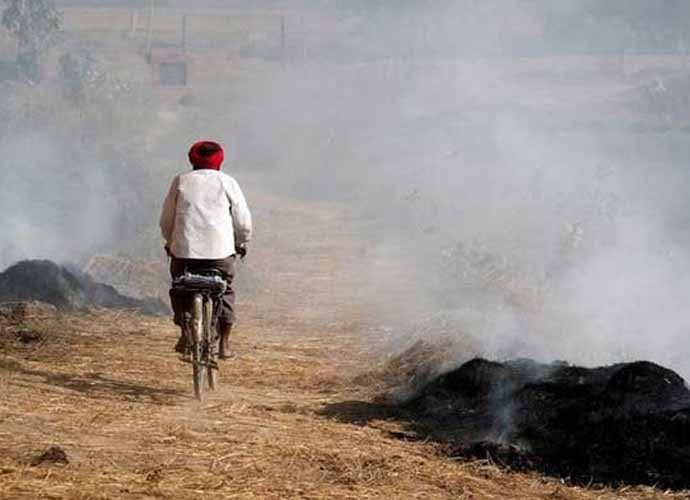 A man cycles amid smoke billowing from burning paddy waste stubble in a field on the outskirts of Amritsar. (Photo: Reuters)
This leads to farmers finding a tiny window to harvest their paddy and sow their next crop which is wheat. Given the lack of technology, human resource and capital, farmers found the most indigenous way to get rid of the stubble — burning them in the fields.
There are several studies that point to the loss of soil nutrients as well as the risk of the fire spreading to other areas. The most common hazard this has posed is the increase in the levels of CO2 in the ambient air.
Despite the National Green Tribunal passing a strict order in 2015, farmers have continued with the practice as they are left with no other alternative. Given the agrarian distress in the country, expecting 'good behaviour' from the farmers while there is no concrete assistance or handholding by either the central government or the state governments, is preposterous and misplaced.
The central government had announced a fund of over Rs 1,000 crore to address the problem. There is no data to establish if this money was disbursed and actually put to use by the respective state governments. Penalising them is not a solution, incentivising better technology and assisting them is.
Delhi has notified the Graded Response Action Plan (GRAP), which comes into action starting October 15, but it clearly can't be the panacea of all the problems. It promises very little, very late, comes into action only after 48 hours, is an emergency measure and not a sustained action plan.
Our country needs better air quality governance, an action plan that has short-term, medium-term and long-term goals, a strategy and action on ground that is active beyond the smoggy sky days.
Our legislature and the executive need to take it upon themselves to address the issue.