"On the afternoon of March 17, 1978, the weather took an odd turn in Delhi," writes Amitav Ghosh in The Great Derangement.
"I had just passed a busy intersection called Maurice Nagar when I heard a rumbling sound somewhere above. Glancing over my shoulder I saw a grey, tube-like extrusion forming on the underside of a dark cloud: it grew rapidly as I watched, and then all of a sudden it turned and came whiplashing down to earth, heading in my direction... [later] I was confronted by a scene of devastation such as I had never before beheld. Buses lay overturned; scooters sat perched on treetops; walls had been ripped out of buildings, exposing interiors on which ceiling fans had twisted into tulip-like spirals." This is Ghosh's description of a cyclone which hit North Delhi in the 1970s, leaving 30 dead and 700 wounded.
The feeling of devastation may sound familiar to those who faced and survived the recent surge of dust storms in North and Western India. "Dust storms" usually are not synonymous with death — that understanding is reserved for floods and earthquakes. But consider the figures: 125 people died in a dust storm on May 3. In a fresh round of dust storms on Sunday, May 13, more than 60 people died in Uttar Pradesh, Delhi, Andhra Pradesh and West Bengal. Yet another dust storm came today, in the wee hours of May 16. Damage was caused by a slew of frequently occurring and common factors — collapsed buildings, collapsed poles, lightning, falling trees.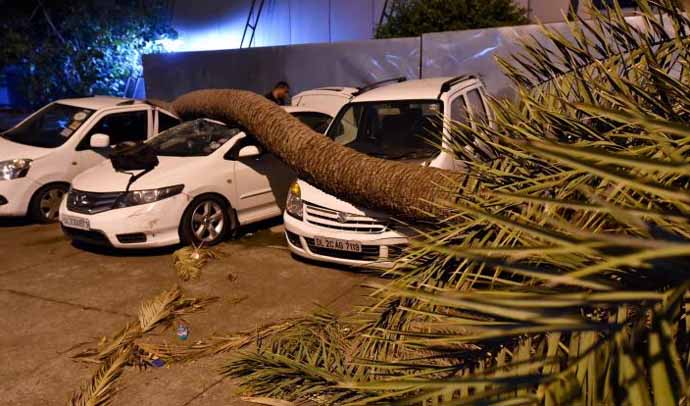 A palm tree trunk came crashing down on cars during Sunday's dust storm in New Delhi. [Credit: PTI photo]
Through the dust storms, 189 trees fell in Delhi, though the actual numbers must be higher. The Metro also had to halt functioning because a tree fell on it, and cars and property was damaged. It doesn't take much to comprehend that falling trees can damage property and injure people. What can we do about it? The short-sighted answer would be to declare trees as dangerous and further confine ourself to a hellish, short-on-oxygen city. The more intelligent answer to explore is: how do we prevent trees from falling?
The question is even more important as we are in a lived state of climate change, where baselines of what are normal is shifting: what Ghosh calls the "great derangement". Dust storms for instance, are often caused by heat waves, which are caused by a changing climate. So, expect more storms. Also, expect an unchanging storm of denial on the change we are in the middle of.
A Bada Peelu tree at the Qutub complex. A slow growing tree, this one must be centuries old. [Credit: Neha Sinha]
In Delhi, studies say trees are stressed. In fact, the NDMC even runs a tree ambulance. The Delhi High Court has said soil should be left free around tree roots, at least to an extent of six feet by six feet, and all trees concretised around roots should be dechoked. But this is not followed, particularly in colonies and newly made footpaths. Orders often turn to farce — so while some colonies have made complaints and asked municipalities to come and break concrete around trees, in other parts of Delhi, newly made roads and pavements continue to cover tree roots. Pouring concrete right up to tree roots is a classic clash of the urban ethic encountering the wild — it yields a few more inches of neatness, land grab, and parking space. What it may also lead to though, is a fallen tree, destroyed property and a destroyed arboreal inheritance.
A major part of Delhi's character is its trees. You have feathery-leaved, stately Tamarind trees flanking Tilak Marg, gold-blossomed Amaltas on Amrita Shergil marg, quirky Sausage trees on Copernicus Marg, Semal trees in Humayun's tomb, gnarly and ancient Bada Peelu trees in the Qutub complex, young Banyans on some central verges, old Neems in the NDMC avenues.
A Semal tree, concretised up to its roots in South Delhi, still throws up some blossoms. [Credit: Neha Sinha]
We urgently need to decongest the area around trees. We need to desist careless lopping of canopies in monsoon or winter, because that disbalances the tree. You too have the power to create change — in places where the tree is choked by concrete, you can call your local divisional forest officer or Delhi's Tree helpline and place a complaint.
Indeed, such complaints have led to action. Delhi's Preservation of Tree Act, 1994, restricts the cutting of any tree without requisite permissions. And if permission is granted to cut trees, the Tree Act also says more trees need to be planted: "Every person, who is granted permission under this Act to fell or dispose of any tree, shall be bound to plant such number and kind of trees in the area from which the tree is felled or disposed of by him under such permission as may be directed by the tree officer." 
With rising, apocalyptic air pollution, trees are a natural buffer we will literally choke without. And with heat wave conditions, we need the shade of trees to create temperature gradients. In Delhi's temperature extremes, it is not even possible to stand at a red light if you don't have a tree's shade giving asylum from the maddening heat. People always say that the fury of nature are acts of God — at least now we know much of it is human-induced climate change. 
Even interpreting weather is not fully in our control. The government declared May 8 as an evening school holiday based on predictions by the Met department, which said that there was possibility of thunderstorm, squall or hail, "with winds to the tune of 50km per hour". That day, no major storm came to most of Delhi. The WhatsApp joke doing the round was that children were running around in the house at a speed faster than the predicted wind speed. We don't know when the storms will come — but we certainly know they will.
And as time progresses, we will all become familiar with words like squall and dust storm. Trees of Delhi will become storm survivors. The time to protect and dechoke trees is now, now, now.
And while de-choking trees doesn't mean trees will never fall, allowing them to remain choked, in the face of hail, squall and storm, means they certainly will.