DailyOh! Photojournalist Danish Siddiqui killed in Afghanistan clashes
Indian photojournalist Danish Siddiqui was killed in Afghanistan last night. Siddiqui was in Afghanistan to cover the war.
The news of Indian photojournalist Danish Siddiqui being killed in clashes in Spin Boldak district of Kandahar city in Afghanistan broke earlier today. Siddiqui was on a reporting assignment embedded with the Afghan Special Forces and was killed last night.
Indian photojournalist Danish Siddiqui was killed in clashes in Afghanistan. (Photo: Twitter)
Siddiqui had started his career as a television news correspondent and later switched to photojournalism. He was the chief photographer of Reuters India and in the past had worked as a correspondent with the India Today Group (September 2008 to January 2010).
Siddiqui and his colleague Adnan Abidi had won the Pulitzer Prize for Feature Photography in 2018 for documenting the Rohingya Refugee Crisis.
Another luminary we lost was actress Surekha Sikri. The 75-year-old actress, known most recently as the Dadisa of Balika Vadhu, succumbed today to a long illness. While her portrayal of Dadisa made her popular in recent times, Sikri has given some brilliant performances on TV in the past.
Surekha Sikri from Tamas (1988) and Balika Vadhu (right).
In some good news, the PM inaugurated a newly-built five-star hotel atop the redeveloped Gandhinagar railway station in a virtual event. He also flagged off the Gandhinagar-Varanasi weekly superfast train and Gandhinagar-Varetha train.
A view of the upgraded Gandhinagar railway station. (Photo: Twitter/ @narendramodi)
The highlight, however, was the inauguration of a revamped Vadnagar railway station. PM Modi's father Damodardas Modi had a tea stall inside the Vadnagar railway station, where the PM used to help his father sell tea his younger days.
In Delhi, meanwhile, the Supreme Court pulled up the UP government for its decision to allow Kanwar Yatra, saying that it goes at the very heart of the Right to Life. The state government's decision to allow the Yatra from July 25 amidst the fear of a possible third wave of Covid-19 has raised concerns.
The news from Delhi's neighbour on the other side, Haryana, is not that great. An outbreak of cholera has gripped the state. Around 300 people have reportedly been affected by diarrhoea in villages of Panchkula district in Haryana, and a nine-year-old boy has died.
In some positive news from the state, the country's first 'grain ATM' has been set up at Farrukhnagar area in Gurugram. The ATM can dispense up to 70 kg of grain within five to seven minutes at a time. It is equipped with a biometric system with a touch screen. The beneficiary will have to enter the Aadhaar card or ration card number and the foodgrain allocated by the state government will automatically be filled in bags kept under the machine. No more standing in long queues for ration.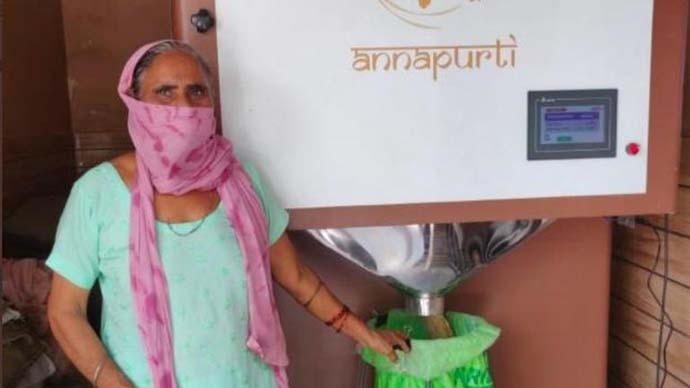 Haryana government sets up India's first 'grain ATM'
While that is the first 'grain ATM', do you know where and when India's first ATM was set up?
It was in Mumbai in 1987 by HSBC Bank. But the world got its first ATM two decades before that in June 1967, outside the Enfield branch of Barclays Bank in north London.
The inventor of the ATM — John Adrian Shepherd-Barron — was a British citizen with an Indian connection. He was born in India — at Shillong in Meghalaya — in 1925.
While Shepherd-Barron, born in India, invented the ATMs to withdraw cash, Indian-born Antiguan citizen Mehul Choksi siphoned off crores of rupees from Indian banks. And now, a day after returning to Antigua from Dominica, the fugitive diamantaire has released an explosive audiotape accusing Indian agencies of executing a "brazen kidnapping" that has left "permanent scars on his soul".
Fugitive fraudster Mehul Choksi has accused the Indian agencies of executing a "brazen kidnapping". (Photo: India Today)
Now you know Choksi went missing from Antigua on May 25 and was arrested by Dominican authorities days later, for allegedly entering the country illegally. However, the on-the-run diamantaire has maintained throughout that he was kidnapped, tortured and forcefully taken to Dominica.
So what does kidnap even mean? Oxford Dictionary defines our Word Of The Day as 'the crime of taking somebody away illegally and keeping them as a prisoner, especially in order to get money or something else for returning them.'
Kidnap is an amalgamation of two words —kid and nap. Kid, as you know, refers to a child and nap in this case is not a snooze, but comes from the Old Swedish word nappa that translates the act of "plucking". So kidnapping is literally an act of plucking a child from its safe haven. A more appropriate word that Choksi could have used is 'abduct', and we have already told you what that means.
Mehul Choksi outside the Magistrate's Court in Roseau, Dominica. (File photo: PTI)
Now let us take you to a famous restaurant in New York — Serendipity3 — where chefs Joe Calderone and Frederick Schoen-Kiewert have set a Guinness World Record for making the "Most Expensive French Fries".
The plate of fries called Crème de la Crème Pomme Frites costs a whopping USD 200 (Rs 14,928 approximately)! The ingredients? Upstate Chipperbeck potatoes, blanched in Dom Perignon Champagne and J LeBlanc French Champagne Ardenne Vinegar, fried thrice in pure goose fat and seasoned with Guerande truffle salt, Urbani summer truffle oil, topped with shaved Crete Senesi Pecorino Tartufello. We are drooling already.
The world's most expensive fries (left) and its creators — chefs Joe Calderone and Frederick Schoen-Kiewert (right). (Photo: Instagram)
Yeah, but who's got Rs 15,000 to spare for a plate for French Fries (not us, for sure!). So we will order the humble McDonalds' fries and while you munch on those over the weekend, consider reading Brave New World — a reactionary work to Utopian fantasies. (Kinda like Rs 15,000 for French Fries, you think?)
Moving to sports, some exciting news. The ICC Men's T20 World Cup 2021 will be back this year after the disruption caused by the pandemic. It will be hosted by the BCCI in Oman and the UAE from October 17 to November 14.
The Men's #T20WorldCup 2021 groups are out ?The top two teams from each group will progress to the Super 12.Who are your picks? ?? https://t.co/T9510AGiDS pic.twitter.com/GoJ2QcctXE

— T20 World Cup (@T20WorldCup) July 16, 2021
And Team India has been drawn together along with arch-rivals Pakistan in the Super 12 Group 2 of the tournament. Gear up for some nail-biting action. You could also keep your nails safe like Farhan Akhtar in boxing gloves, and watch Toofaan. It's on Amazon Prime Video.
Bye for now. See you on Monday.
Now get the all-new DailyOh in your mailbox. Click here to subscribe.
Also Read: What the Modi government must do to win hearts and bridge the trust deficit in Kashmir
The views and opinions expressed in this article are those of the authors and do not necessarily reflect the official policy or position of DailyO.in or the India Today Group. The writers are solely responsible for any claims arising out of the contents of this article.