Two days after Bhagat Singh, Rajguru and Sukhdev were hanged, another glorious martyr gave his life for India. Most of us have forgotten him and if we do hold on to the memory of his name, it is through a few colleges and an award for journalists. His values and his remarkable courage have faded from our minds.
Ganesh Shankar "Vidyarthi" was just 40 years old when, on March 25, 1931, he was killed while trying to rescue people during a communal riot. Mahatma Gandhi had described it as a "shaandar" (glorious) death, one he envied. In this respect, he was not a man who followed in Gandhi's footsteps. He was the man who showed Gandhi the way.
Writer, editor, publisher, activist, elected representative, friend to young revolutionaries and, ultimately, a man of his word – Vidyarthi represents both, an ideal and a dilemma for journalists.
Born in Attarsuiya, Allahabad, young Ganesh came from a family of very limited means. His father was a teacher and so he managed to clear his school leaving examination. He enrolled at the Kayastha Pathshala College but he couldn't really afford to study further. He had to start working. However, he adopted the suffix Vidyarthi (student) for he was determined not to stop learning.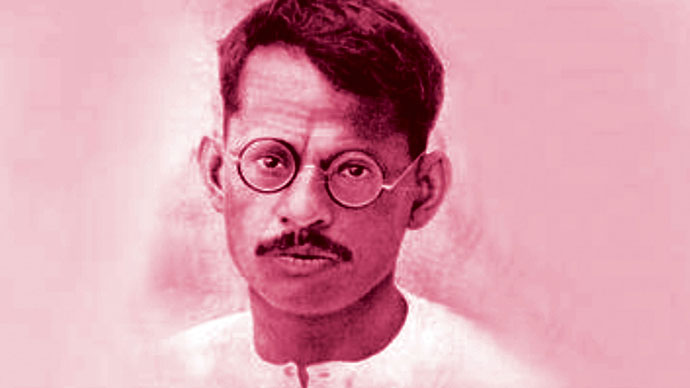 Irony stares us in the face given that UP CM Yogi Adityanath, himself accused of flaming communal tensions, decided to name the Kanpur airport after Ganesh Shankar Vidyarthi.
One of Vidyarthi's first writing-editing jobs was at a literary magazine, Saraswati, but his heart lay in current affairs. He started writing for Karmyogi (founded by Pandit Sundarlal, himself a revolutionary Ghadarite) but he moved to Kanpur and when he was barely 23, he started publishing an independent Hindi weekly, Pratap.
A meeting organised by the Mumbai Sarvodala Mandal at the Press Club marked his death anniversary by inviting a retired Hindi journalist, Saroj Tripathi, and Niranjan Takle, who has recently followed the story of Judge Loya's mysterious death for The Caravan, to speak.
Tripathi said that our collective forgetting of this national hero is deliberate. He also wondered whether journalists today are worthy of this legacy, given the current trend of focussing on communal distractions even as 73 percent of India's wealth lies concentrated in the hands of one percent and farmers are killing themselves. Vidyarthi had not been afraid to pose the question: independence, yes, but for whom? Would it be a case of "Gorey Khan" (white ruler) being replaced by Kaley Khan (coloured ruler)?
Niranjan Takle posed another question – what would someone like Vidyarthi do in today's India? – and then answered it himself: he would probably be in jail.
Despite facing near-constant financial distress, Vidyarthi remained fiercely independent, refusing to accept "help" from a certain ruler of a princely estate, who approached him after being criticized by Pratap. From the start, his focus was the oppression of farmers and labourers. Kanpur was already an industrial hub and MK Gandhi was not yet the "Mahatma".
Vidyarthi met him later, in 1916, and quickly threw himself into the freedom movement. He was sentenced to jail at least five times, for his writing and his speeches. He refused to write any apology letters.
There was no question of maintaining a 'neutral' stance. Vidyarthi was one of those journalists who attended farmers' meetings, led strikes, got lathi-charged, and then went home to write about it. He headed the Kanpur Mazdoor Sabha and contested elections as a Congress leader. But that didn't stop him from taking a sympathetic view of young revolutionaries. He didn't just shelter Bhagat Singh for a few months, allowing him space to write in the newspaper, he also facilitated a meeting between the young Jawaharlal Nehru and Chandrashekhar Azad.
Vidyarthi thought of communalism as an imperialist construct and blamed the British for creating a divisive view of India's history, Tripathi said. In his editorials, he liked to remind readers that Ram-lila performances had been held in the grounds outside mosques across north India.
But for all his efforts, he couldn't prevent people from organising along religious lines and he couldn't prevent the riot in 1931. As news of the hanging of Bhagat Singh, Sukhdev and Rajguru spread, Congress workers called for a hartal in Kanpur. It was meant to be a peaceful demonstration with some picketing of shops. Somehow, a minor confrontation took on a religious tone. The ensuing violence lasted a week, with more than 400 or more than 250 dead, depending on whether you believe the British report or the Indian one. Among those killed was Vidyarthi.
There is a theory that the riot was triggered by the British CID (Committee of Imperial Defence). Kanpur was a hotbed of anti-British and anti-big business political activity. The Congress was the main political actor and Vidyarthi one of the most influential leaders in the United Provinces. Certainly, the British administration did little to control the violence.
The Kanpur Riots Commission Report mentioned that Vidyarthi stepped on out March 25 to control the mobs himself. The night before, he wrote a letter dissuading a friend from coming down to help, saying, "The police stands by watching unconcerned while mosques and temples are burnt, people are beaten and shops are looted".
By morning, the violence was much worse.
Vidyarthi and his friends began to visit various mohallas, rescuing both Hindus and Muslims, trying to reason with armed mobs. Witnesses describe him as having gone out bare-headed and bare-footed. Then he met a mob that would not listen.
Vidyarthi's courage, his empathy, his ability to rise above narrow self-definition was very rare, even for his times, when the air was thick with dissent and the leadership inspiring. The Kanpur Riots Commission Report was written by members of the Congress and it was carefully edited to leave out one of the major causes of worry: fissures in the soul of its own cadre.
The report includes a note of dissent by member Zafar-ul-Mulk. It cites a witness having told the Commission: "Men who are absolutely above Hindu-Muslim feeling are a microscopic minority in the Congress organisation here." The note records the fact that Congress workers were not able to rise to "that high level… loving all mankind irrespective of creed, which was attained by Ganesh Vidyarthi".
This state of affairs hasn't changed and perhaps brushing it under the carpet made matters worse. There are many more political outfits now; how many leaders love mankind, irrespective of creed?
In fact, there is a great irony staring us in the face given that Uttar Pradesh chief minister Yogi Adityanath, himself accused of flaming communal tensions and shielding riot accused ministers, decided to name the Kanpur airport after Ganesh Shankar Vidyarthi.
One of the organisers of the tribute in Mumbai ended the meeting by posing a rhetorical question: "How many Vidyarthis are needed today?"