Daily Recco, November 30: Kada Prasad, the gastronomic grace on Gurupurab
If you have been to a gurdwara on a winter day and received the piping hot prasad in your cupped palms, you know that you have been blessed and prayers have been instantly answered.
It is Gurpurab today and the birthday of the first Sikh guru — Guru Nanak — is being observed by Sikhs across the world. The devout offer prayers in gurdwaras and the prayer usually ends on a sweet note. The note of the Kada Prasad (or Karah Parshad). The Prasad is the halva made of wheat, sugar (or jaggery) and ghee, and is considered to be sacred by the believers. If you have been to a gurdwara in the winters and have received the piping hot Prasad dripping in ghee in your cupped palms and devoured it with relish, you will agree when we say that the Prasad is the instant answer to the prayers and gastronomic heaven in itself.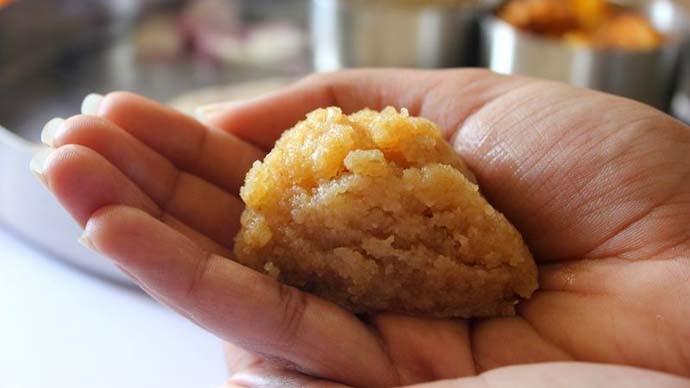 The gastronomic answers to your prayers on Gurupurab: Kada Prasad.
In the times of the pandemic, since it is not advisable to congregate in large numbers at the Gurudwara, we bring you the very easy recipe for the ethereal Prasad that you can make at home, offer to the God (if you are a believer) and indulge yourself.
What you'll need:
One cup each of whole wheat flour (aata), sugar, ghee
One-and-half cups of water
How to:
Heat the ghee in a heavy-bottomed kadhai on a low flame. Once the entire ghee melts, add the flour (aata) to it. Cook it till the aata gradually changes colour and becomes golden brown. It will release a distinct aroma and at that point, take it off the flame and add the water to it.
Mix the water well with the cooked flour and return it back on the stove on medium flame.
Add the sugar and mix it well. Keep stirring at frequent intervals and cook it till the ghee starts leaving the sides.
Once it is completely cooked, take it off the flame and garnish with fried cashews. The garnishing is purely optional though.
Enjoy the Prasad while it is piping hot.
Also read: Kamala's Cornbread Dressing
The views and opinions expressed in this article are those of the authors and do not necessarily reflect the official policy or position of DailyO.in or the India Today Group. The writers are solely responsible for any claims arising out of the contents of this article.