Gutkha scam: Why nobody cares to see what's inside the tiny packets?
In India, unless you are part of a big scam, you don't get as much attention.

DailyBite
The much-dismissed and carelessly-tossed around sachet of gutkha is finally getting the attention it so deserved. In India, unless you are part of a big scam, you don't get so much attention and the gutkha in that sense has truly arrived with a multi-crore scam in Tamil Nadu.
The Rs 39.91 crore scam
The gutkha scam, which came to light last year, involves top ministers, police officers and revenue officials, allegedly taking bribes to allow and facilitate the storage, transportation, manufacture and sale of the banned substance — gutkha — in the state. The CBI had taken over investigation in the gutkha scam on the orders of the Madras High Court in May this year.
In the eye of a scam. (Credit: PTI photo)
On September 5, the Central Bureau of Investigation (CBI) launched a search operation across 40 locations in Chennai in connection with the 2017 gutkha scam. Searches were carried out in the residences of Tamil Nadu Health Minister Dr C Vijaya Baskar, Director General of Police TK Rajendran, former Minister BV Ramana and many others in connection with the scam. LINK Searches were also made in the residence of the former Chennai Police Commissioner, S George. By Thursday (September 6), the probe agency arrested two promoters and directors of the Annamalai Industries allegedly involved in the scam. Also taken into custody were P Senthil Murugan of the Food Safety and Drug Administration department, and N K Pandian, a superintendent of the Central Excise department.
The ongoing fight
The fight against chewing tabacco products is not new. There have been so many court orders and prohibitions on chewing tobacco products over the years that it's perhaps much easier to find the banned substance than to keep a count of the orders.
The government had banned all forms of chewable tobacco products — khaini, zarda and gutkha in 2013 after a Supreme Court ruling. The ban was implemented under the 2011 Food Safety and Standards Regulation, according to which food products must not contain any substance that is injurious to health, including tobacco and nicotine.
Despite the ban and the subsequent court order seeking compliance reports, chewable tobacco is easily available.
As many as 23 states and five Union territories have reportedly banned it, yet chewable tobacco in various forms continue to flood the market.
And this, despite reports that nearly 85,000 men and 34,000 women get cancer of the oral cavity and pharynx every year. According to a report released by the Union Ministry of Health, in association with the WHO and several other organisations in 2016, at least 90 per cent of these cases are caused by some form of tobacco use. However, more than half are caused by the use of smokeless tobacco.
So, basically in the war against tobacco, the guthka became the first casualty.
Or did it really?
Smoke versus smokeless
It is believed that smokeless tobacco is more injurious to health, but smoking cigarettes could be no less fatal.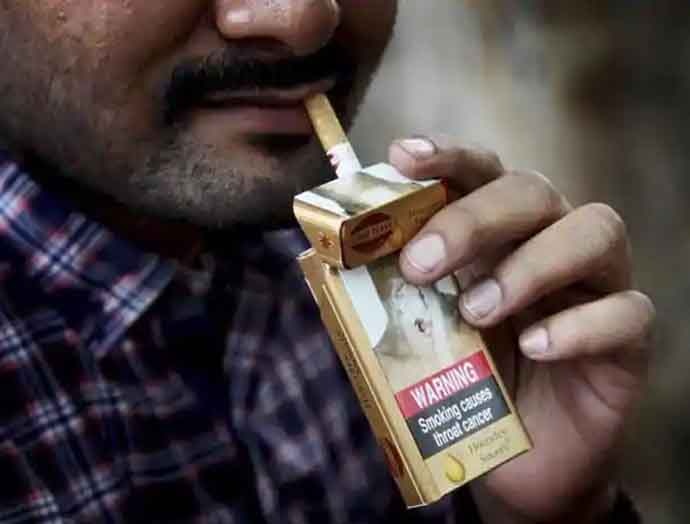 If only we want to cling on to dear life. (Credit: PTI photo)
Interestingly, while health authorities have been regularly cracking the whip on gutkhas and paan masalas, the same enthusiasm is missing when it comes to the sale and production of cigarettes.
Many offer the argument that in the war against tobacco, banning smoking won't solve the problem. It is said that many tobacco smokers when under compulsion to quit smoking turn into chewers, and a major chunk of that population is developing oral pre-cancerous lesion and oral cancer.
Also, in India, many people think that chewing tobacco is safer than smoking, which is not true. It is as injurious as smoking.
But does that make cigarettes any less harmful? Of course not.
Many find it appalling that while prohibitions have been imposed on the uncouth gutkha every now and then (even though it has survived all such bans), the rule-makers come across as more lenient to cigarettes and their manufacturers.
This is perhaps because of the fact that around 87 per cent of the government's total excise revenue earned from tobacco products comes from cigarettes alone.
Warning: Is anyone listening? (Credit: PTI photo)
So, who would rub the golden goose the wrong way?
It seems the only way the government could show its anger towards the cancer stick was by mutilating its image, almost beyond recognition, with horrifying pictorial warnings. What the government doesn't understand (or doesn't want to) is that if those horrifying images couldn't keep smokers away from the cigarettes, perhaps nothing can.
In any case, death doesn't know if your are chewing tobacco or smoking it away or not touching it at all — it will come to you anyway.
But if you do, it has reason to embrace you tighter and faster.
The choice is yours.
Also read: Ridiculous to bar cigarette shops from selling chips and soft drinks. Will hit the poor