DailyOh! Why Pakistan chose to not enter 1962 war on Chinese side
Islamabad tried to cut a deal with the US, showing its distrust for Beijing's promises.
The muted reaction to the news of China pulling back its troops in the Galwan Valley left some wondering if they missed something. We are used to chest-thumping at the slightest hints of strategic victories; even the absence of it. And here was a whole announcement of China pulling back and yet no sign of hoopla. That was because China has left enough signs for us to not trust it. In 1962, we trusted China. And the same year, we paid the price for our trust.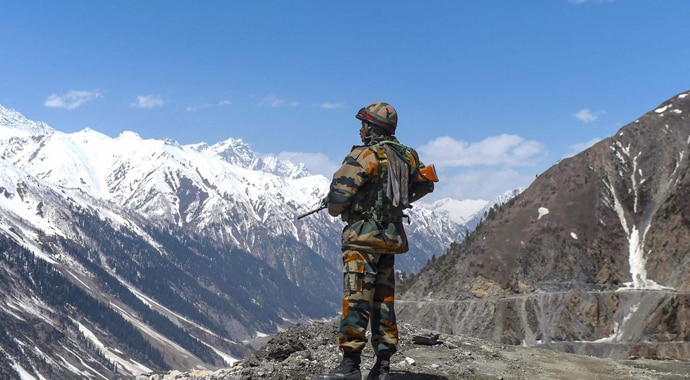 India is in talks with China to restore peace in the border areas. (Photo: Reuters)
A newspaper headline from July 15, 1962, which has now gone viral, reads, 'Chinese Troops Withdraw from Galwan Post'. Just 96 days later, on October 20, the Chinese-triggered Sino-Indian war had started. The rest was history till it happened again this year. There is another similarity between this year and that. The Pakistan involvement; or rather, the lack of it.
In 1962, China asked Pakistan to join the war on its side. But Pakistan didn't. Wondering why? The answer lies in Bruce Riedel's book JFK's Forgotten Crisis: Tibet, the CIA and the Sino-Indian War. Riedel was a former CIA official.
Riedel writes that China made an offer to then Pakistani President Ayub Khan that if it was to join the war against India, it could get the 'trophy' of Kashmir. Pakistan still did not overtly join the war. It turns out Ayub Khan was trying to forge a deal with the US to decide the terms of its not engaging in the war against India. Ayub Khan reportedly asked the US government, then being led by John F Kennedy, for Kashmir. Looks like even Ayub Khan did not trust China to keep its promises.
(L - R): US President John F Kennedy with Pakistan President Mohammad Ayub Khan of Pakistan and US Vice-President Lyndon B Johnson. (Photo: jfklibrary.org)
The US government, however, looking to curtail China's growth, offered India an assistance of US $500 million (Rs 37,500 million). But Kennedy was assassinated before the deal could be struck. India lost the war. Pakistan which was too clever by half, failed to secure any agreement on Kashmir from either China or the US. This led Ayub Khan to attack India three years later in 1965. Khan, a military dictator, lost the war.
No matter who wins or who loses a war, both sides suffer. War, like the coronavirus, is better when prevented than confronted. So, even with all the justifiable mistrust against China, the disengagement brings relief. Since, it has come decoupled with the noisy chest-thumping, it is even more welcome.
The use of the word disengage first appears around 1600 CE in a figurative sense, meaning "loosen from that which entangles". We are telling you that because 'disengage' is our Word Of The Day.
The Oxford dictionary defines the word as "to free somebody/something from the person or thing that is holding them or it; to become free". Disengagement from an engagement maybe a source of heartbreak and heartache, but to be free from that which 'holds you down' is the heart's desire. To disengage with an adversary like China is what the nation desires.
We told you when it came to China, the US has sided with India, but that is nothing to be pompous about because the US won't take sides if it had nothing to gain from taking sides. Also, US under Donald Trump can change sides all with two tweets – one announcing support, the other denouncing it. So, while US Secretary of State Mike Pompeo says the United States is "certainly looking at" banning Chinese social media apps, including TikTok, we say, "Good for them."
In news that is good for us, tourism in the Union Territory of Jammu and Kashmir could resume soon. The decision was taken at a meeting, which is being called a high-level one because it was chaired by the highest administrative head of the UT, Lieutenant Governor GC Murmu.
There is also some good news for those looking to buy bakra for Bakra Eid (Eid ul-Adha) in Madhya Pradesh. The sale of goat has moved online to platforms like Instagram and WhatsApp. This is certainly bad news for the bakra which has also been devalued amid the pandemic. With prices down by 20 per cent to 30 per cent, goats are selling in MP at about Rs 8,000-Rs 15,000. But do you know that a goat once sold for Rs 27 lakh?
The deal happened in Pakistan's Sindh. The Kamori goat was bought by Gulam Muhammad Dahiri from Haji Muhammad Rahu.
Pure breed Kamori goats are expensive because they are rare. They have a distinctive body structure with long ears and neck. Their bodies are large and body colours distinct. People usually keep them to breed more of their variety and make money by selling their offspring and milk.
Bakra Eid will be celebrated on July 31. On July 7, cricket lovers are celebrating the birthday of Captain Cool, MS Dhoni. Dhoni is no longer captain. Whether he will remain in the team is a matter of speculation on which Dhoni has maintained a cool silence. But there have been instances when Dhoni lost that signature cool hat.
One of those rare incidents happened when India were taking on Australia in an ODI match in 2012. Dhoni lost his cool when Michael Hussey was called back after being given out stumped off while Suresh Raina was bowling.
We all have our weak moments like we all have our birthdays. Since today is Dhoni's, wife Sakshi took to Instagram to wish him.
Talking of cricket, the good news is that international cricket will kick off tomorrow, with the first Test match being played between West Indies and England.
But talking of the India-Australia match reminded us that Australia has closed the border between Victoria and New South Wales for the first time in 100 years. The last time state borders in Australia were closed was in 1919, during the Spanish flu pandemic.
If only viruses scare you you these days, let us remind you how scary humans can be. We mean both can kill, but viruses don't do what they do deliberately. Humans can kill deliberately. Serial killers can kill many humans deliberately.
And we are talking about serial killers because a serial killer named 'Chain Man' has been given death sentence by a district court in West Bengal's East Burdwan. Chain Man, whose real name is Kamruzzaman Sarkar, wasn't just a serial killer, he was also a serial rapist.
Sarkar began being called Chain Man after two rapes, seven murders and six attempt to murder cases, where he strangulated women with chains and then hit them on the head. If you want to know how he identified his victims and then attacked them, read this.
You may have however noted that serial killers are always assigned strange names. Mostly the names are so goofy that it is hard to take them seriously despite the seriousness of their crimes.
In the US, a serial killer was once named 'Happy Face Killer'. The man committed at least eight murders in just five years between 1990 and 1955. The guy's original name was Keith Hunter Jesperson. Hunter hunted down women he met while travelling across the US. He travelled across the US because he was a truck driver.
After Hunter killed his first victim Taunja Bennett, a woman falsely confessed to the murder. Why did she turn against herself? Well, she was trying to turn against her boyfriend. This woman who claimed 'credit' for the murder implicated her boyfriend. The woman never told the man, "Hum to dube hai sanam, tumko bhi le dubenge", but both drowned, we mean, got convicted for the murder. This made Hunter desperate. Who wants someone else to get credit for their work?
So, once while Hunter stopped on the way to take a leak at a bathroom, he signed his admission on the bathroom wall and ended the note with a smiley.
Not sure this would be enough to get credit for the murders, Hunter sent letters to an Oregon newspaper and the Multnomah County district attorney's office, again signing them with smiley faces. This gave him the name 'Happy Face Killer'. He was caught in 1995 for murdering his girlfriend and that is when he confessed to all the other killings. He was given multiple life sentences and is currently serving them in jail. If you have seen The Mentalist (if you haven't and want to, it's on Amazon Prime Video), you will know of Red John, the serial killer who leaves happy faces after killing his (women) victims. The tussle between Red John and Patrick Jane - The Mentalist - forms the plot of this thriller series.
Now speaking of the Happy Face Killer, we wonder if he still smiles in jail knowing he will never come out of it or if cries about it.
Whatever he does, you keep smiling even if your smile remains hidden behind the mask.
If you are looking for a reason to do that, let us try and help you with it.
If you want to know why the Mumbai doctor broke into dance, you can find your answer here.
Stay safe.
We will see you tomorrow.
Also Read: The Dalai Lama, contours of the Cold War and the 1962 Indo-China War
The views and opinions expressed in this article are those of the authors and do not necessarily reflect the official policy or position of DailyO.in or the India Today Group. The writers are solely responsible for any claims arising out of the contents of this article.