When Indians Travel: From pushing to stealing, why the Indian traveller is just so embarrassing
An Indian family recently made news for allegedly lifting items from their hotel rooms in Bali. Even as their video went viral, the truth is, they are not alone. There are millions like them.
It was waiting to happen.
The idyllic summer almost had the perfect ending — almost.
But then, greed tempted with one last swoop and quietly went in the hair dryer.
That was probably what did them in because you can take the Indian out of India — but it seems some Indians can't leave behind their overpowering sense of entitlement, in this instance, the urge to steal anything and everything that a hotel supplies to a guest to make his or her stay comfortable.
Only this time, the family, which had enough money to reach the golden shores of Bali, but apparently not enough self-respect to leave things in their hotel room alone, were caught and shamed as the video of their reportedly stolen goods being confiscated went public.
This family was caught stealing hotel accessories. Such an embarrassment for India. Each of us carrying an #IndianPassport must remember that we are ambassadors of the nation and behave accordingly.India must start cancelling passports of people who erode our credibility. pic.twitter.com/unY7DqWoSr

— Hemanth (@hemanthpmc) July 27, 2019
No, we aren't talking about those shampoo bottles and soaps taking which seems to be a rite of passage for most Indian travellers. Instead, out tumbled from their suitcases that hair dryer — how one even rips off the electric cords which are usually attached is another story — soap dispenser, glass jars and even clothes hangers!
In a video that has gone viral, the family can be heard pleading with offers to pay for what they reportedly nicked because Indians, more or less, are at least smart enough to admit — everything has a chance of being bought off. Despite the indignation on why the public shaming, let's be clear the family was in no way representing the country or you and me — but the behaviour of the family in Bali does have ramifications for you and me. It is precisely why a hotel in Switzerland put out a notice specifically for Indian guests to not steal breakfast food for lunch or to speak very loudly in the corridor or balcony. Or why Thailand has scant respect for Indian travellers. Unfortunately, we are what our countrymen do.
After the Bali incident, there was also the predictable outrage. "This was a small souvenir for us since hotels charge a bomb," the drawing room couch-sitting Indian was ready to go to war again!
Nationalism and its various hues can keep surprising you these days.
Viral Vacay: The Bali incident shamed many Indians. But it also raised defences. (Photo: Video grab)
If you think the shamed family's vacation ended faster than they thought, meet the traveller whose holiday hangover lasts only till the flight back home. The 'ants in my pants' Indian traveller is on the flight, the one who's standing clumsily, yanking his overhead luggage down even before the flight has stopped taxi-ing. Not just that, he elbows children and pushes ahead of old ladies in the narrow aisle as though the plane will take off and reach Paharganj if he doesn't disembark immediately. There is nothing uglier than an Indian who does not believe in standing in a queue waiting for his turn, whether it is inside a plane or outside a cinema hall. For those who respect the rules, it is easy to give up the fight, especially when you can't afford to blink and miss your place in the line. Nor is literacy or education a criteria here — there is apparently just no school that can give some of us lessons in patiently waiting our turn.
We are too evolved for that!
Which is why air-hostesses on several of our international flights look like they are flying the punishment sector — the drunk passenger can't believe his luck that the alcohol is free while a few rows behind, a couple is busy watching a movie, oblivious to their child throwing a tantrum and screaming in the aisle. Yet, we are the same people who are constantly eulogising our 'parampara' as though the louder the self-proclamation, the greater we will become.
The joke is always on us.
The new Indian traveller belongs to the burgeoning middle class which now wants to go on a 'phoren' holiday instead of heading off to the hills of Shimla. Being aspirational is good — but remember back home, the bullet trains are coming. What happens then? The train-travelling Indian has his own (un)culture and it includes vandalising screens and defacing windows of these fanciest of trains.
Earlier this year, the newly upgraded Surat-Muzaffarpur Express didn't even survive its maiden journey. Faucets and valves from the bathrooms were stolen quicker than the train crossed platforms on the way to its destination. If you think that was an isolated incident, you only need to look around when you next travel in a train.
Last year, the fancy Tejas Express was launched with much fanfare from Bombay to Goa — but by the time the train reached Goa, its LCD screens had been broken, electric wires pulled out and most of the headphones were missing, forcing Indian Railways to scrap the infotainment system on which crores were spent.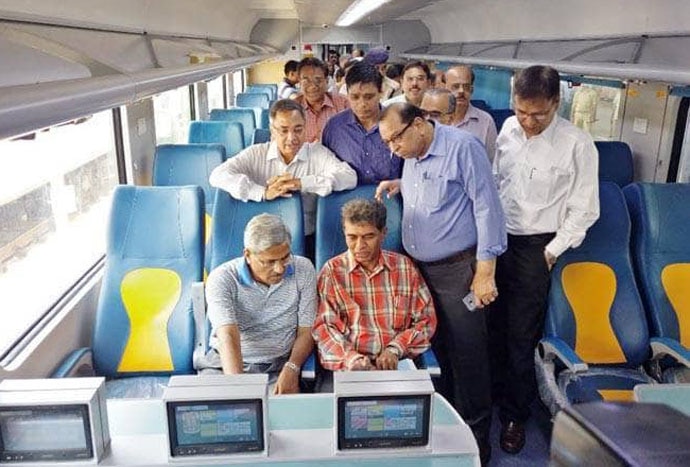 It's not entertaining: Thefts in the plush Tejas Express forced the railways to scrap the infotainment system. (Photo: Business Today)
Also never forget, the Indian traveller (or otherwise) loves a good spit, with or without paan in his mouth, whether it's Muzaffarpur, where 160 children died of Encephalitis in paan-stained hospitals or the holy Jagannath Temple in Puri which has had enough of the unholy transgression and banned eating paan on its premises from August 1.
Anyway, once we have broken queues and screens and made our way to our cars, unless we get home service, like the Ranji player Harpeet Singh who reportedly drove his car straight to the Andheri platform, we press on the accelerator back home — as though our next holiday depends on it.
Red lights are only things taught to our children, wrong side of the road becomes the right way if the queue of cars is too long and God forbid, an ambulance blocks our path. We will not give way because hey, life and death are insignificant on 'mere baap ki sadak'.
Two years ago, a 45-year-old heart patient died because the ambulance in which he was being taken to hospital after he suffered a heart attack was stuck in a jam.
The distance from his home to the hospital was barely 10 minutes.
While the travelling Indian expands his itineraries to countries like Hong Kong, he will never emulate how thousands of people during the recent street protests did a modern-day rendition of Moses and the sea as an ambulance made its way forward.
Frankly, he doesn't have the inclination.
When everything else fails, there is always our own home-made system of adjustment — 'jugaad'.
That is precisely what the family in Bali apparently tried by offering to pay their way out of the embarrassment. Maybe there is no shame in following China's footsteps and handing out that guide to every Indian traveller — 10 steps on how not to be the Terrible Indian Traveller, because, although they say the world is our oyster, the literal Indian may end up leaving an empty shell behind.
The views and opinions expressed in this article are those of the authors and do not necessarily reflect the official policy or position of DailyO.in or the India Today Group. The writers are solely responsible for any claims arising out of the contents of this article.