Why upper caste Hindus in Telangana are fighting over statue of murdered Dalit youth
Let there be a thousand inter-caste marriages.
Kancha Ilaiah Shepherd
In every generation, there are more people against love than people who are in love.
Right in the heart of Miryalaguda, a small town on the banks of river Krishna in Telangana's Nalgonda district, a 24-year-old Dalit man, Perumalla Pranay, was hacked to death in front of his pregnant wife last month. Amrutha Varshini, who belongs to an upper caste and upper class family, had eloped with Pranay in January as her family was against the relationship.
Her father, who was upset with her for marrying Pranay, allegedly hired contract killers to get his son-in-law killed. Pranay was hacked to death with a machete when the couple was coming out of a hospital.
A crestfallen Amrutha now wants a statue of her husband installed in Miryalaguda.
Pranay and Amrutha were high school sweethearts. (Credit: Twitter)
Ironically, Miryalaguda is surrounded by classical Buddhist shrines — from Amaravathi to Nandikonda of Nagarjuna (the famous medieval Buddhist preacher) — and love/non-violence is the main message of Buddhism.
While Buddha believed that marriage is a matter of personal choice, the Hindu caste system believes in striking terror in the hearts of young lovers in India.
But there is something deeply paradoxical and unsettling about this caste system and its followers like Amrutha's father, T Maruthi Rao. Perhaps it won't be an exaggeration to say that caste and class divide is bigger than the chasm of religion. While Rao was upset with his daughter for marrying outside their caste, he didn't have any reservations about taking help from Muslim contract killers to exact revenge.
But, as they say, love is stronger than hate. It knows how to fight. Amrutha, who is now six-month pregnant and lives with her parents-in-law, wants her father hanged. "I want them [the state] to ensure that this doesn't happen to anybody else. Casteism must end, and people like my father should be hanged," she says.
While Pranay's mother believes it's her son Pranay who is growing inside Amrutha's womb, the young widow wants a statue in her husband's memory — a statue of love.
While there are many who support Amrutha's demand, there is stiff opposition against the proposed 'statue of love' by non-Dalit right-wing forces that are against inter-caste marriages.
They feel Pranay's statue in the public place is not acceptable as it will send "wrong signals to the next generations".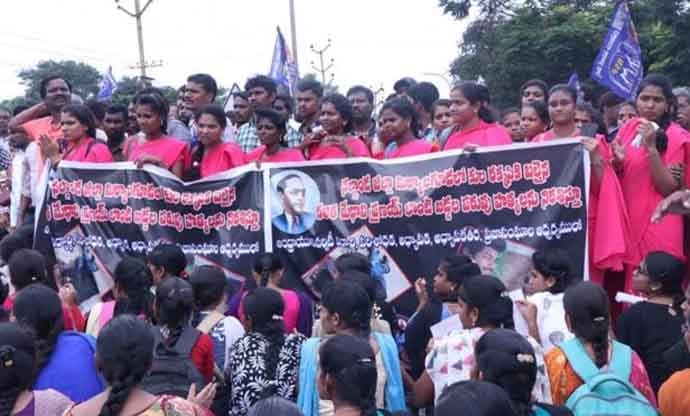 Dalit groups in support of Amrutha. (Credit: Facebook)
It is a well-known fact that the Hindu caste system strictly prohibits marriages outside caste. Strangely, the BJP/RSS-led right-wing forces that worked so hard to abolish triple talaq to "liberate Muslim women from regressive Islamic customs" haven't shown similar enthusiasm in ending caste discriminations and other regressive Hindu customs.
The same forces in Kerala are opposing the entry of women between age 10 and 50 into Sabarimala temple. This only goes on to show their idea of "reforms" — a partisan, partial, prejudiced view of reforms.
#WATCH: Police use water cannon on Bharatiya Janata Party Yuva Morcha workers who were protesting outside Devaswom minister Kadakampalli Surendran's residence in Thiruvananthapuram against Kerala govt's stand on Supreme Court's decision on Sabarimala Temple. pic.twitter.com/op0BUkfQai

— ANI (@ANI) October 11, 2018
Social reformers in the past too had to struggle a lot to change the marriage system in order to change the condition of women in modern India. The struggle against child marriages has a long history. But the anti-child marriage movement did not raise the question of inter-caste marriage. Whether it was the anti-child marriage movement of Gurajada Apparao and Kandukuri Veeresalingam Pantulu in Andhra Pradesh or that of Raja Ram Mohan Roy and Ishwar Chandra Vidyasagar in Bengal, none engaged with the question of inter-caste marriages as that was seen against the Hindu dharma.
Even now the RSS, which claims to have a 'reformist' agenda, does not promote inter-caste marriages. In fact, the Hindutva forces have been conspicuous by their absence. Not a single leader went to visit the families of victims of inter-caste marriages in Telangana, where a number of such killings have taken place in the recent past.
However, social reformers like Mahatma Phule and BR Ambedkar knew that inter-caste marriages were essential to end social biases and win the war on caste. The most significant step in this direction was taken by Periyar Ramaswami Naicker. He solemnised thousands of inter-caste marriages in public meetings as a radical symbol to liberate women from all kinds of bondages.
He used to ask the brides and grooms to wear simple black dresses. They were asked to exchange garlands and get their marriages registered in the government offices.
Periyar achieved two objectives with this campaign for inter-caste marriages — diluting the highly prejudiced caste culture and promoting women's equality. No other reformer was as focused as Periyar on this issue.
Mahatma Gandhi (a Vysya himself) also agreed with the principle of inter-caste marriage as an individual choice and solemnised a few in his ashram, but that was not his main cause of struggle.
In those days, inter-caste marriages were mostly confined to the middle class upper caste Hindus. A few inter-caste marriages between upper class Brahmins, Ksatriyas, Vaisyas and Shudras led to the formation of a new kind of 'badralok' society within the larger Hindu society.
But modern-day India, with education pushing great social reforms, is witnessing a number of young men and women breaking the barriers of caste with love marriages. Sadly, their parents are still caged in caste and class considerations.
Amrutha made it clear why she chose to marry Pranay despite bitter opposition from her father. She says Pranay was not just a loving husband, but also more humane and civilised. His family, she declares, is more cultured and civilised.
The wheel seems to have come a full circle. Upper caste Hindus like Amrutha's family — who considered themselves more civilised and looked down upon Dalits — have exposed how uncivilised they are with their barbaric practices.
Long live inter-caste marriages. Let there be a thousand inter-caste marriages.
Also read: How inter-caste marriage evolved in India
The views and opinions expressed in this article are those of the authors and do not necessarily reflect the official policy or position of DailyO.in or the India Today Group. The writers are solely responsible for any claims arising out of the contents of this article.