Much before Prime Minister Narendra Modi went on an overdrive to make yoga an instrument of India's soft power by making June 21 International Yoga Day, the discipline had many followers. They were mainly old people for whom gymming was neither cool, nor comfortable. They could be seen in local parks, taking walks at the break of dawn.
After and in-between those walks, they would also try a few yoga postures picked up in Baba Ramdev's camps or while watching him on TV. But Modi changed that culture in a big way as people started not just talking more about yoga but literally living it.
The young caught onto the idea too like never before.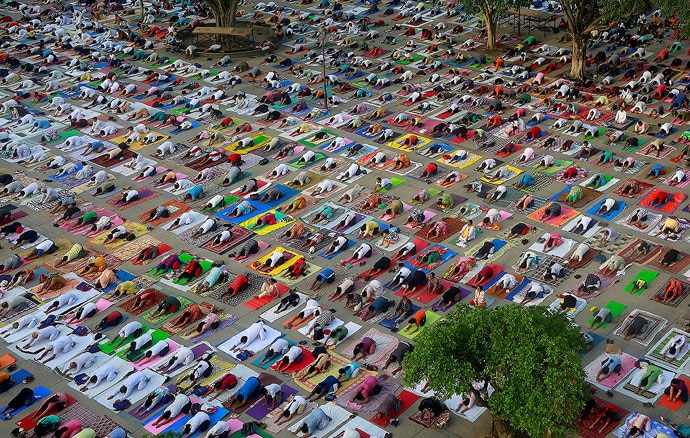 Flexitarians: A practice session ahead of International Day of Yoga, 2018, in Chandigarh. (Photo: Reuters)
But we don't see as many yoga centres around as the gyms that are literally now in offices, residential complexes, unauthorised colonies and busy markets.
Yoga is being mostly picked up on YouTube. A lot of people are reaping the benefits of it too but learning exercise online is no substitute for the real stuff because everybody is different and needs different treatment. Also, yoga is not just about the physical body — yoga is a whole group of physical, mental and spiritual practices put together.
Trained yoga teachers are unaffordable for many in India. Also, yoga centres aren't pervasive.
A two day-a-week session alone could cost a person about Rs 3,000 to begin with — which prompts people to attend just a few classes and then practise the techniques at home, unassisted, in isolation and with YouTube.
Given the lifestyles we lead, not just in metro cities, but also small towns and villages where our aspirations are getting the better of us, throwing our mental health for a toss and creating a cascading impact on our physical health, it is imperative that we find easier access to yoga classes and teachers.
India is the land where yoga originated. World over, people are using the technique to lead better lives. Why should we not have that as Indians?
This Yoga Day, the government must think about not just showing how people from Kashmir to Kanyakumari performed yoga, but also chalking out a policy to train people in the art who can then ensure that every Indian can gain from it.