"Police ko aage karta hai, JNU VC darta hai."
"Policewalon ki ek bimari, Tis Hazari, Tis Hazari."
"Kashmir maange azadi. Punjab bola azadi..."
If you weren't already aware, these slogans would do little to help you know why Jawaharlal Nehru University (JNU) went back into protest mode. JNU was protesting a university manual that proposes to hike hostel fee, set a dress code for hostellers and install water and electricity meters on hostel premises.   
The government announced a partial rollback of the proposed hike to cool down temperatures.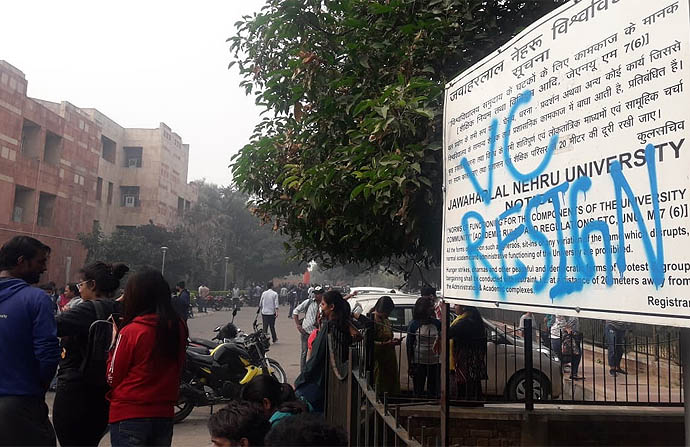 JNU students are demanding that the university administration withdraws its new hostel manual. (Photo: Kumar Kunal/India Today)
Backing the JNU protest were student organisations cutting across ideological divides. The Akhil Bharatiya Vidyarthi Parishad, All India Students Association, Students' Federation of India, All India Students Federation, Democratic Students Federation, National Students' Union of India, are all in this together.
The first sign of a cause being populist is the hammering down of ideological walls. If the existence of ideological walls is problematic, their coming down is more so.
From healthcare to public transport, from water to electricity, what is it that we wouldn't want for free? But free comes with its own cost.
First, let's get to what exactly triggered the recent agitation in JNU.
Protesters said they were faced with a hostel fee hike of 300 per cent. Now, this '300 per cent' hike sounds humongous till you stop to take a look at the base figure over which the hike has come.
The JNU manual seeks an increase in hostel fees from Rs 20 per month to Rs 600 for a single-seater, and from Rs 10 per month to Rs 300 for a double-seater. An additional service charge of Rs 1,700 for sanitation and maintenance was introduced. The mess charges, meanwhile, were proposed to be doubled.
As per the revised plan, students now have to pay pay Rs 200 for a single-seater and Rs 100 for a double-seater. The service charge of Rs 1,700 will stay. 
So, this 300 per cent hike was on the Rs 10 and Rs 20 that students had been paying for the past three decades.
What is the need to pay even this, we may wonder.
The answer partially lies in the university's 2017-18 annual report, which shows about 40 per cent students in JNU come from families with a monthly income of less than Rs 12,000. But what explains the other 60 per cent paying the same fee as the 40 per cent who clearly can't afford to pay more?
The politics of populism seldom demands such answers.
Even since the story of JNU protests hit headlines, there has been a flurry of stories of the underprivileged who would have to drop out of JNU if the administration enforces the fee hike. There is, however, no talk about those who avail subsidised education in JNU after paying for exorbitant private schools and those who would be paying Rs 50-60 lakh to study in overseas universities after paying Rs 20 and Rs 10 for JNU hostels.
JNU opposes capitalism, even if symbolically, on the ground that capitalism breeds inequality. What JNU students are demanding is that inequality be removed through equal distribution of subsidy. But what JNU's social science fails to answer here is how an equal distribution of subsidy does not further the divide that already exists. The same logic applies to all other government institutions. But it helps if JNU begins answering, since it takes pride in its department of social sciences.
What JNU students are demanding is that inequality be removed through equal distribution of subsidy. (Photo: Twitter)
Even the economists who swear by capitalism would tell us subsidies should be given only to those who need it.
According to the All India Higher Education Survey in 2016-17, the country's Gross Enrolment Ratio (GER) in higher education rose to 25.2 per cent from 24.5 per cent in 2015-16.
GER is a measure to determine the number of students enrolled in undergraduate, postgraduate and research level courses in a country expressed as a percentage of the population.
India aims to reach a GER of about 30 per cent by 2020. That sounds like progress only if you don't know that China already stands at 44.39 per cent and the US at 85.8 per cent.
According to the National Sample Survey (NSS) 2014, as many as 44.81 million Indian undergraduate students aged between 18 and 24 are too poor to pursue higher education.
It is these 45 million that the government needs to focus on. This can't happen if others continue to eat into their share. Economic benefits must be given only to those who need it.
Banaras Hindu University and University of Delhi supported JNU's cause. They too should take note that only those who deserve fee concessions should get it.
India invests less in education. It should invest more. But any comparison of India charging people for education, with countries like Sweden, Norway and Ireland that provide free higher education can't happen without taking into account just how many we are.
It is the duty of every government to ensure that nobody is denied education and healthcare if they can't afford it. At the same time, it is the duty of the state to ensure those who can afford popcorn buckets and cold drinks in PVR Priya on weekends and coffee at the DLF Promenade Starbucks on weekdays are not having a free ride at the cost of someone's healthcare and education.
There was an opportunity to make a start from JNU. That opportunity has been lost.